Constellation Inspiration Stereo 1.0 power amplifier Measurements
Sidebar 3: Measurements
I measured the Constellation Inspiration Stereo 1.0 with my Audio Precision SYS2722 system (see the January 2008 As We See It"). Before performing any tests, I ran it at one-third its specified clipping power into 8 ohms for an hour. At the end of that time, both the top panel and the perforated side panels were warm, at 106.4°F (41.4°C); the gain at the speaker terminals was 25.1dB for both the balanced and single-ended inputs—slightly below the specified 26dB; and the output inverted absolute polarity with both inputs.
The Constellation amplifier's input impedance at low and middle frequencies was extremely high, at >1M ohm balanced and >310k ohms unbalanced. (I can't be more specific as the voltage drop method I use becomes increasingly inaccurate as the amplifier's input impedance increases.) The impedances dropped to a still-high 690k and 130k ohms, respectively, at the top of the audioband. I was puzzled by this, as the specified impedances are 20k ohms, balanced, and 10k ohms, unbalanced. Perhaps the circuit was changed after the specifications were published, but a very high input impedance is in no way a problem.
The output impedance was low, varying from 0.11 ohm at 20Hz and 1kHz to 0.12 ohm at 20kHz. Measured into our standard simulated loudspeaker, the Inspiration's frequency response varied by only ±0.1dB (fig.1, gray trace). Fig.1 also shows that the response was flat to 20kHz with all load impedances, but that the ultrasonic output increasingly rolled off above 20kHz as the load impedance dropped. Into 8 ohms (fig.1, blue and red traces) the output was down by just 1.3dB at 200kHz; a 10kHz squarewave in to that load was therefore reproduced with very short risetimes (fig.2), though a slight hint of overshoot was present on the waveform's leading edges.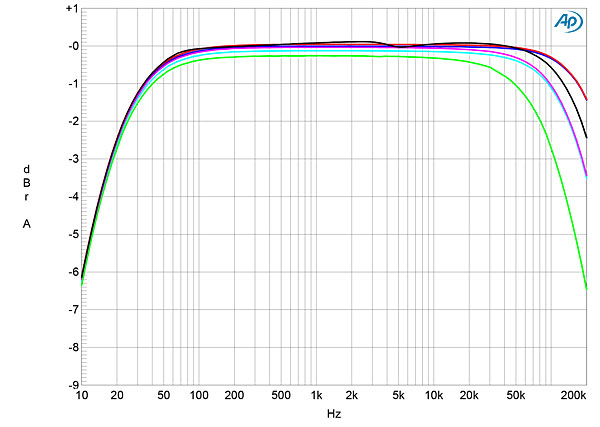 Channel separation (not shown) was excellent, at 115dB at 100Hz, though it decreased with increasing frequency, to 72dB at 20kHz. The Inspiration was also very quiet, its unweighted, wideband signal/noise ratio, ref. 2.83V into 8 ohms and assessed with the unbalanced input shorted to ground, measuring a superb 88dB (average of both channels). Restricting the measurement bandwidth to the audioband improved the ratio to 95.2dB, and A-weighting the measurement further improved it, to 98.1dB. Spectral analysis of the Stereo 1.0's low-frequency noise floor (fig.3) indicated that while some spuriae were present at the AC supply frequency and its harmonics, these were all at or below –105dB in the left channel (blue trace), and mostly lower than that in the right channel (red).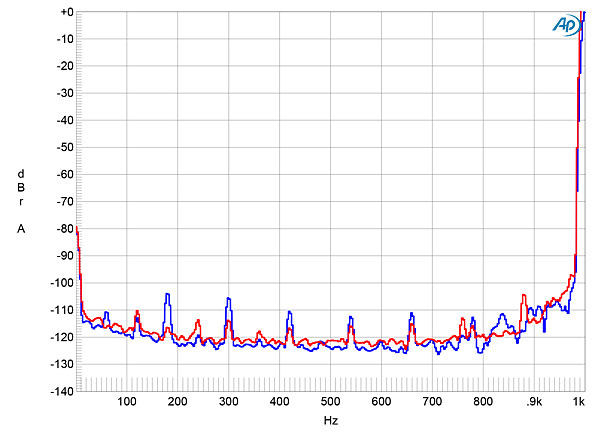 The Inspiration Stereo 1.0 is specified as delivering 200Wpc into 8 ohms or 400Wpc into 4 ohms (both equivalent to 23dBW) at 1% THD+noise. Figs. 4 and 5 respectively plot its percentage of THD+N against power into 8 and 4 ohms, and reveal that at 1% THD+N with both channels driven, the amplifier delivers more power than specified: 340W into 8 ohms (25.3dBW) and 480W into 4 ohms (23.8dBW). I tried repeating this test into 2 ohms, with just the left channel, but the Stereo 1.0 turned itself off before the THD+N reached 1%. When I turned it back on, only the right channel was operating, which suggests that one of the internal high-voltage fuses had blown. I could see no way to get inside the chassis to replace the fuse and the manual strongly advises leaving fuse replacement to the dealer.
Fortunately, I had by then performed almost all of my tests, other than examining how the Constellation's THD+N percentage varied with frequency. I thus performed that test with just the right channel operating (fig.6), and at a level high enough that I could be certain I was examining distortion rather than noise: 20V, which is equivalent to 50W into 8 ohms, 100W into 4 ohms, and 200W into 2 ohms. Fig.6 reveals that the Constellation offered very low distortion into 8 ohms (blue trace), slightly higher distortion into 4 ohms (magenta), but about 10 times as much THD+N into 2 ohms (red). There is the usual rise in THD+N in the top two audio octaves, but still only to levels that are respectably low. As well as being very low in level, the distortion is predominantly the subjectively innocuous third harmonic (fig.7), though at very high powers into 4 ohms the third harmonic is joined by lower levels of second and fifth harmonics (fig.8). Tested with an equal mix of 19 and 20kHz tones, with the peak signal level reaching 200W into 4 ohms, the increase in THD+N seen in the top octaves in fig.6 results in quite a few intermodulation products (fig.9)—but of these, the highest in level are still at only –86dB (0.005%), and the potentially audible product at 1kHz lies almost 100dB down.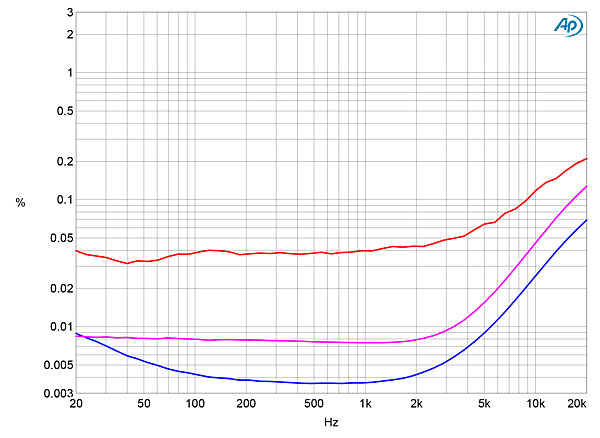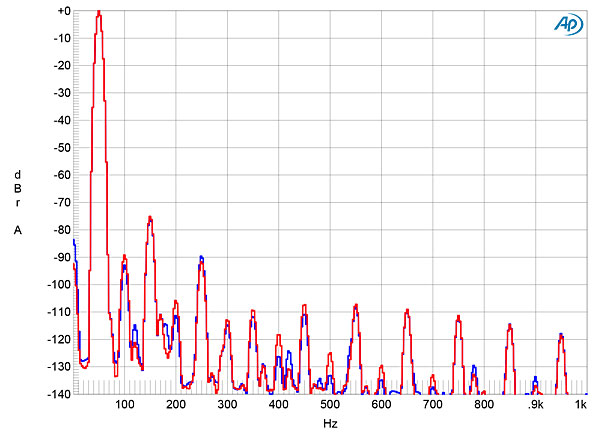 Overall, the Constellation Inspiration Stereo 1.0 offers quite respectable measured performance, and delivers considerably more power than its conservative specification claims.—John Atkinson