Capital Audiofest, Day One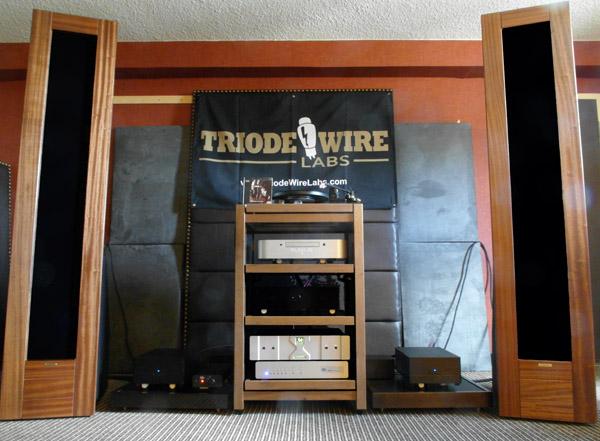 I can see already that this show has something in common with my favorite audio designers, audio dealers, audio writers, and audio enthusiasts: Capital Audiofest is an event with a distinct point of view. That this point of view mirrors my own enthusiasm for vintage gear in particular and relatively affordable, anti-(high-end) establishment gear in general, is icing on the cake.
That said, it turns out I began my first day at CAF with a somewhat conservative system: a pair of GT Audio Works GTA2 loudspeakers ($6495/pair, above) driven by a pair of very powerful Arion class-D monoblocks ($7500/pair), with a Dodd battery-powered tube preamp ($1750) and Plinius CD 101 CD player (($3300), assembled with various cables from Triode Wire Labs. Though the sound was somewhat skeletal, and left me wishing for a little more timbral flesh on those bass-and-treble bones, an unidentified classical track from the first Philips demo disc was pleasantly compelling, and seemingly free of harshness.
Happily, I didn't have to wait long for the weird to kick in. A visit to the room sponsored by the DC Audio DIY club, offering a rotating line-up of components and systems devised by various members, provided ample evidence of this area's active homebrew scene. During my visit, the system of the moment was built around a pair of Urei 801B full-range drivers on open baffles, created by Roscoe Primrose—whose sense of humor ("Boxes are so passé!") and great taste in demo music (Springsteen's The Ghost of Tom Joad, on vinyl—of course) made my visit a pleasant one.
The good-music trend continued—unsurprisingly—at the room sponsored by Audio Note UK, where Dave Cope demonstrated a system built around the fairly recent Audio Note Empress Silver Signature mono amplifiers ($10,000/pair), each of which uses a pair of 2A3 output triodes in parallel single-ended configuration; the loudspeakers were a well-loved pair of Audio Note AN-E/SPe HEs, the likes of which I've owned and enjoyed for years. Whether it was the room, the quality of the AC power, or something altogether more mysterious, I have no idea, but this system—which I've heard on more than one occasion—sounded better than I've ever heard it, with an ease and a sense of impact that matched its reliable musicality.
More Audio Note gear was to be found next door, in the room sponsored by Robert Lighton Audio, whose namesake designs and sells a range of high-sensitivity Audio Note-inspired loudspeakers of his own. New for this show was the Robert Lighton RL8 monitor ($9800/pair), whose cabinets and exquisite hardwood stands complemented one another, aesthetically, to an extent seldom seen in this hobby. (Furniture designer Lighton also brought his talents to bear on a custom mahogany plinth—price not available—for the Thorens TD 124 he used in his demonstrations.) Even at this early juncture it's hard to imagine another exhibitor topping RLA for Best Music of the Show: Shirley's Horn's performance of "New York's My Home" (a song that was also a high point in David Johansen's live shows as Buster Poindexter), Bobby Short's "I'm Throwing a Ball Tonight," and the title track from the new Love Has Come for You by Steve (Martin) and Edie (Brickell)—all on vinyl—sounded wonderful.
I'm not much of a headphone enthusiast, but I nonetheless enjoyed listening to Alison Krauss and the always-transcendent Tony Rice playing "Sawing on the Strings" in the room sponsored by Woo Audio, a company that designs and manufactures their own (very reasonably priced) headphone amplifiers and D/A converters, and that sells a variety of headphones by Stax, AKG, Beyerdynamic, and others.
Gary Gill, who founded Capital Audiofest and works, seemingly around the clock, to manage its every aspect, stopped by for a listen during my visit to Woo.
A return to a more traditional sort of high-end performance awaited me in one of two rooms sponsored by local distributors/retailers StereoDesk and Audio Prana, where I was impressed by the unusually open yet nicely fleshed-out sound of the Crayon CFR-1 integrated amplifier ($6000) and CCD-1 disc player/streamer ($12,000), driving a pair of the distinctively styled HL 2.2 floor-standing dynamic loudspeakers from Italy's Albedo Audio ($6600/pair).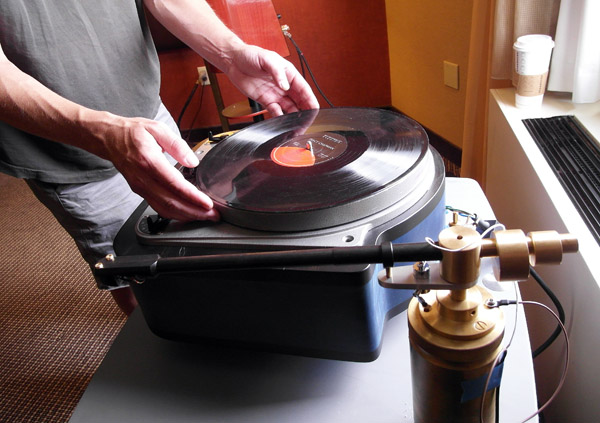 In the other StereoDesk room I was tantalized by a pair of products that were not yet commercially available: The beautiful Siggwam 12 tonearm from New Zealand—the projected price of which is well under $2000—and an all-silver step-up transformer created by Dave Slagle's company, Emia, both of which were used with a lovely old hammertone Garrard 301 turntable, owned by the noted DC-area audio hobbyist Ijaz Khan.
Even more vintage goodies awaited me in one of the rooms sponsored by the McClean, Virginia-based retailer and manufacturer Déjà vu Audio. In addition to selling new and vintage gear, proprietor Vu Hoang has distinguished himself with a line of original gear that makes generous use of vintage parts, including loudspeaker drivers, tubes, transformers, capacitors, and even chassis, faceplates, knobs, and switches. I was enraptured—no other word for it—by the sound of Deja Vu's Western Electric 753-inspired Hytone loudspeakers ($55,000/pair), the custom cabinets of which were equipped with IPC 15" woofers, original Western Electric KS 6368 horns, and Altec super-tweeters, driven by their custom-built monoblock amplifiers ($13,000/pair), built around Acrosound output transformers, Langevin interstage transformers, and push-pull pairs of original WE 350B output tubes.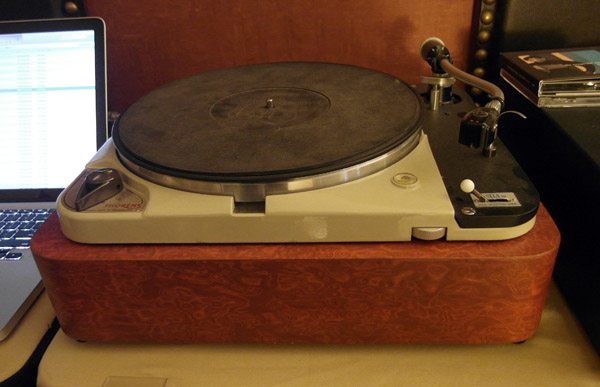 For those with neither the desire nor the budget for vintage gear, déjà vu displayed, in a separate room, an all-new system built around an Italian Synthesis A100T integrated amp/digital converter ($7500) and a beautiful pair of ProAc Tablette Anniversary loudspeakers ($2200/pair), whose superb color, textural richness, scale, and sheer authority were all far greater than their tiny size suggested. Yet even in this room, Vu Hoang's dedication to vintage was evident in his own custom-made plinth for the Thorens TD 124 (above): built with shaped plywood, covered with maple veneer, and priced at a surprisingly low $400.
Finally, I had a pleasant meeting with David Janszen, son of electrostatic loudspeaker pioneer Arthur Janszen, who is maintaining his company's good reputation with the model zA2.1 loudspeaker, a non-dipole design in which a pair of electrostatic panels crosses over—at 500 Hz—to a pair of 7" woofers. Manufactured in Columbus, Ohio, the zA2.1 is sold direct for $7495/pair, but David Janszen offers a 20% discount to buyers who are the first in their area to try the brand.