Bowers & Wilkins 683 S2 loudspeaker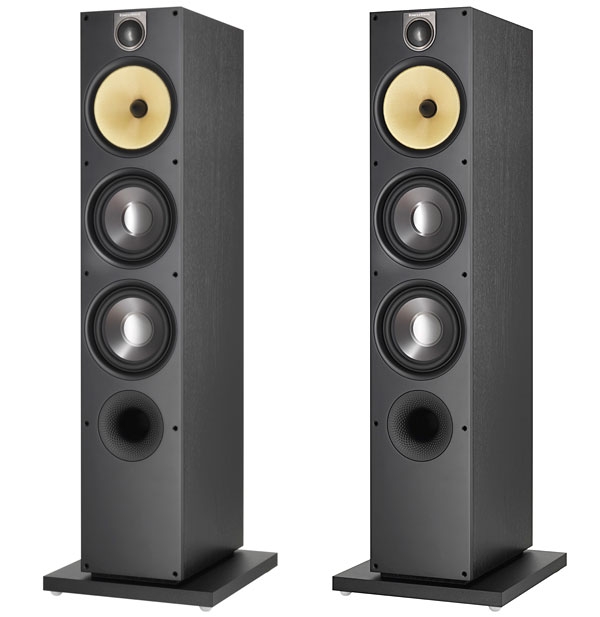 For some time now I've wanted to upgrade my weekend system in Connecticut, and have been surveying three-way floorstanding speakers priced below about $2500/pair. I've focused on the stereo performance of each pair with music because, despite my interest in surround sound, the great majority of recordings are available only in two-channel stereo. Not wanting to look like a Bowers & Wilkins fanboy—my main system has long included their 800-series speakers—I put off auditioning B&W's 683 S2. But my goal was to get the best bang for my buck and with the 683 S2 costing $1650/pair, it would foolish to be influenced by such extraneous considerations. Besides, the 683 S2's three-way design and physical proportions were precisely what I was looking for.
I was amazed that the 683 S2's specs are so similar to those of B&W's 804 Diamond, which I reviewed in the September 2013 issue. Indeed, as even their weights are almost identical—the 683 S2 weighs 59.8 lbs and the 804 Diamond 59.4 lbs—they seem to most differ in price, with the 804 costing $7500/pair.
Each is a three-way design with dual 6.5" woofers, B&W's proprietary FST Kevlar-cone midrange unit, a 1" dome tweeter, and a front port. The 683 S2's woofers have dual-layer aluminum cones that are loaded by the cabinet's generous proportions and by a Flowport, flared and dimpled to support laminar flow by reducing turbulence. The midrange cone is a B&W classic, its Kevlar cone and suspension shared with those in the 800 models. The tweeter's double aluminum dome is decoupled from its mounting by a synthetic gel, and mounted in a tapered tube first seen in B&W's late-1990s Nautilus speakers, which absorbs the tweeter's rear wave, minimizing the wave's effects on the driver's acoustic behavior. Unlike in the 800 series, this tube is inside the speaker's cabinet. All of this technology comes at a very attractive price, leading me to suspect that B&W must have been under some pressure to make compromises elsewhere.
But unpacking the 683s revealed a degree of fit'n'finish nearly commensurate with B&W's costlier models. The only finish available in the US is Black Ash, and it's vinyl, not wood. (In the UK, the 683 S2 is also available in White.) Still, the veneer's consistency of quality, especially at the edges and around the back, is impressive. It's complemented by a matte-black grille so fitted to the cabinet that a distinctive groove frames the front, much as a fine pinstripe accents the contours of a car. In addition, B&W supplies an optional base plate, or plinth, that widens the speaker's footprint from 7.5" to 12.6". The supplied rubbery feet or spikes can be used with or without the plinth. I went plinthless, and used the rubbery feet to spare my wood floor. The 683 S2's were quite stable, and eschewing the plinths maintained their crisp, slim profile.
Listening
I set up the 683 S2s in the same spots my Paradigm Reference Studio/60 v.3s have occupied for years, first aiming the speakers at the listening position. With a slight decrease in toe-in, the soundstage and center image snapped in sharply—changes of less than 5° sounded unequivocally less right. Those parameters secured, the other critical parameter to confirm was that the speakers produce satisfactory bass from those positions. For this, I challenged the 683s with a barrage of recordings ranging from the subtle to the formidable.
I began with Christoph Eschenbach and the Philadelphia Orchestra's recording of Saint-Saâns's Symphony 3, with organist Olivier Latry (SACD/CD, Ondine ODE 1094-5), and concentrated on the Poco adagio at the end of the first movement and the Allegro moderato that begins the second. In both passages, the pipe organ is less a soloist than an accompanist or member of the ensemble. Through the 683s, every organ note was clean and full, and in proper balance with the strings and woodwinds. The organ's lowest tones, particularly in the Poco adagio, weren't as weighty as they would have been with a subwoofer and/or much larger speakers, but the instrument's tonality and character were right, and nary a hint of a resonance stuck out.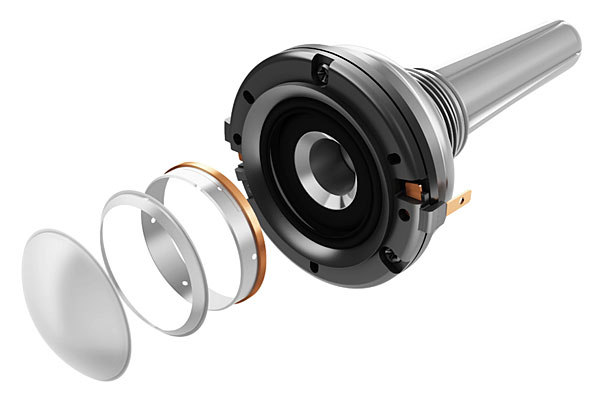 I moved on to bass with punch, from a recent recording by Valery Gergiev and the Mariinsky Orchestra of Shostakovich's Symphony 9 (SACD/CD, Mariinsky MAR0524). The timpani had heft and impact, and balanced well with the snare drum and the rest of the orchestra. As expected, this low-frequency incisiveness carried over to the nonclassical repertoire, from double bassist Buster Williams playing a solo version of Rodrigo's Concierto de Aranjuez, on Williams's Griot Libertè (SACD/CD, HighNote HCD7123), to the electrically juiced pulse of Mark Ronson and Bruno Mars in "Uptown Funk," on their Uptown Special (CD, RCA 505310).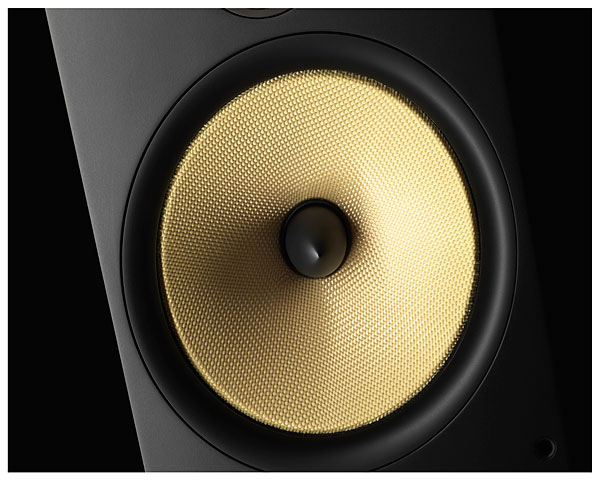 Now confident that the 683s were set up for my long-term enjoyment, I sat back and plied them with all the stuff I know. First, their ability to absolutely nail centrally located voices, human or otherwise, was quite striking, and got me jumping up to make sure that, somehow, my disconnected center speaker hadn't gotten magically reconnected. And I kept checking, because the illusion, supported by the physical presence of the silent center speaker and the soundstage specificity of the 683 S2s, was unshakable. I think this testifies to the smooth midrange treble balance and the excellent matching of the left and right speakers, despite the fact that their serial numbers reveal that they were far from consecutive in manufacture. The seamless soundstage wasn't much wider than the distance between the speakers, but while it began at the plane of the B&Ws' front baffles, it seemed to widen as it extended more deeply behind that plane. This was distinctly apparent with "Malena," from Será Una Noche's eponymous album (24-bit/96kHz file, M•A Recordings M052A), a recording notable for its spacious acoustic.
The 683 S2s' tonal balance was generally excellent with the Stuttgart Chamber Orchestra's classic recording of Boccherini's La Musica Notturna delle Strade di Madrid on Die Rohre—The Tube (SACD, Tacet S 74). Here was all the detail of bow on string—I could almost see the accompanying cloud of rosin—while warmth of tone from the wood of the instruments filled the recording venue. There was a similar rendering of detail with the brass outbursts in the first movement of the Shostakovich Ninth, mentioned above. These were striking, as intended, but in dynamic and tonal proportion. The 683s did as well with choral music as orchestral, and pop and jazz groups benefited from a lively presentation.
It was only when I began to listen to familiar recordings of solo voices—particularly low ones such as Hans Theessink and Leonard Cohen—that I had any hesitation about the 683 S2s. Sure, these singers' characteristic, clearly recognizable depths and familiar upper sibilants were apparent—their vocal ranges were being encompassed. However, they sounded somewhat less full or palpable than they should. It was similar with a wide range of women's voices: their fundamental tones and breath sounds were nicely presented, but their presence not fleshed out to my complete satisfaction.
Take "Late Last Night," from Theessink's Call Me (CD, Blue Groove BG-4020), or "Can't Stand the Rain," from Sara K.'s Hell or High Water (SACD/CD, Stockfisch SFR 357.4039.2). Through the 683 S2, there was no doubt of the unique identity and appeal of each singer—the voice was clearly positioned, and in proper relationship to the soundstage and supporting instruments—but the sound was slightly less convincing than I expected. I switched over to B&W's own 804 Diamonds, and, woot!, there they were: the roundness and fullness I'd missed. I'd had the opposite problem with Bryston's Middle T speakers in my Manhattan system: I was troubled by a subtle excess in the lower midrange. In both cases, the problem was a subtle one, and given the inevitable variations of room acoustics, recordings, ancillary gear, and taste in sound, may not even exist outside my specific situation.
Looking at it from another angle . . .
Compared to all the other speakers I've heard in my Connecticut room and system, the Bowers & Wilkins 683 S2s scored well. The Monitor Audio Silver 8 came closest in performance and price, at only $2000/pair. But while both speakers offer excellent bass quality, the B&W offers more of it. Still, the Silver 8 speaks a little more sweetly to me in my room. Sonus Faber's Venere 2.5 ($2498/pair) is more comparable with the 683 S2 over most of the audioband, but differs most from the B&W in bass extension and definition, and in having spectacular looks. Certainly compared to my relatively ancient Paradigm Reference Studio/60 v.3s, the B&Ws had a much smoother midrange and treble, more stable imaging, and tighter, more resolved bass. In short, no contest. Finally, B&W's 804 Diamond, at $7500/pair, costs almost five times as much and, judging from both its specs and my listening, scores over the 683 S2 only with some singing voices and in extension/enhancement at the extremes of the audioband.
I'd say that all of that makes B&W's 683 S2 a pretty attractive proposition.