Bow Technologies ZZ-Eight CD player Measurements
Sidebar 2: Measurements
The Bow Technologies ZZ-Eight's analog output was absolute polarity-correct, and at 2.11V: 0.45dB higher than the CD standard of 2V RMS. Its source impedance was just over 45 ohms across the band, implying that the player will have no difficulty driving low-impedance preamps. The ZZ-Eight coped very well with damaged discs, playing without dropouts through the Pierre Verany test disc's track 32, which has 1.5mm gaps in the data spiral.
The ZZ-Eight's frequency response at full level (fig.1, top traces) was flat, with a negligible balance error. The response with de-emphasis, however, featured a maximum error of –0.7dB at 4kHz (fig.1, bottom trace), which will be audible on the small number of pre-emphasized discs as a slight lack of presence. Crosstalk (not shown) was below –100dB across the band in the L–R direction, but about 5dB worse in the other direction. Both of these are excellent figures.
Fig.2 shows a 1/3-octave spectral analysis of the ZZ-Eight's output while it decodes data representing a dithered 1kHz tone at –90dBFS. Other than a very small amount of second-harmonic distortion and some low levels of the 120Hz power-supply component, the noise floor is very low and free from spurious garbage. Extending the measurement bandwidth to 200kHz and driving the player with "digital black" data gave the spectrum shown in fig.3. Again, some very-low-level power-supply components can be seen, as can some slight noise peaks well above the audio band. But even the latter are at or below –100dBFS.
The ZZ-Eight's left-channel linearity error is shown in fig.4 (the right channel was identical). Any amplitude error is negligible down to well below –100dBFS, below which the effects of noise make their presence known. This is superb performance, and the waveform of an undithered 1kHz tone at exactly –90.31dBFS (fig.5) features three easily identifiable, equally spaced voltage levels, with the Gibbs Phenomenon "ringing" visible at each level transition. One thing did bother me: this stairstep waveform could be made out—even on full-scale sinewaves—to an extent I have not seen before. I have no idea what the subjective efect of this would be; as the frequency content of the "steps" is well above the audible range, I assume it is benign.
Analog-domain harmonic distortion was extremely low in level. Fig.6 shows the spectrum with the player reproducing a 61Hz sinewave. Odd-order harmonics predominate, if that verb is appropriate considering that even the highest level, the fifth, is well below 90dB down from the level of the fundamental. Intermodulation distortion was higher: when the player reproduced a full-scale mix of 19kHz and 20kHz tones (fig.7) the 1kHz difference component just crossed above the –80dB line. There were also a couple of strange enharmonic products visible above and below 12kHz.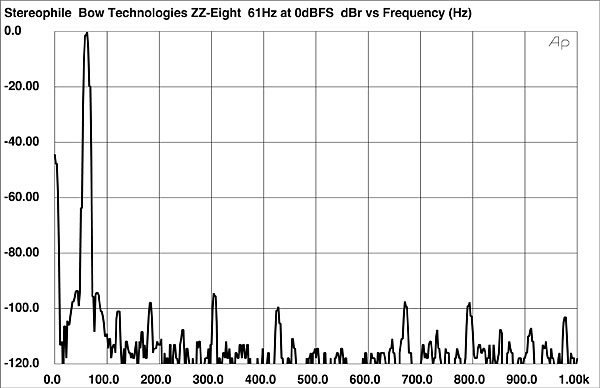 Finally, I measured the ZZ-Eight's jitter with the Miller Audio Research jitter analyzer. The spectrum of the jitter is shown in fig.8. The absolute clock error was low at +23ppm and the jitter level was also very low, at just 147.6 picoseconds peak–peak. What peaks are present are indicated with red numerical markers; these are related to the 229Hz data frequency in the special test signal, but are all very low. Interestingly, MF's sample was very much better than the earlier sample of the player measured by Paul Miller for the English magazine Hi-Fi News & Record Review (grayed-out spectrum in fig.8), which had a very high jitter level of 996ps. This was almost all data-related, and appears to have been significantly reduced by Bow Technologies' subsequent use of the I2S interface.—John Atkinson