Boston Acoustics A 25 loudspeaker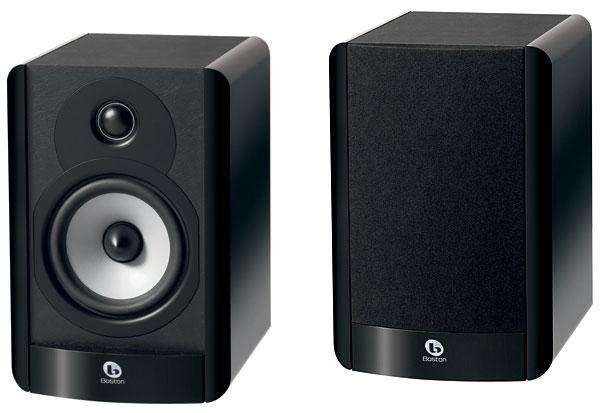 While listening to Boston Acoustics' A 25 loudspeaker ($299.98/pair), I kept thinking about magic.
Paul Messenger introduced Boston Acoustics' A Series in the April 2011 "Industry Update." With the creation of the A Series, Paul reported, BA wanted to create a "global loudspeaker," one that would be appreciated by music lovers worldwide.
I asked BA's director of program management, Stephen Shenefield, to tell me more about what had inspired the A Series. He explained that while Boston Acoustics products have gained a reputation for offering an "American" sound, one better suited to home-theater applications, the company has always considered the heart of its identity to be traditional two-channel speakers. With the A Series, BA wanted to appeal to two-channel enthusiasts in other parts of the world, specifically hardcore hobbyists in Europe and Asia, but also wanted to dispel the notion that the company is interested only in the home-theater market. In truth, said Shenefield, Boston Acoustics strives to balance its loves of music and home theater. And balance (in life, love, and loudspeakers) is good.
To get this point across, BA's engineering team, based in Peabody, Massachusetts, worked with respected independent designer Karl-Heinz Fink, of Germany, and audio legend Ken Ishiwata, of Boston's corporate sister, Marantz. "It was a truly international development," said Shenefield. "The Europe team would make a tweak, we would check it out here, we would make a change, they would confirm it, and so on."
According to Shenefield, the specific design goals for the A 25 were flat frequency response, low distortion, and high power handling. No surprises there—almost all speaker designers say the same thing—but different speakers still produce different sounds. The result depends on how you combine those elements. With the A 25, Boston Acoustics found the right balance.
The two-way A 25 measures 10.7" H by 7.25" W by 8.9" D, weighs a surprisingly heavy 10 lbs, and uses Boston's 1" Kortec soft-dome tweeter and a 5.25" mid/woofer with a cone of ceramic and glass-fiber polymer. Inside the braced cabinet, a wooden reinforcement disc essentially doubles the thickness of the speaker's top panel to 1.4? and works to minimize extraneous frequency radiation for a cleaner overall sound and better stereo imaging, says BA. The frequency range is listed as 55Hz–25kHz, the sensitivity as 89dB, and the nominal impedance as 8 ohms. The speaker has scratch-resistant high-gloss side panels; all other surfaces are covered in a textured veneer reminiscent of faux leather, giving the A 25 a purposeful, no-nonsense look while sidestepping the sometimes cheap appearance of the ubiquitous black-ash veneer. It's an attractive speaker indeed: Whenever I came close to the thing, I wanted to kiss it. The A 25's heft and outstanding fit and finish belie its modest price.
Sound Quality
On first listening to music through the A 25, I thought the speaker sounded tight and somewhat restrained, but those qualities soon settled into senses of ease, control, and balance. It didn't matter if I was in the bedroom, bathroom, kitchen, or the stairway leading to my apartment: If music was playing through the A 25s, I was drawn to it. Casual listening was at once more enjoyable and almost impossible—something special was happening in my listening room, and I had to pay close attention to it.
"In a Lonely Place," from Comet Gain's excellent Howl of the Lonely Crowd (CD, What's Your Rupture WYR? 0707), was painted with crystalline electric guitar and sweeping keys precisely placed in a wide, deep soundstage, and with all the lovely, moving energy inherent to David Feck's honest delivery as he sang: "I was born when she kissed me / Died when she left me / I lived a few weeks while she loved me / In a lonely place." The song ends too soon, as good things sometimes do.
Happily, the bass guitar in Twin Sister's "Stop" was round, tight, and very well controlled; and while the little recording flaws in "Daniel" were clearly audible, they were somehow easier to overlook—the A 25 had a fine way of balancing accuracy and musicality for an enriching and fatigue-free listening experience.
However, despite the A 25s' impressive control, stable stereo imaging, and emotive power, the PSB Alpha B1s ($299/pair) produced an equally balanced sound, with vibrant tonal colors and greater overall scale, for a more immersive listening experience. Listening through the Boston A 25s to Cut Copy's Zonoscope (LP, Modular MODVL134), I was in Prospect Park again—Natalie was reaching for our hands, launching her own into the brilliant night sky, tugging at moonlit clouds. But when I listened to Zonoscope through the PSB Alpha B1s, the music was presented with greater drama and scale: band, venue, and evening sky were brought into my listening room.
Damn my fickle heart—I love both of these speakers! If I were Larry Archibald, I'd keep the PSBs, and buy the Bostons.