Bonus Recording of April 2017: Bruckner: Symphony 9: Completed Version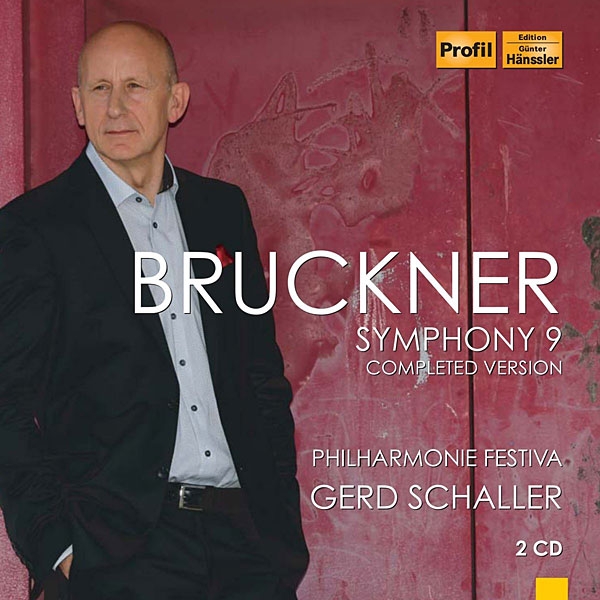 Bruckner: Symphony 9: Completed Version
Gerd Schaller, completion & conductor, Philharmonie Festiva
Profil PH16089 (2 CDs). 2016. Lutz Wildner, tonmeister; ambitus Musikproduktion, engs. DDD. TT: 84:37
Performance *****
Sonics *****
Between 2007 and 2016, Gerd Schaller recorded all 11 of Bruckner's symphonies with the orchestra he founded, the Philharmonie Festiva. In the November 2011 issue I reviewed his 2010 recording of Symphony 9 with William Carragan's completion of the Finale, left incomplete (if perhaps not uncompleted) at Bruckner's death. Six years later, in 2016, with the same orchestra and engineer, and in the same hall—a vast cathedral in Ebrach, Bavaria—Schaller recorded his own completion of the Finale.
Schaller is, I think, one of the two or three finest living interpreters of Bruckner's music. Each of his recordings reveals profound understanding of these vast works' daunting complexity, and an ability to balance the various orchestral voices to bring out aspects of the music that I, at least, had never noticed before, all with a classical poise and restraint, and lack of self-indulgent changes of tempo and dynamics, that in no way lessen the music's power, or the feeling that immensely vital, even dangerous forces of sound, sense, and spirit are being held only just in check: a unique combination of wildness and serenity. That Schaller manages to do this in an immense stone hall with a reverberation time of six seconds—an eternity in sound recording—without it all turning to mush is something of a miracle, and a testament to the discipline of himself, his band, and engineer Lutz Wildner. The sound is wonderful, a seemingly impossible combination of clarity and immense space.
The total timings of the 2010 and 2016 recordings differ by less than a minute; some movements are now shorter, some longer, the differences undetectable except in the Finale, about which more below. In the new recording, the first three movements, left complete at Bruckner's death, are conducted and played, if anything, even more meticulously than in 2010. The muted horn in the first movement—one of the very few times Bruckner asked for this effect—is only just audible far in the distance, creating a powerful sense of mystery and depth. The string ensembles in the metrically challenging two-against-three rhythms Bruckner loved, so difficult and exposed here, are, if anything, further clarified. And Bruckner's long caesuras of scored silence separating and linking the movement's various sections are here given different emphases, some longer, some shorter; each time, the ostensible silence that begins when the orchestra stops playing remains filled with the reverberation of the sounds just made, revealing as in no other way just how big this cathedral is—like lighting a match in what one thought was a small cave and, in the flame's tiny glow, seeing immense walls rising to a ceiling lost in darkness. Breathtaking.
In the Scherzo, the tempo in 2016 is slightly brisker, the orchestra much lighter in heft, with fewer highs in the brass. When I asked Schaller if this was due to a rearrangement of seating, a repositioning of microphones, or a rethinking of orchestral balance, he said, "a performance always is like a photograph of a moment of our life." In this case, the aural photo sounds almost like a rescoring of the Scherzo's da capo section—no violation of the score, but a quite different envisioning of this pounding music. In the 2010 recording, the entrance of the Trio's second subject is taken at the same tempo as the music immediately preceding it; in 2016, Schaller slows considerably, and though Bruckner's score indicates no change in tempo, I think it works better. What remain unchanged are Schaller's amazing delicacy and balance in seeming to make audible everything in the score, and the matching precision of his players. Nonetheless, the 2010 Scherzo has more heft, bite, and power.
The two performances of the Adagio sound most similar to my ear, not least in their excellence. The choir of Wagner tubas in Bruckner's "farewell to life" are gorgeously blended; the recurrences of the anguished first subject sound unbearably poignant and inevitable in the best "I can't go on/I must go on" way. In the latter half, the ostinato of 80 eighth-notes in the woodwinds, slowly increasing in volume to emerge at the top of the sound and suddenly break off at fff followed by a long silence, is here more emphatic. The immense tone cluster not long after this—the Adagio's emotional climax—can be balanced to sound more or less dissonant; I find it far more interesting when no pitch value is cheated but timbres are smoothed as much as possible, as Schaller does here. The result is then dissonance and consonance at once, sweet and sour, pain and joy.
Assembling a completed performing version of the Finale presents unique challenges and problems (footnote 1). In addition to long passages partly or entirely orchestrated in convincingly final form, Bruckner left behind hundreds of pages of sketches, sometimes six drafts deep, all now published in facsimile. Of recorded completions of the Finale I have long preferred the various versions (1983–2012) of the completion by the SPCM team—Nicola Samale, John A. Phillips, Benjamin-Gunnar Cohrs, and Giuseppe Mazzuca—whose operating principle can be summarized as "last thought, best thought." Over three decades, SPCM performed what their theses and papers reveal as exhaustive feats of musicological forensics, to determine which sketch represents Bruckner's last surviving thoughts on any passage missing in final, full-score form. Their completion of the Finale remains the only one that consistently sounds to me as if Bruckner could have written every note. This seems as reasonably attributable to the possibility that they've gotten it more or less right as to what Bruckner's late music feels and sounds like—to me.
Gerd Schaller took a different approach. In some cases he's gone back to Bruckner's earliest sketches to fill gaps in what SPCM call the Finale's "emergent autograph score." (The gaps vary: 2 bars here, 16 or 24 there, per SPCM; the coda is entirely missing.) As Schaller wrote in an e-mail, "you can hear in my completion long distances of unknown Bruckner—for example in the development of the fugue, the recapitulation, in the coda etc. . . . You will hear it immediately—but you have to know all [of the surviving] material." Schaller was not more specific: the score of his completion and his analysis of what he's done have yet to be published, so for each of his interpolations it's unclear which early sketch he chose or what he added to it. The problem with this approach is that it puts all of Bruckner's sketches, from earliest to latest, dated or undated, on equal footing with what other scholars agree are the composer's final thoughts. It's difficult for the non-musicologist who lacks the facsimile edition, and whose score-reading skills are as rudimentary as mine, to know precisely what Schaller has done. One is left with how it sounds and how it feels—words to make any Bruckner scholar wince.
Schaller's completion sounds and feels, by turns, many ways: interesting, jarring, convincing, unconvincing, thrillingly right, not spot on, deeply strange, occasionally like Wagner, briefly like Mahler—all things that have been said of Bruckner's own surviving work in this movement. What Schaller's work does not sound like—to me—is as if Bruckner himself wrote every note. But I find that this bothers me less with each hearing, and less than it bothers me in the Finale completions by William Carragan, Sébastien Letocart, and Nors S. Josephson.
From the first bars, Schaller takes the entire Finale distinctly more slowly than in 2010. This works well: each bar of this complex music registers more fully. Bruckner's dense counterpoint is beautifully articulated throughout, as the main dotted, syncopated leaping motif vaults and plunges relentlessly in three or four directions and voices at once, in the most convincing evocation of infinite possibility that I know of in all of music. Unfortunately, Bruckner's astonishing trumpet dissonances following the first statement of the chorale are so muted as to be inaudible. A variant of the chorale progression sounds jarringly like the "Wanderer" leitmotif from Wagner's Siegfried; Schaller tells me that this is a "development of [Bruckner's] material," but if these four ff chords for brass choir are indeed based on an early Bruckner sketch, I think the composer was right to abandon them. Some of Bruckner's uncompleted pages now sound overcompleted in a work whose first three movements, which Bruckner actually did finish, are starkly austere even for him. Schaller's writing for flutes can be a bit florid to my ear, and occasionally the harmonies and/or voicings seem too richly filled in to sound precisely like late Bruckner. These are matters of taste.
No less so are the many delights. Schaller extends the recapitulation of the great horn theme even longer than do SPCM, to grandly satisfying effect. In the quiet buildup before the coda proper, his realization of Bruckner's sketch of the falling chromatic four-note motif rising as it's handed off among the woodwinds—a sketch that appears in some form in every completion of the Finale—includes the addition (Schaller's?) of syncopated pp punctuations on solo trumpet that echo similar patterns throughout the movement and are the opposite of ornamental. After this comes Schaller's dramatic and nakedly pointed restatement of the first movement's ominous first subject. I don't think that his vertical stacking and development of themes from earlier in this and from other Bruckner symphonies (I hear hints of 4 and 7) is as satisfyingly dense as in the SPCM editions of 1992, 1996, and 2008.
However, one thing I think he gets very right indeed is his coda's length, scope, and scale: It's fully in proportion with the immense symphony it concludes, and in places is awe-inspiring. Throughout, Schaller's coda sounds just enough like Bruckner not to erase my sense and experience of all that precedes it—something I can't say for Carragan's, for all its brilliance. Perhaps my favorite touch is in the bar just before two horns play three ascending notes that abruptly cut off, a staircase that ends in a vast nowhere of silent space: the single swelling oboe note Schaller adds after the one in Bruckner's score—which SPCM delete—here acts as a false leading tone that deliciously misdirects the ear to expect a resolution that then happens quite differently, before the horns defy it. Exquisite.
This recording's first three movements comprise one of the best performances of Bruckner's Ninth ever made. Until Bruckner's lost score pages are found, there will be as many ways to complete the Finale as there are scholars to take it on, and none will be what Bruckner wrote or might have written. Schaller's completion has much to commend it; after SPCM, it is the one I will most want to hear (footnote 2). And it is as beautifully recorded as it is conducted and played.—Richard Lehnert
---
Footnote 1: See my "
Bruckner's Ninth: Finally, a Finale?
in the March 2010 issue.—
Richard Lehnert
Footnote 2: When Gerd Schaller sent me a copy of his recording of his completion of Bruckner's Symphony 9 in November 2016, it had just been released in Europe, and was scheduled to be released in the US in March 2017. However, there has been a glitch in the US distribution of these recordings. In the meantime, US readers can obtain the recording here.—Richard Lehnert