Bob Deutsch's Day 2 Photo Post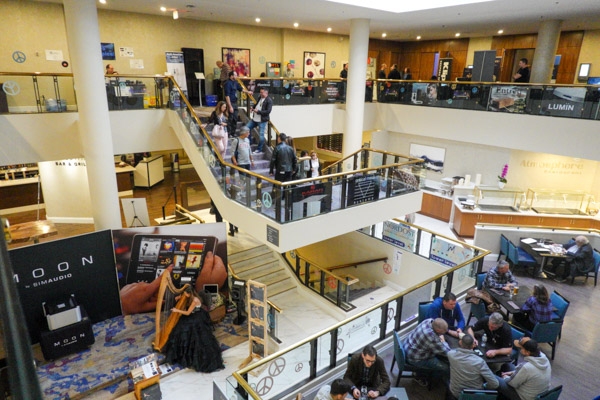 Saturday was a busy day at the Toronto Audiofest.
An image from the AudioTeens room, presented by hifipro.ca. Speakers are KANTO's YU2.
hORNS by Autotech Symphony, with electronics from a variety of European brands: Rockna, Inakustik, NAT, Lector.
Totem's Vince Bruzzese, with the Totem Fire V2, $7000/pair CAD.
AER Excenter loudspeakers, 116dB (!)/W/m. Not sure about the price in U.S. or Canada, but the website lists them at 60,000 euro/pair. You can buy just the drivers for 3900 euro each.
Richard Kohlruss of Cabasse; the company is now making a smaller, lighter version of its Wireless Pearl loudspeaker, the Pearl Akoya ($2500 CAD each). The original pairs cost $4250 each.
The Gershman Grand Studio II—a double-stack of the Gershman Grand Studio: $11,900/pair. Shown with the Krell K-300i integrated, which is reviewed in our December issue. The source was VPI's 40th Anniversary direct drive 'table ($15,000 US). Cabling by Nordost.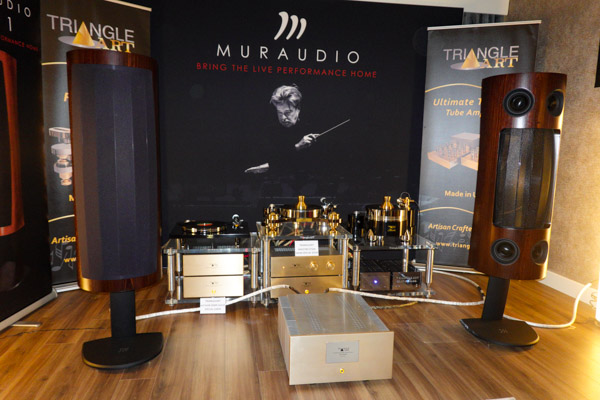 Muraudio's SP1 loudspeakers ($16,400 CAD/pair) with analog and electronics by Triangle Art: The Anubis ($14,995 CAD), Maestro ($7500 CAD), and Hathor ($3995) turntables. At least one of those tonearms is the Osiris Mk2 ($6990 CAD). Electronics, too, are by Triangle Arts.
MBL's systems always sound good at shows. In Toronto they were showing their second-smallest speaker, the three-way standmount 120 Radialstrahler ($30,150/pair) with their C31 digital player and C51 integrated amplifier ($12,000 and 14,600/pair CAD, respectively. )
There was lots of live music in the big room from Quebec's EON Art. This room also included a seriously high-end system from this new company.
Stereophile Editor Jim Austin announces an award given to a certain Stereophile writer; details to follow.