Bang & Olufsen's 18-driver Beolab 90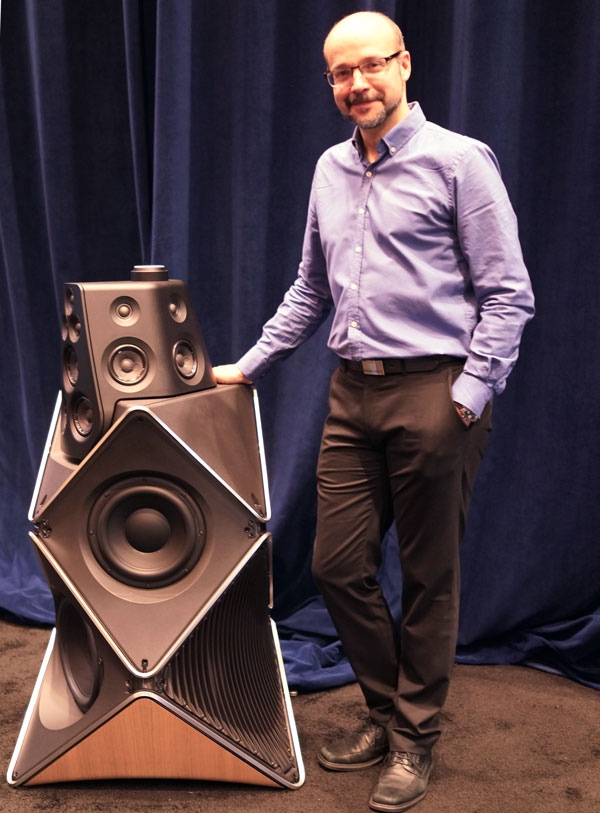 Bang & Olufsen celebrated its 90 years of existence by releasing a $75,000/pair loudspeaker that had been 12 years in design. Geoff Martin, Bang and Olufsen's Tonmeister and Technology Specialist in Sound Design, played an instrumental role in bringing the Beolab 90 from its origin as a blue-sky project at the Danish University.
Initially, the speaker was configured as a large barrel, 2 meters high, that used 24 drivers, 24 channels of amplifier power, and 24 channels of digital signal processing (DSP). As the project progressed, it was moved to Bang and Olufsen's development facility in Struer, Denmark.
In contrast to most of Bang and Olufsen's products, which begin with a visual design, this loudspeaker began as an acoustic design. After many iterations, the current design emerged as an 18-driver structure that houses the drivers, 18 amplifiers and 18 channels of DSP. The final complement of closely-spaced drivers includes 4 woofers, 7 midranges, and 7 tweeters. The speaker's body is made of cast aluminum, and weighs 129 kg. Each Beolab 90 has RCA, XLR, USB2 audio, Toslink, S/PDIF, and wireless (WISA standard) input. It can accept a PCM digital stream, but cannot decode DSD at this time.
Fellow Stereophile writer Kal Rubinson made a trip to Struer last year and received a thorough education from Geoff on how the speaker operates. (See Stereophile, October 2015, p.16.) Geoff explained that the Beolab can be conceived of as a three-way speaker that uses 18 drivers to be able to direct the sound and make corrections so the reflected sound from the walls does not interfere with the direct sound.
After the explanation, Goeff played me several tracks I knew, including the opening to the Eagle's live performance on Hell Freezes Over of "Hotel California," and the "Pie Jesu" selection from Rutter's Requiem. Needless to say, the bass notes had good pitch definition, but also showed differences in timbre and quality I had not noticed before. The speakers created an extremely wide soundstage, recalling the Mark Levinson HQD systems; a bass line that was much easier to follow than I recall; and emphasized a struck wood block percussion note in "Hotel California" more than I've heard it before. The sound was incredibly dynamic but relaxed. This was the best bass I heard at the show, and the most startlingly different soundstaging and midrange I experienced during CES 2016.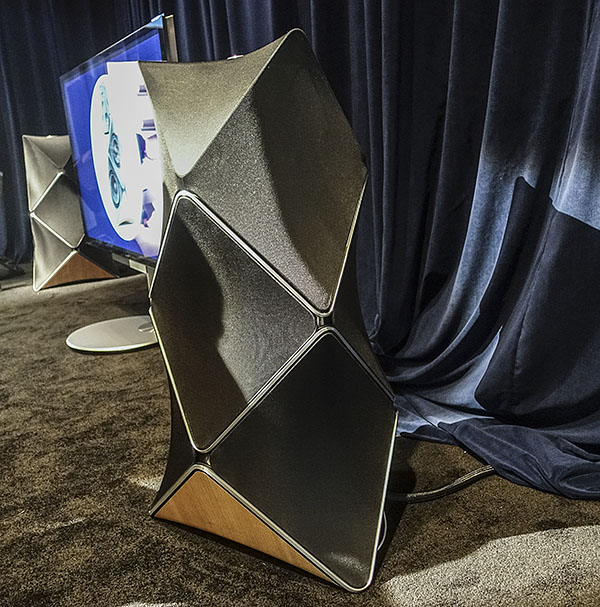 Robert Deutsch comments: The question I've been asked at every CES more often than any other is "Which sound system impressed you the most?" It's a question that's often difficult to answer. Typically, I've been impressed by several systems, often for different reasons, and it's hard to say which was "the best." That is, except at CES 2016. This time, I had no trouble answering this question: the BeoLab 90. The sound was utterly natural, effortless, with outstanding soundstage and imaging. I also couldn't help but be impressed by the technology represented by this speaker system: 18 drivers of the highest quality, 18 amplifiers, full DSP control, cast aluminum enclosure. Given the components and the extensive research that went into the design of the speaker, $75,000 for the pair does not seem excessive. The photo shows speaker with the the fabric grille.