AXPONA: Lower Level Vistas
Once Pro Musica Chicago discovered that one of the electrical outlets in their room was severely handicapped, as it were, and switched to another, the VTL TL5.5 preamp with phono stage ($10,500) and VTL S200 power amp ($12,500) delivered eminently neutral sound. On a classic recording of Falla's
Three Cornered Hat
, the presentation had all the midrange weight, warmth, and fullness I've come to expect from VTL gear. The sound was wonderful.
Storeowner Ken Christiansen, whose True Stereo recordings for NAIM are highly prized, used Chord Co. balanced interconnects ($500) and Super Lumina speaker cable ($75/ft.) to connect the VTL gear with ProAc Response D48R speakers ($11,000/pair). Also in the system: Naim's NDS streamer ($12,500), PS555DR power supply ($12,000), UnitiServe SSD ($4600), and a Rega P6 turntable ($1500) with Dynavector 20x2H ($9500). With the help of Quadraspire Q4 Bamboo equipment racks ($1950), it was a felicitous lineup of components that I hope to encounter again.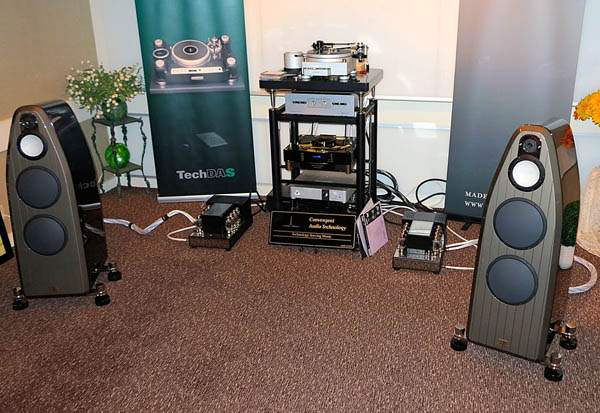 What a trooper Dan Meinwald is. Attempting to take control in the Kyomi Audio room as representatives from multiple companies buzzed away in loud voices and a little child's video game chimed away, he persevered until I was finally able to ascertain that the really nice warm sound and huge soundstage before me were not simply a product of wishful thinking. I did think that instruments were a little pushed together in space, but that may have been due to the size of the room or my feeling that there was precious little space for music listening amidst the din.
The system included brand new Marten Coltrane 3 loudspeakers ($100,000/pair) with newly developed Cell Drivers, brand new Convergent Audio Technology JL7 200 watt per channel triode monoblocks ($31,990/pair), CAT SL-1 Legend preamp with built-in phono ($27,990), Tech Das Air Force 3 turntable ($27,000), Graham Phantom Elite 12" tonearm ($14,000), van den Hul Colibri Stradivarius cartridge ($7995), Merging Technologies NADAC DAC ($10,500), and MBL 1621 A CD transport ($28,000).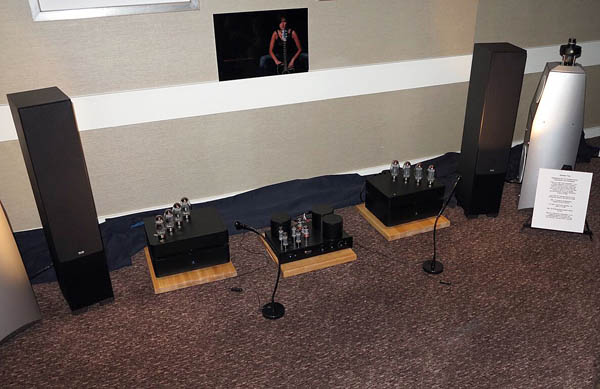 Jolida, now under the leadership of new CEO Jerred Dunkerson, is in the process of changing its name to Black Ice Audio Solutions. Despite the intriguing name, the company's two systems sounded anything but cold. The bigger one produced lots of impact and force on Jethro Tull's "My Guy." Key to its success was the due-in-September Black Ice F 360 tube preamplifier ($999), a Jim Fosgate-designed matrix circuit from the 1970s that offers bypassable tone controls, a unique Sound Stage Expander, Tape Loop, and "Hold onto your Hat" rear outputs that create a true analog surround system. (That sentence alone cost more than $999 in human hours to type!) Complete with Luxor made-in-the-USA VTM 100 tube monoblocks ($16,000/pair) and MBL 116 Elegance Radialstrahler speakers ($32,000/pair) in front, two JD 1000 P tube power amplifiers ($1999 each) and MBL 126 Radialstrahlers in the rear ($13,000/pair), and forthcoming Black Ice tube phono preamp ($1200) with Jim Fosgate-designed circuitry, it sounded great. (Note: The other Jolida and Black Ice gear in the system was made in China, in a well-run factory I've visited that is filled with absolutely lovely people.)
Given that they weren't broken in, the ELAC Debut F6 loudspeakers ($380/each) and VPI Scout Jr. Turntable with Ortofon 2M Red cartridge ($1599) in the other Jolida system lacked the polish, grace, body and weight of the bigger system. How it will sound when everything is performing optimally waits to be seen. Electronics were lower priced goodies from Jolida, some of which incorporate Fosgate designs.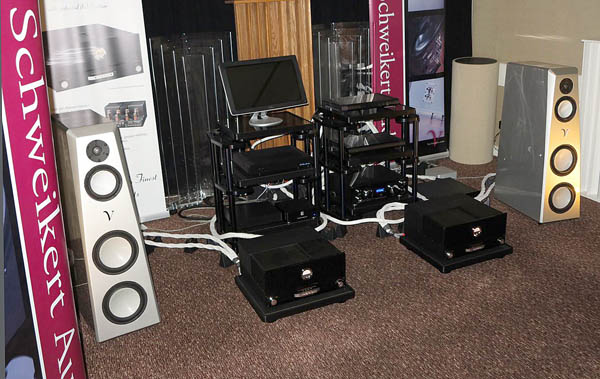 Bill Withers' "Ain't No Sunshine" sounded very clean, clear, smooth, and beautiful through the world premiere of Blue Smoke Entertainment Systems' Black Box Ultimate music server (approx. $7000). Also in this fine system were the MSB Diamond DAC-V ($48,000 as configured), VAC Signature line stage preamp ($19,500) and Signature IQ 200 amplifiers ($14,000 each), Von Schweikert VR-55 Aktive loudspeakers ($60,000/pair) with 525 watt built-in woofer amplifier and V-12XS Shockwave ($11,500 each), MasterBuilt Audio cabling, Harmonic Resolution equipment rack and isolation bases, and SMT room treatment
Further listens to an unnamed classical track and another track best described as a bass workout on injectable caffeine and steroids confirmed how outrageously good and well-controlled the bass was. I was told that the Von Schweikert VR-55 Aktive's class-D switching amp boosts the signal of the VAC tube gear. The crossover point is adjustable.
An optimal seat in KEF's packed room I did not have, but after KEF International Brand Ambassador Johan Coorg (pictured) did the introductions, the superb focus and excellent imaging of the KEF Blade Two loudspeakers ($25,000/pair) were impossible to miss. Sound from a Chord Mojo DAC ($600), Parasound JC2 preamp ($4500) and JC1 monoblock amplifiers ($4500 each), Straightwire cabling, Brinkmann Audio Spyder turntable with 10.5" tonearm and Pi cartridge contributed to a winning presentation.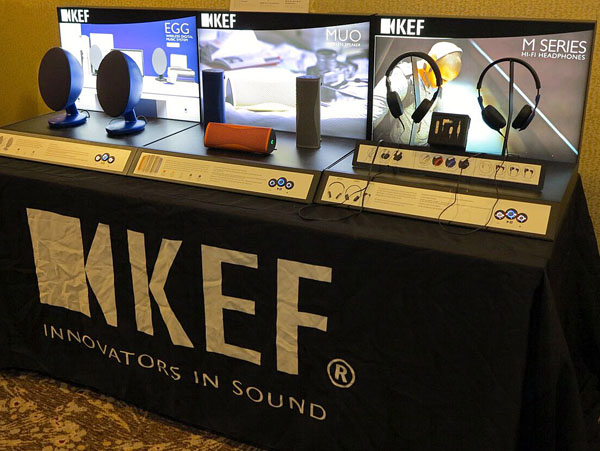 Although there was no time to take a listen at the unmanned exhibit, I couldn't help but admire the headphones in KEF's hallway display outside their listening room.
Early visitors to Paragon Sight and Sound's room, which was headlined by equipment from Wilson, dCS, Harmonic Resolution, D'Agostino, Transparent, and Brinkmann, had no idea that the suboptimal sound they heard was due to a mis-adjusted Stromtank that was outputting far less power than it should have. Once that major little glitch was addressed, and the system played loud enough to drown out some of the loudest non-stop air conditioning I have ever heard in a hotel set-up, the system sounded fantastic on the CD layer of a supremely colorful Pentatone SACD of Stravinsky's L'Histoire du Soldat.
Very few systems are willing to depict bright horns exactly as they sound, because most end up discomforting listeners if not piercing eardrums. The new D'Agostino Progression mono amplifiers ($39,000/pair), along with their Momentum preamp ($35,000) and Momentum phono stage ($28,000), combined with Wilson Audio Alexia loudspeakers ($52,000/pair), dCS Rossini CD player ($28,499), and Transparent XL series cabling are not afraid to transmit musical truth, bright though it may be, because musical truth, done right and at correct volume, is actually more pleasing (to these ears) than damped-down and sugared-up highs. Might I add that the sustain and decay of a marimba on another CD was world-class in its realism? Bravo to a major system that also included Brinkmann's Spyder turntable ($17,490) and PI cartridge ($2490).
Woo Audio, whose products are handcrafted in the Big Apple, displayed its brand new WA8 Eclipse battery-powered SET class-A vacuum tube headphone amplifier with built-in 24/384 DAC ($1799). Supplied with a case designed to prevent tube breakage during travel, this baby's rechargeable batteries are capable of up to 4 hours continuous use, and they take only 2.5 hours to recharge fully. I was told they should last "for years." The sound of Hilary Hahn playing Bach violin concertos with orchestra, heard via Sennheiser HD800 headphones equipped with Kimber headphone cable, was lovely, warm, and neutral. I really wish I could have stayed longer, because this little amp produced truly golden sound.
I recall a basement exhibit at the now-defunct T.H.E. Show Las Vegas where Atma-Sphere electronics were allied with loudspeakers to produce rather bright, artificial sound. I am happy to report that that was very much a room-generated phenomenon. Here, the combination of the premiere showing of the Atma-Sphere Nirvana amplifier ($47,000/pair) and MP-1 Mk. III.3 preamplifier ($20,000) with the Classic Audio T-1.5 reference horn loudspeaker ($72,000/pair), Kuzma Reference turntable with Triplanar 12" arm ($9500) and van den Hul Grasshopper cartridge, and ModWright-modded Oppo BDP-105 disc player produced lovely, natural, and engaging sound on a CD of music from The Secret of Kells.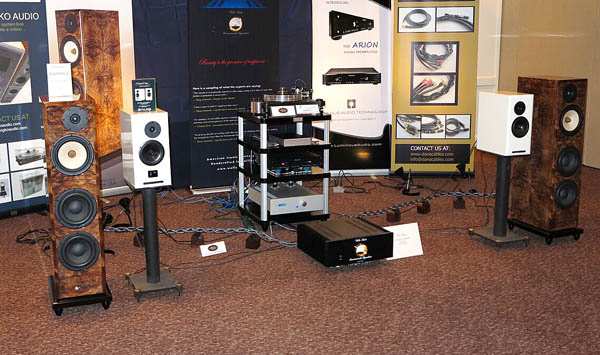 Using the latest version of Roon software, this big system did its best to convey music over a truly obscene, unstoppable air conditioning system that, in some rooms on the lower level and second floor, sounded far louder than the worst air conditioning system I've ever heard in a concert situation. The system was headlined by Salk Sound's 92dB-sensitive Exotica 3 speakers ($12,995/pair) and included the Wells Audio Innamorata Signature amplifier ($15,000), Lampizator Lite 7 DAC/preamp ($7000), and Salk StreamPlayer Generation III with the latest, newly released version of Roon ($1695); the soundstage was extremely large, the bass impressive but a bit boxy, and strings sounded a bit wiry.