Adrian Sherwood's Dub Trip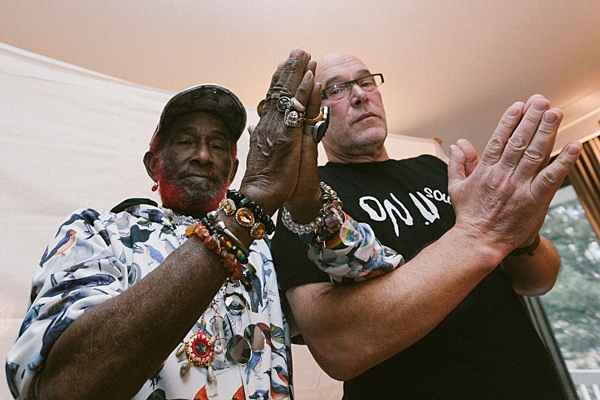 Following in the lineage of such iconic dub music masters as Osbourne "King Tubby" Ruddock and Lee "Scratch" Perry, producer Adrian Sherwood is the UK's contemporary pioneer of dub: the reverb-filled, beats-rattling, bass-thick music that erupted from "sound system" parties in Kingston, Jamaica in the 1960s.
In the 1980s, London-born Sherwood cast a wide net with his On-U Sound Records label. He has produced, mixed, or remixed artists as diverse as KMFDM, Depeche Mode, Garbage, and Nine Inch Nails. But if you ask him, he'll cite records with dub innovator Lee "Scratch" Perry—Time Boom X De Devil Dead (1987), From the Secret Laboratory (1990), and The Mighty Upsetter (2008)—as his most vital.
The pair recently reunited for the album Rainford (On-U Sound), octogenarian Perry speak-rambling over nine tracks of sometimes mystical, always grooving, spacey dub-dislocation. (Heavy Rain, an even dubbier revision, will appear in December.)
"With Rainford, I wanted to make a record that reflected what's great about Lee," Sherwood said in an interview from his home in England. "We went back to his pre-Black Ark Studio material and used the energy of a lot of those early records to make it sound contemporary."
On such songs as "Makumba Rock" (where Perry cries, "I want my mommy"), "African Starship" ("Marcus Garvey starship . . . African king"), and "Autobiography of the Upsetter" ("My father was a freemason . . . on plantation house"), Sherwood's productions groove hypnotically as Perry murmurs profundities and absurdities.
"Lee sees every minute like a magic moment—he's Salvador Dali every minute," Sherwood said. "On Rainford, Lee rants against disaster capitalism, the devil, fighting against evil, voodoo, witchcraft, and spirituality. I wanted to turn his ideas into hooks, to make the album more song-oriented."
Recorded in Jamaica, Brazil, and the UK, with Sherwood sometimes capturing Perry's voice "using a crap microphone and headphones in Lee's kitchen at midnight," Rainford is a testament to Perry's staying power and the universality of dub.
"At 83, Lee thinks everything is amusing," Sherwood recalled. "Lee knows what makes a good mike and what effects he likes. He'll ask for a Mu-Tron or an Echoplex. He's very aware of sounds and sonics. In the studio, he'll tell musicians what to do and what not to do. If there are people in the studio who've got no energy, he'll kick them out. He wants to make a magic environment."
What is dub? "Say you're playing a Rolling Stones song. You think, 'wow this is great.' Then you take the drums and the bass out and you've got Mick's voice. Then you drop it back to the drums and bass, and Mick's voice again. And then you spice it up by adding reverbs and snares or delays to the rhythm guitars and dubbing up in time. It's basically deconstruction/ reconstruction. It's very trippy, and it really lends itself to closing your eyes and drifting off with a big fat spliff."
Adrian Sherwood's Top 10 Dub Albums
Lee Scratch Perry's Blackboard Jungle Dub (Clocktower, 1981). "Because it's just such drastic stereo. A masterpiece."
King Tubby Meets the Upsetter–At the Grassroots of Dub (Fay Music, 1974). "That [album] documented the lineage of King Tubby and Lee Perry as dub masters early on a record. Play it on your turntable and be transported to a Jamaican sound system."
Brand (Joint International, 1977). "Keith Hudson was a wonderful producer and rhythm guitarist with completely his own style. Brand is another seminal dub album."
Augustus Pablo's East of the River Nile (Message Records, 1977). "Although he wasn't the first person to use a melodica in dub, Augustus is the one everybody knows as the master of melodica minor chords and haunting melodies."
Creation Rebel's Starship Africa (On-U Sound Records, 1978). "That's a very trippy psychedelic dub album. It's more in the school of American psychedelic production of backward playing and backward mixing."
Neil Fraser: Dub Me Crazy!!, Beyond The Realms of Dub, The African Connection (all Ariwa, 1982–83), etc. "Another wonderful set of dubs coming out of England."
Dennis Bovell's: Strictly Dub Wize (Tempus, 1978), I Wah Dub (Cut/EMI, 1980), Dub Conference (Studio 16, 1980), etc.). "He's a master of the dub scene in England. He mixed my first album when I was 19. Dennis also did Linton Kwesi Johnson's records (Dread Beat an' Blood (Virgin, 1978), Forces of Victory (Island, 1979), Bass Culture (Island, 1980), etc.)."
Scientist Meets the Space Invaders, Scientist Rids the World of the Evil, Curse of the Vampires (all 1981, Greensleeves). "A Jamaican reggae producer, like Henry 'Junjo' Lawes, would come to England with Yellowman albums or whoever else he'd produced, with the dub versions left over. Greensleeves Records put the dubs, gave it a funny name, a funny cover, and credited it to Scientist. The band was Roots Radics on all those albums. The records were successful because they captured people's imagination. It projected Scientist forward as a great mixer, as a student of King Tubby."