2010 Records To Die For Page 4
MATTHEW FRITCH
---
THE MOUNTAIN GOATS: Tallahassee
4AD CAD2215 (CD). 2002. Tony Doogan, John Darnielle, Michael Ivins, prods.; Doogan, eng. AAD? TT: 44:04
A codependent couple heads down to north Florida to bottom out on drugs and tear each other apart—and then things really get ugly. Somewhere between an episode of Cops and a Tennessee Williams play, the lyrical narrative running through the brisk folk-pop songs of Tallahassee turns us all into voyeurs, witnessing a once-romantic relationship descend into Southern-gothic madness. John Darnielle can sometimes be an overly wordy singer-songwriter, but here, on "No Children," he gets right to the point as, in an oddly uplifting chorus, the husband character tells his wife, "I hope you die / I hope we both die."
KLAUS NOMI: Eclipsed: The Best of Klaus Nomi
Razor & Tie 7930182207-2 (CD). 1999. Klaus Nomi, Ron Johnsen, prods.; no engs. Listed. AAD? TT: 58:21
Every year for the past decade or so, I've considered dressing up as Klaus Nomi for Halloween. The German-born Nomi favored a far-out kabuki-robot look in the early 1980s, when he sang backup for David Bowie and recorded his own albums—a jarring hybrid of opera, cabaret, disco, and new wave far weirder than any alien-creature outfit he might've donned. Nomi had a short career—he died in 1983 due to complications from AIDS—but his style and sound are unforgettable and irreplaceable. To get the complete picture, check out his performance in Urgh! A Music War (1981), an excellent multi-artist concert film.
LARRY GREENHILL

---
BEETHOVEN: Symphony 3
Andrew Manze, Helsingborg Symphony
Harmonia Mundi 807470 (SACD/CD, 24-bit/88.2kHz FLAC files downloaded from HDtracks.com). 2008. Robina G. Young, prod.; Brad Michel, eng. DDD/DSD. TT: 50:24
Last year, Wes Phillips picked as his "Record To Die For" Chesky Records' HDtracks.com download service, because he'd found it so valuable a source of digital music files. Wes's observation that the site's files have no DRM or lossy compression was persuasive, so I purchased Andrew Manze's reading of Beethoven's "Eroica," with the 59-piece Helsingborg Orchestra, in the form of 24-bit/88.2kHz FLAC files. I was not disappointed. Harmonia Mundi's recording is balanced, warm, and nonfatiguing. The first movement is spellbinding—I hear subtle ambience cues I usually notice only at live performances, and the soundstage is wider and deeper than any I've experienced from the best "Red Book" CDs or SACDs. There is an enhanced sense of three-dimensionality, with more precise images of the instruments, more open highs, more detailed imaging, deeper soundstaging, and better-defined bass. All of this connects me to those crucial elements of music: pace, rhythm, and emotion. These hi-rez downloads will show off your system's imaging and soundstaging. (XXXII-2)
VALERIE JOYCE: New York Blue
Valerie Joyce, vocals; Lawrence Feldman, alto & tenor saxophone; Andy Ezrin, piano, arr.; Tim Lefevre, Jan Herbert, bass; Gene Jackson, drums
Chesky JD316 (CD; 24-bit/96kHz FLAC files downloaded from HDtracks.com). 2006. Norman Chesky, exec. prod.; David Chesky, prod.; Nicholas Prout, eng., ed., mastering. DDD/DSD. TT: 54:07
I first heard Valerie Joyce in hi-def sound when I downloaded a 24-bit/96kHz FLAC file of her cover of Jimi Hendrix's "Little Wing" from Chesky's HDtracks.com. The image of Joyce's almost-whispering soprano was the most three-dimensional and palpable I'd ever heard in my listening room, and was enveloped in a 360¯ space that extended well behind and in front of her. The most realistic soundstaging image I'd ever heard there, it pulled me into the music, made Joyce's tone and phrasings come alive, and compelled me to download the entire album. For those seeking a sonic standard for female jazz vocals, look no further than New York Blue.
BOB GULLA

---
VELVET CRUSH: Teenage Symphonies to God
Sony 550/Creation 842914064330 (CD). 2006. Mitch Easter, prod., eng.; Velvet Crush, prods.; Lloyd Puckett, eng. AAD? TT: 45:52
Back in the early 1990s, when rock music had just begun its violent overthrow of my brain, I wrote a local music column for an arts weekly in Providence, Rhode Island. The scene in my little town was fertile at the time, with able bands all vying for post-Nirvana major-label dollars. At the time, Velvet Crush was the ablest, a big fish in a small pond, marked by all the right influences, decked out in all the right clothes, and seen in all the right places. Teenage Symphonies to God is the band's masterwork and the answer to the question: What would happen if indie rockers merged the Byrds' Sweetheart of the Rodeo with the Stones' Exile on Main Street?
DAVID LINDLEY: El Rayo-X
Elektra/Asylum 5E-524 (CD). 1981. Jackson Browne, Greg Ladanyi, prods.; Greg Ladanyi, eng. AAD. TT: 39:31
To know David Lindley is to love him. If you don't know him but purport to love the Rock, then you owe it to yourself to check this one out. This former sideman to Zevon, Dylan, Ronstadt, Browne, etc. made only three official records with El Rayo-X, each more underappreciated than the next. But his 1981 debut ranks as one of the 1980s' great, unsung rock'n'roll recordings, striped with blistering slide-guitar blues, Tex-Mex, reggae, and R&B.
JON IVERSON

---
20/20: 20/20 & Look Out!
Oglio 81581 (CD). 1979–80/1995. Earle Mankey, Richard Podolor, prods.; Bill Cooper, eng. AAD. TT: 74:22
There was an explosion of great music in the late 1970s that included hundreds of New Wave and power-pop bands. These were not the goofy hair-wavers of the '80s, but more in line with early Elvis Costello, Paul Collins' Beat, and XTC—punchy, noisy pop songs that mashed the recent punk uprising with early-Beatles sensibilities. One of the greatest but least celebrated of these groups was 20/20. Part of the reason for the latter may be that after the release of 20/20 they quickly fell apart musically, and then actually. If you can find a copy of this CD, you'll be richly rewarded—it's like uncovering buried treasure. If there were justice in the rock world, 20/20 would be heroes and Duran Duran a mere footnote. Do your part and check out this disc; be advised that it contains both the band's eponymous debut (the reason for this review) and its weaker follow-up, Look Out!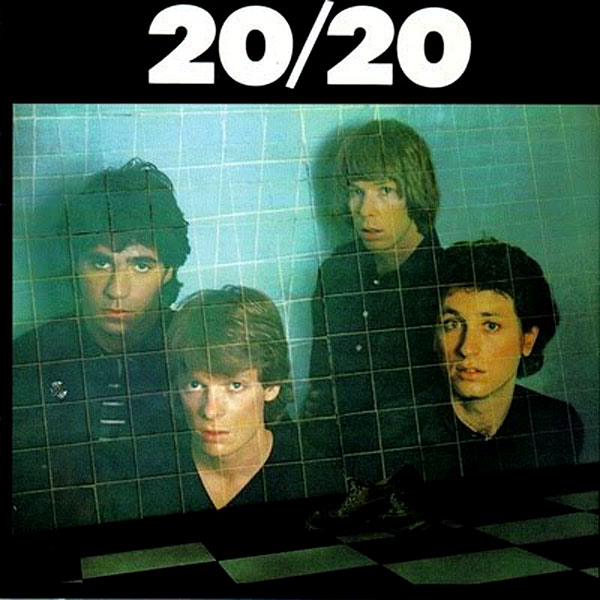 HECTOR ZAZOU: In the House of Mirrors
Hector Zazou, guitar, percussion, percussion programming, sound treatments; Ronu Majumdar, flute; Nils Petter Molvaer, trumpet; Zoltán Lantos, violin; Diego Amador, piano; Bill Rieflin, cymbals, gong
Crammed Discs Craw 47 (CD). 2009. Hector Zazou, prod., eng. DDD. TT: 63:58
For In the House of Mirrors, master Indian musicians were recorded in Mumbai, the tapes then minimally processed and "reflected" by Hector Zazou, who thus created a gorgeous musical mutation. I would love to have heard Zazou apply this approach to other styles of music, but he died just after this album's release. Not quite ambient but certainly not beat-driven, this music is what John Lennon might have imagined when he sang, "relax, turn off your mind, and float downstream."
FRED KAPLAN

---
MILES DAVIS: The Complete Columbia Album Collection
Miles Davis, trumpet; many, many sidemen
Columbia/Legacy 88697524922 (71 CDs). 1947–85/2009. Daniel Baumgarten, Richard Seidel, reissue prods.; Mark Wilder, Maria Triana, mastering. ADD. TT: ca 60 hours
Call me a cheat. I'm asked to pull two albums out of the fire, and I grab 52—every album that Miles Davis recorded for Columbia Records, collected in a 71-CD boxed set? Well, look—it's a compact package that fits easily under your arm. And since Miles transformed the music four or five times in the course of almost half a century, The Complete Columbia Album Collection stands in for an entire history of postwar jazz, at least up to the mid-1980s. And such a stand-in: romantic, garrulous, intense, and always adventurous. The sound is usually excellent, too.
KRONOS QUARTET: 25 Years
Music of Adams, Ali-Zade, Benshoof. Crumb, Feldman, Glass, Golijov, Córecki, Gubaidulina, Pärt, Phan, Piazzolla, Reich, Riley, Schnittke, Sculthorpe, Volans
David Harrington, John Sherba, violin; Hank Dutt, viola; Joan Jeanrenaud, cello
Nonesuch 7559-79504-2 (10 CDs). 1987–1997/1998. Bob Hutwitz, prod.; various engs. DDD. TT: 10:32:47
With my other hand, I grab this boxed retrospective by Kronos Quartet, released for the 25th anniversary of their formation, though these 10 discs cover a cross-section of only the last 10 years of that period, when they began to record for Nonesuch. That decade preceded their more recent excursions into MultiCultiLand, but here are some of the most adventurous pieces of contemporary classical music—by John Adams, Arvo Pärt Hemyk Górecki, Philip Glass, Osvaldo Golijov, Terry Riley, and many more—most of them commissioned by Kronos, who play with rigor, vigor, and finesse throughout. Alternately—and sometimes simultaneously—bracing, soothing, and jarring, and always satisfying. The sound quality is usually quite good.