HE2005 Day One: The Press of the Press
Day one of the Home Entertainment Show is always set aside for the press (and "the industry," which is an apparently elastic term meaning "everybody else"), but this year it seems as though there's more press than ever. Every press conference—and there was a steady stream of them—was standing room only and the halls were already thronged with showgoers. It looks like HE2005 is already a hit.
The day started with a Samsung event, designed to announce an alliance between the Korean electronics manufacturer and the X-Box division of Microsoft Corp. to "elevate gaming to the next level through high-definition technology." As audiophiles, it took us a while to comprehend that "high-definition" meant "HDTV," but we eventually got it. What we were confounded by, however, was that at a press conference in which the two companies stressed the importance of using their cross-brand synergy to spread the word that "HD" means better, nobody bothered to set the demonstration up so that the displays were in the proper aspect ratio.
Ouch.
Polk, on the other hand, was far more modest in its claims for its new $599 "I-Sonic" entertainment system, an HD radio tuner (Ibiquity's inband digital system)/AM/FM radio/alarm clock/DVD/CD player with XM satellite radio potential (that means you can add an XM satellite antenna/tuner module to the whole shebang for an extra $50). We've all seen table radios before, so what makes this one different? Two things, said Polk's Paul DiComo: "This one has HD radio and, because we've made a few audio products in our time, it actually sounds good."
How come? DiComo credits an innovative 360-degree sound projection scheme and Polk's Power Port technology with balancing the sound from a radio with a small footprint. We didn't get a chance to hear it, but we have been thinking about rooms where one might come in handy—oh, you think that might be the idea?
Speaking of XM Satellite Radio, Brian Shea, the broadcaster's vice president of marketing and distribution gave the Show's keynote address. Shea pointed out that satellite radio's growth, and that of XM in particular, have proved that consumers will respond to a product that gives them more of what they want. Restrictive playlists and lack of variety were what caused people to switch off radio, he said. Satellite radio's greater range of choice have sent 3.8 million customers XM's way—and he projected 5.5 million subscribers by year's end and "over 20 million by the end of the decade."
After the keynote speech, we decided it was time to give us what we wanted, and what we wanted was music. We certainly got that in the Innersound/Mobile Fidelity room, which offered a real treat: Marc Aubort's legendary recording of Prokofiev's Alexander Nevsky with the St. Louis Orchestra under Leonard Slatkin. We mean the original four-channel masters played through the same Scully tape deck Aubort recorded them on. We watched the tape run through the Scully's heads and gasped when we saw the splices Aubort had made nearly 30 years ago (and a lot fewer of them than you'd think, given how pieced together modern recordings have gotten).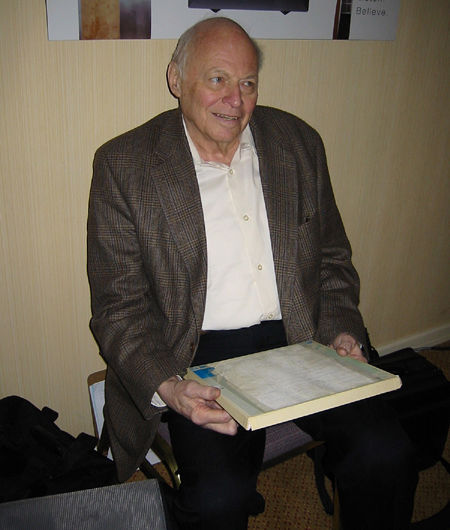 The playback system included two $4500 Innersound Control preamps, a $14,000 DPR Reference power amp (front channels), Power 33o power amp (rear channels), $20,000/pair Kaya Reference electrostatic hybrids (front channel), and $12,500/pair Kachina hybrid 'stats(rear channel).
The sound was lush, crisp, and detailed—very present, we thought. We went back for a second serving and Marc Aubort was there in person, charming us with his enthusiasm. When we started to leave so someone else could take over the sweet spot, he said, "Wait until you hear the 'Battle on the Ice.' There's a sound like trumpets and you won't believe what it really is."
We stayed (well, wouldn't you?) and no, we could figure it out. "It's the violas, playing close to the bridge!" Wow.
We snuck a look at one of the tape boxes on the way out. "Put through flat," it commanded. "No limiting." We got goosebumps.
Chicken skin was what we also got down in the VTL/dCS/Peak Consult room. Luke Manley was showing off the his new $8500 TL 6.5 preamplifier, which really did seem to offer an extraordinary amount of the life and color of his $13,500 TL 7.5 preamp. Manley paired the TL 6.5 with VTL's $20,000 S-400 power amplifier, which drove Peak Consult's $24,999/pair Empress Reference loudspeakers. "Ohhh," sighed John Marks, who had just arrived at the Show. "Those may be the best-sounding speakers at this show."
Now that's confidence—it was the first system he'd heard! But we understood what he meant.
If you're observant, you've noticed we haven't mentioned the system's source yet. It was a new single-box CD/SACD player from dCS, the $13,500 P8I, which upsamples to DSD (and offers digital inputs, which can be enabled to upsample external digital sources to DSD). It's shipping now and it caused us severe gizmoid lust.
Gizmoid, of course, brings to mind the late Harvey Rosenberg, and the last product introduction of the day was Moscode's $4995 401 HR (that's in memory of Harvey), a 200Wpc tube/MOSFET hybrid amp that looked and sounded pretty special. Designer George Kaye, who worked for New York Audio Labs back in the 1980s, called the 401 HR an update and extension of his original Moscode circuit. "It's everything I've done to upgrade the originals, along with new stuff I've thought up since then," he said. "I wanted to make it look nice, and then we made it 'gizmologic' with a glass faceplate. I have tubes for voltage stability and the MOSFETS in the output stage eliminate the problems caused by transformers."
Remember, this is a man who revised Julius Futterman's OTL (output transformerless) amplifiers back at NYAL, so he's pretty serious when he says that trannies have their flaws. "MOSFETS have limitations, but transformers have phase funnies (truncations at the frequency extremes), as well as hysteresis and phase anomalies between the primary and secondary windings. In comparison, the harmonic distortions of MOSFETs are minor—and they are easily compensated for with a little negative feedback."
We can't wait to learn more. But first we have to survive the next three days of the show.