2005 CES: More Day Four
As an audiophile manufacturer, the odds are stacked against you getting a great sounding demo up and running under show conditions. The rooms are generally skimpy and oddly shaped, the construction materials and walls unpredictable, and there's the need to set up fast with only what you've thought to pack in.
Yet, many displays overcome these obstacles to become an oasis of transcendental audio bliss. Partially hidden at the back of the St. Tropez, in a group of large demo rooms called the "Golden Section" by show organizers, was just such a room. I was invited in to one of these rooms by Hervé Delétraz, audio designer for darTZeel, and the company's marketing manager, Serge Roch (both pictured below).
The show has been raging for four days, but these guys can barely contain themselves as they dash about to find me a seat and try to decide what to play next. In the room were several of their amplifiers, biamping some rather large Von Schweikert Audio loudspeakers. Source components were all from Ed Meitner's EMM Labs and the system was set up for either stereo or mulitichannel playback.
I hesitate to make snap sonic judgments, but it was obvious that this system sounded wonderful from the first note. Since I tend to favor large, life-size audio presentations, the big room and speakers didn't hurt, but what really caught my ear was the honest tonality and dynamics rendered by everything that was played. We also got a quick demo of darTZeel's forthcoming two-channel preamp, which Delétraz says involved two new patents and an unusual design approach. It also sounded splendid, and should arrive sometime this year, with more products to follow.
We first walked into the DEQX digital correction demo at the Alexis Park three Shows back, and quickly dubbed it "best audio proof-of-concept in a hotel room." They've made quite a bit of progress since that first demo, and have now inked deals with speaker manufacturer NHT to include their calibrated DSP speaker correction technology in NHT's new Xd.
On hand for this Show was DEQX's new PDC-2.6P digital amplifier "combo" which includes the company's calibrated preamp and four-channel digital amplifier. DEQX founder Kim Ryrie was holding court, converting one listener at a time with a very informative hands-on demo. I still think this is one area where we will see rapid acceptance as we transition to high-resolution digital systems.
But audio life is not all digital, and both Mobile Fidelity and Classic Records were announcing new vinyl releases at the show. Classic handed out a tote bag stuffed with new goodies, including a Quiex SV-P pressing of Who's Next, Patricia Barber's live A Fortnight In France, and test pressings of Hugh Masakela on both vinyl and DualDisc.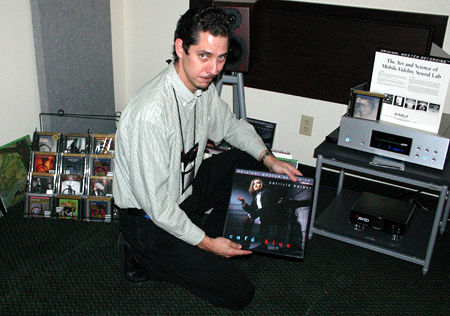 Mobile Fidelity is back in the limited-edition box set business with a new 45 RPM release of Barber's beautifully recorded Cafe Blue. MoFi's Shawn Britton is seen above cradling the set, surrounded by a handful of other recent CD and SACD releases which he has lovingly remastered. While not ready to reveal all to the public just yet, MoFi's crew hinted at some exciting new projects in the works. Stay tuned.