Bel Canto e.One S300iu integrated amplifier
After using
Bel Canto's e.One DAC3
with the
McIntosh Laboratory MS750
music server, I was so impressed that I wanted to hear Bel Canto's CD transports as well. But willing as Bel Canto president and CEO John Stronczer was to supply me with a CD-2, he suggested I audition the S300iu ($2195, footnote 1).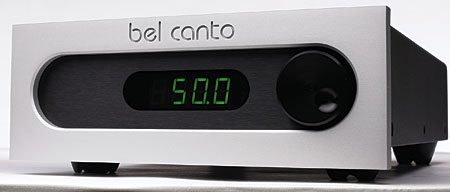 "The S300i is a 150Wpc integrated amplifier, and the 'u' suffix means it's been outfitted with a USB-input-only DAC (a $200 option)," Stronczer explained. "We're pretty excited about it, and we think it's a logical first step for someone who has never seen the point of high-end audio before. It's good enough to be demonstrably better than mainstream stuff, and it's affordable enough to attract music lovers who don't 'get' high-end. Plus, it's 150Wpc, which is pretty impressive even to people who might scoff at something sounding better."
What makes him think that?
"I beta-tested the prototype on my 15-year-old daughter. She couldn't believe how good her music on her computer was—and neither could any of the adults who heard it. It wasn't easy getting it back from her."
Sounds like a win/win for the consumer and for Bel Canto, right?
"You'd think so," Stronczer said. "Unfortunately, some listeners become upset when they hear their MP3s through the S300iu—they're not happy to learn that they've ripped all of those files to a compromised storage format and that they need to start over again. Some of them blame us, rather than the people who promised them 'CD quality' at 128kbps."
Ain't it the truth? I've gotten the same reaction for simply suggesting that.
The trees' stories
The S300iu looks remarkably similar to the DAC3. As members of Bel Canto's e.One line, they share the same shape and appearance: a half-width front panel, a central green display, and, on the right, a single black knob for controlling the volume and selecting the source, framed within the faceplate's radiused recess.
On its rear panel, the S300iu has an IEC mains jack, four analog RCA stereo input jacks (input 4 has a home-theater bypass function), a tape loop, line outputs, and, in an accommodation slot, the USB digital input. (You can substitute a moving-magnet phono section for the DAC.) There are two pairs of substantial five-way binding posts.
Despite the S300iu's cosmetic similarity to the DAC3, they are very different critters. The DAC3's 24-bit Burr-Brown Delta-Sigma processor is far more sophisticated than the 300iu's more basic 16-bit Burr-Brown chip. "The 'u' module is a $200 DAC," Stronczer said. "It's a very good $200 DAC—the latest Delta-Sigma architecture offers a lot of bang for the buck, and we can get a noise floor of around 93dB out of the chip. That's not quite at the limit of what can be done with 16-bit, but it's up there."
Another difference from the DAC3 is that, other than the knob digitally controlling the resistor ladder, the S300iu's volume control is analog all the way. "At 16-bit resolution, you throw too much data away if you attempt volume control digitally," Stronczer said. The volume control also serves as the source selector: pressing it in sharply brightens the display; you then can dial through the five inputs. Pressing the knob for two seconds toggles the amp between Standby (outputs muted) and On.
Another interesting aspect of the volume control is that it responds very quickly, in downward changes of level, but in upward changes, it responds quickly until it reaches an indicated "50.0," when the display dims and there's a momentary pause before proceeding up to "60.0," above which it responds even more slowly. Stronczer said this was intended to make high-volume accidents less likely.
The simple six-button remote controls all of these functions, and adds Mute.
The S300iu's dual-mono ICE amplifier modules have dual-mono regulated switch-mode power supplies. "We've done a lot of research into switching power supplies, from the time we were working with Tripath-based amplifiers," said Stronczer. "I was impressed by what a well-executed switching supply could do in terms of midband clarity. If implemented correctly, it brings a lot to the party."
Fit'n'finish are first-rate.
The forest
I tend not to comment on how components are packaged. It's such a nerdy-reviewer thing. Yet I remember when my income finally allowed me to move out of the deep-used and mainstream ghetto and I bought a very slightly used Audio Research preamplifier. The box was rugged and the manual was no-nonsense, but I felt a little let down. That's it? I thought. This feels more like buying a washing machine than finally joining the High End. So with John Stronczer's aim of the e.One S300iu serving as a gateway product, I thought I'd look at the amp's packaging and documentation.
The handsome black box includes a carrying handle and durable foam cutouts—it's made to be a keeper, and it's more impressive than your average brown die-cut shipping box. The manual is well written, clear, and comprehensive. If I were coming to the S300iu from Circuit City components, I'd definitely feel I had arrived. Well done, Bel Canto.