ZMF Eikon Sealed Around-Ear Headphones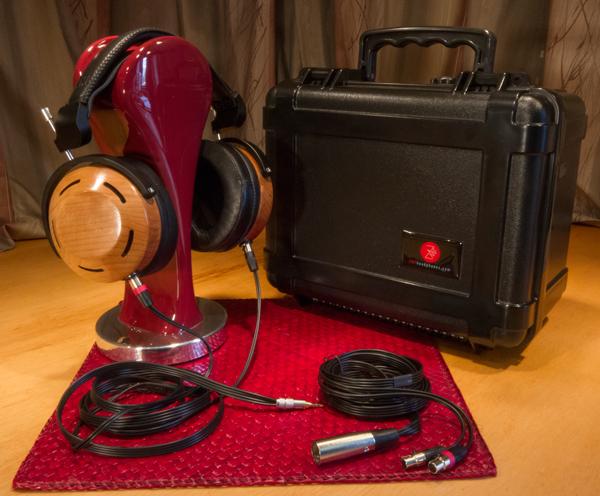 This story originally appeared at InnerFidelity.com
On the one hand you have Sony, Sennheiser, AKG, and the like mounting big bucks R&D efforts to grab at the various brass rings in the headphone world; and on the other hand you have a guy like Zach Mehrbach, Founder, CEO, and Chief Cook and Bottle-Washer at ZMF Headphones, who's artisanal approach is less mental and measurement, and more heart and art...lots more.
ZMF is best known in headphone enthusiast circles for their modified Fostex T50RP models. Personally, I've always felt the T50RP never quite lives up to the energy put into it by DIYers and small shop manufacturers. And it also comes with the downside of being very inefficient and hard to drive with a portable rig. Zach, of course, is very familiar with the limitations of the driver, and I was tickled pink at last year's RMAF to hear of his upcoming Eikon and Atticus headphones sporting more traditional dynamic drivers.
ZMF Eikon ($1299 in Cherry, $1399 in Padauk)
The Eikon is a big, sealed, over-ear headphone weighing in at a beefy 586gr. sans cables. Large wood earcups dominate the styling of these cans, which is unapologetically functional, done with a deft hand. The Eikon is available in both Cherry and Padauk woods. Zach says there is a very small difference in the sound between the two, but woods should be picked primarily on their aesthetic attraction.
The main headband arch is a leather covered metal band with an inner leather suspension strap. The inner strap is ever so slightly shorter in length than the main headband allowing it to float just barley touching the outer headband and conforming exactly to the shape of my head. I found this unusual system quite successful at distributing the significant weight of these headphones over a large portion of my head and making them a surprisingly comfortable fit.
Supple black leather covers the memory foam of the ample earpads. Openings are generous at 69mm x 49mm, and deep enough that my ears don't touch anything within the cups. Caliper pressure is spot on for me. The Eikons fit quite well for a headphone of this weight, but they are rather warm in long listening.
Earpad angle adjustment is quick and easy with earcups rotating forward and aft on large stainless steel pins rotating in machined holes in the aluminum headband ends; and up and down on setscrews on either side of the bail. Headphone size adjustment is also done with the stainless steel pins moving up and down in headband end-piece. There is quite a bit of friction here and this adjustment is somewhat difficult; but once set it remains surprisingly well in place.
The Eikon comes with a large durable plastic carry case, and numerous cable length and connection options are available at time of purchase.
At the heart of the Eikon is a 50mm dynamic driver with bio-cellulose fiber diaphragm and rubber surround. Past experience has me believing that this type of driver is much more likely to deliver excellent sound when compared with typical thin plastic diaphragms, due to the stiffer cone leading to a more pistonic motion and less modal break-up at high frequencies.
I have to say at this point that while my past experience with fiber cone diaphragms has exhibited plenty of promise, few have been able to deliver on that promise. Maybe, just maybe, it's because most manufacturers refuse to put damping materials in the headphones behind the driver. No so ZMF.
DIY headphone enthusiasts have long modified headphones by adding damping materials and know first hand what a difference it can make. ZMF Headphone was born in that world, and Zach has become a master at damping headphones over the years.
The two most obvious pieces of damping material are what appears to be a Melamine foam piece in a short tube behind the driver, and a large fiber mat in the ear cup. These two larger pieces apear to generally increase the acoustic resistance of the chamber to spoil its Q and reduce resonances.
Removing those two pieces reveals a number of other patches of damping material.
Some of the holes on the rear of the driver magnet assembly have been partially blocked.
A piece of what might be shelf liner material lines the inside of the earcapsule to break-up its acoustic reflectivity.
There are two layers of foam in sections around the circumference of the earcup. These interest me as they have a small amount of space behind them and may act as a compliant damper to reduce acoustic reflections off these inside walls.
There is a very thin, seemingly acoustically transparent, fabric layer that is part of the earpad in front of the driver, but other than that and the protective grill there is no damping in front of the driver. Many headphone enthusiasts have found over the years that while damping behind the driver can be very good, damping in front of the driver can be quite problematic.
It's quite obvious to me that Zach has spent a lot of time working on the damping in these cans. Obvious because of the way it sounds...