Zesto Eros 300 Monoblocks, Merrill-Williams REAL 101.3 Turntable, Verity Amadis S Speakers, Purist Cables, Stillpoints Equipment Supports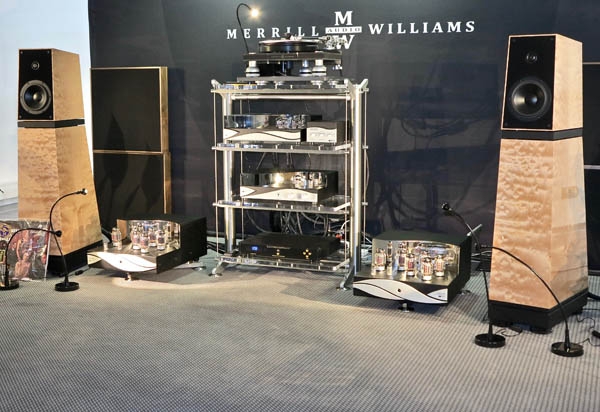 The big news in this excellent-sounding system was the two new power cables from Purist Audio Design. First was the Purist Diamond Limited Edition AC Power Cable ($6300/1 meter, with an ultimate length of 1.8 tip to tip). Composed of 10-gauge Nano silver, the cable includes a five-stage filter box intended to counteract RMI and EF from outside forces and the internal workings of equipment. Beneath that baby lies Purist's all-new Diamond Revision Neptune AC Power Cable ($3800/meter), which contains 8-gauge copper wrapped with strands of Nano silver.
Also heard were Zesto Audio's Andros Deluxe vacuum tube phono stage, Allasso step-up transformer, Eros 300 class-A monoblocks, and Leto 1.5 vacuum tube preamp; Merrill-Williams REAL 101.3 turntable with Triplanar U2 Classic tonearm and Lyra Etna or Skala cartridge; Verity Audio Amadis S speakers; lots of other Purist Audio Design cables; and Stillpoints ESS42-26-4 rack and component stand with Ultra 6 feet. The system sounded delightfully warm, clear, and liquid on Gene Ammons' "Two Different Words." The tenor sax sounded mellow in its core, and the piano wonderfully warm. I don't want to overdo that "warm" descriptor because, IMHO, there's a big difference between the golden touch of tube warmth that allows timbres to flow through naturally and a surfeit of same, which leaves everything sounding like it spent much too much time in the sun. Zesto delivers sun without the burn.