Zappa Returns! Page 2
Joe Travers carefully catalogs the recordings, listens to their content, and submits suitable material to Gail for potential release. "I started documenting the tapes and listening to them and putting it all in a database, just getting myself familiar with the contents of the vault," he explains. "After doing it for close to 15 years, I'm probably only halfway through what's there. But I have found a lot, and I'm accumulating a lot of information as I go. A lot of the stuff that's coming out is due to the preparation work I've done all those years before. There was a period when there was only a certain kind of tape format that I could play in the vault, because a lot of the machines couldn't play back the tapes that weren't refurbished. So it wasn't like I had access to everything when I began—I was limited to the tapes I could play."
It took Gail years to find the resources to fully fund the venture, but her tenacity has paid off. "We have tapes that don't last," she says. "You might get to play them once, if you're lucky. Who knew that the Utility Muffin Research Kitchen would turn out to be a place where you actually had to bake things? (footnote 1) We're archiving; we have to protect things. There are certain things we're looking for that are priorities, but when you hit something that you think is paydirt, you have to deal with that. We have to maintain ancient technology. It's like dealing with an old space fleet or something. It has to work, and the parts to make it work are disappearing, so the access to the information will be gone as well if we don't get it transferred."
The process bears some resemblance to the Grateful Dead's archive of live recordings, released by Grateful Dead Records in that label's Dick's Picks and From the Vault series and sold to fans via mail order and digital downloads. "The method is similar," agrees Travers. "They're picking from their vault, and that's what I'm doing. The Grateful Dead have more complete shows in their vault."
The key difference is that the Dead soundboard recordings were made for the immediate review of the band's performances and were not intended for commercial release (which is why the group allowed its fans to tape the shows as well), whereas Zappa not only supervised the recordings but edited and produced them, as if he were considering them for release but never got around to it. "If Frank didn't like the show," Travers explains, "he would re-record over the tape." Nevertheless, Travers has unearthed many Zappa-produced items, and believes there are a lot more he hasn't yet discovered.
So it is that Frank Zappa has managed to produce a series of releases from beyond the grave, including: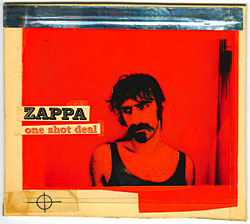 • One Shot Deal (Zappa ZR 20007), a collection of recordings from 1972–1981. "I hope you're recording this," Zappa laughs during "Space Boogers," a guitar-solo-as-electronic-music track. The release also includes the superb Zappa guitar solo "Occam's Razor," and an early version of the "Yellow Snow" suite with a different arrangement and much more narrative detail.
• Wazoo (Vaulternative VR 2007-2), a concert recording of the last performance by the ensemble that toured in support of Zappa's big-band albums Waka/Jawaka and The Grand Wazoo (see Sidebar). A fascinating companion piece to Wazoo, Joe's Domage (Vaulternative VR 20042), is taken from a cassette recording of the early rehearsals of the Wazoo project.
• The Dub Room Special (Zappa ZR 20006), a DVD assembled by Zappa from two concerts—a 1974 special for KCET-TV in Los Angeles, and a show at the Palladium in NYC on Halloween 1981—with hilarious material from the editing sessions during its production.
• Buffalo (Vaulternative VR 2007-1), a two-CD set from 1980, showcases the breadth of Zappa's musical landscape and the technical power of the bands he assembled to realize it. The lengthy orchestration of "Easy Meat" moves from a Beethoven-inspired written score to an improvisational section that climaxes in an outstanding guitar solo. Zappa's satiric side is represented by "Tinseltown Rebellion," a sendup of the L.A. punk scene, and a lengthy extrapolation of "Dancing Fool," replete with Black Sabbath references, that scans like a Will Ferrell screenplay.
• Trance-Fusion (Zappa ZR 20002), an instrumental collection of virtuoso guitar solos that works as a companion piece to the Shut Up 'n Play Yer Guitar and Guitar releases, and includes an incredible "Chunga's Revenge." "This is the last recording that Zappa worked on before his death," says vaultmeister Joe Travers.
• Imaginary Diseases (Zappa ZR 20051). These live performances by the Petit Wazoo band (a smaller version of the Grand Wazoo Orchestra) offer a terrific combination of symphonic and rock elements, such as the "Rollo" fanfare, which integrates familiar Zappa melodic themes in an elaborate orchestral arrangement. The audience-participation segment of "D.C. Boogie" is simultaneously humorously priceless and a white-hot improvisation.
• The Torture Never Stops (Honker Home Video HHD 1221), a DVD of the film of the 1981 Halloween concert at the Palladium. The title track is a gothic description of a torture chamber that's still relevant in today's political landscape, and offers a great example of the amazing guitar interplay between Zappa and Steve Vai.
After Travers and Gail select and approve material from the vault, it's sent to an engineer for the final mastering. "Most of the engineering deals with mastering," says Travers. "Depending on the type of release, we send the projects to different people. Mastering engineers we've worked with include people like Bernie Grundman, Doug Sax, and Bob Ludwig. Any of the stuff that Frank had completed, we'll just send that to guys like Doug and Bob and Bernie because they can do their thing—and it'll be a finished product almost by the time they get it. But with some of the stuff in the vault, there has to be a lot of restoration work involved; the tapes aren't in condition, or, if we put a compilation together from a variety of sound-quality sources, it's necessary to use EQ so it will have a flow, sonically as well as [in terms of] content. John Polito's really good at that."
In the case of Buffalo, they gave mixing engineer Frank Filipetti the choice of several shows to work from. "Frank admired Frank's work, so we admire his work," says Travers. "Buffalo, that was one of the shows from an underrepresented tour. We were able to gather all the sources of the tapes of that show and compile a nearly complete performance. We weren't able to do that with all the shows. We submitted a bunch of choices of shows to Frank Filipetti, and he chose that one.
"The fall '80 lineup on Buffalo was the last tour that Vinnie Colaiuta played on. It was Steve Vai's first band, and it had Ray White and Ike Willis on vocals together, which is special on its own. Frank was really daring when it came to guitar soloing during that time. The only albums that showcased that lineup were Tinseltown Rebellion and a lot of the guitar solos on Shut Up 'n Play Yer Guitar, so I thought that was an underdocumented lineup."
The most important release so far from the UMRK has been MOFO (Zappa ZR 20004), a four-disc documentary of the making of Zappa's first album, Freak Out! "The four-disc set is the mother lode," says Travers: "a lot of material dealing with the making of Freak Out! I found a lot of things in the vault that applied to that album and that time period. So it was only appropriate that we put together that package for the 40th-anniversary release of what I feel is one of the most important records in rock history."
Disc 1 of the set (and of the abbreviated two-disc version, Zappa ZR 20005) is the original studio recording, which is significant: Zappa himself altered the material when he digitally remastered it. Those who want to hear Zappa's digital remixes can still get them on the single-disc Freak Out, of course.
"It's the first time the original mix has been available on CD," Travers explains. "Frank constantly redid things, and in some cases he removed tracks and re-recorded them. Our thinking was that there are a lot of people out there who grew up listening to these records and would like to hear them as they originally sounded. We take the original masters and redo them with clean transfers so we can still keep the intent of Frank's choices."
Gail was a witness to the Fellini-esque scenario Frank created for the making of Freak Out!, when he invited a collection of street people and freaks into the studio to create a kind of ambience. The set also includes numerous alternate takes and incidental material. "With Freak Out!, it's interesting to look at all the tracks and the takes and things that didn't quite make it, and look at it from the standpoint of what was going on in the studio, and here's all this other stuff," she says. "What was also fascinating about MOFO is that Frank was making tapes at the same time in the studio, so even though Tom Wilson is the producer—he has that credit, and rightly so—he opted for Frank to come in and make those recordings and have his own recording running simultaneously, and that's what we have from Freak Out! That's what we're listening to in MOFO—a lot of it is Frank's personal tapes that he was making."
One of the projects scheduled for release from UMRK in the near future is a similar treatment of Lumpy Gravy and We're Only In It for the Money. "I don't want to mess with what I consider sacrosanct, which is the way the composer put it together," says Gail. "I don't want to say, 'Oh, here's another piece that could have been in there but wasn't,' because it's not like that—they have to stand on their own for all time, and you can't really throw in another 15 minutes. It does have some different edits, different versions of things. I'm trying to see if Ryko will work with me to put a special package together that will include most of the dialog, because there's a really funny story running through it. Probably that would be a separate disc."
Other Zappa-produced projects that are ready for release include an all-Synclavier album, Dance Me This, and Zappa's interpretations of works by Edgard Varèse, The Rage and the Fury. Recently, Gail has made the Beat the Boots! series available at the iTunes Store, Amazonmp3, and other websites via TuneCore.com, the digital music mastering service. Zappa himself released the original Beat the Boots! Series in 1991–92 as two vinyl boxed sets. His idea was to combat the extensive bootlegging of live shows from his career, and though some of these shows are of historical importance, the recording quality is generally poor; they're recommended only for the most serious collectors.
The UMRK has also released recordings from Zappa's files that are of lesser sound quality but that appeal to fans for their historical value or sheer oddity. These include Joe's Corsage (Vaulternative VR 20041), which gathers a lot of pre–Freak Out! Material including demos of "Motherly Love," "Plastic People," "Any Way the Wind Blows," and "I Ain't Got No Heart," as well as some live tracks like covers of "My Babe" (Righteous Brothers) and "Hitch Hike" (Marvin Gaye); the Wazoo rehearsals, Joe's Domage; and the "holiday" release Joe's XMASage.
"Our Corsage series, they're just random—just examples of stuff that Frank had, intact," says Gail. "We don't do anything to them, we didn't try to construct them in any way. There was this one rehearsal tape that Frank carried around with him on the road, and it was a rehearsal of members of the Wazoo band. That's Joe's Domage."
To some, Zappa's work is a giant puzzle of which some pieces have been lost; the ongoing efforts of his archivists are helping to bring the overall image into view. Others view it—as, I suspect, Zappa did himself—as a labyrinth whose shifting corridors entice listeners down promising paths, only to return them to a point they've already passed, where more enticing corridors now await them. It's like a universal, eternal Mˆbius strip—the ultimate composition.
---
Footnote 1: Old, deteriorating, magnetic recording tape can be made temporarily playable by baking it in an oven at low heat.—
Ed
.