Vivid and Luxman Rock DSD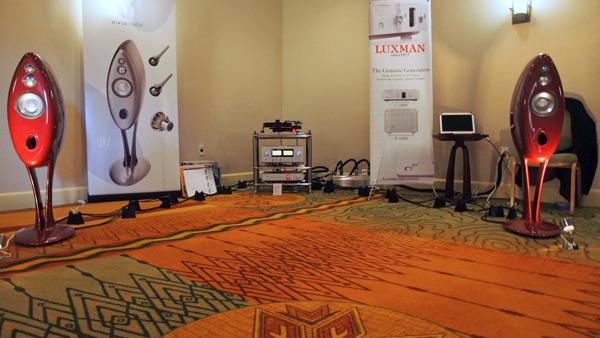 When I walked into the On A Higher Note room at RMAF, Philip O'Hanlon was playing Doug McLeod's
There's a Time
LP, our May 2013 "
Recording of the Month
," and very good it sounded too. Turntable was a Brinkmann Bardo fitted with a TriPlanar 12" tonearm and a Brinkmann Pi cartridge, with a Luxman L590X integrated amplifier ($9500) driving the superb Vivid B-1 loudspeakers ($14,990/pair) that I reviewed in
October 2011
. Cables and power conditioning was by Shunyata.
But the reason I visited this room, which was on Jason Serinus' beat, was to return a Transparent USB cable Philip had left behind when he had installed the Vivid G3Giya speakers in my room the week before the show. Philip had brought Luxman's new DA06 D/A processor ($5990) on that visit and I had been impressed by how this DAC sounded decoding DSD files via USB. The DA06 continued to impress me at RMAF, with a classic Ray Brown live album, transferred from analog tape to DSD with the Grimm converter, sounding . . . er . . . vividly natural with a full-range balance.