A Visit to YG Acoustics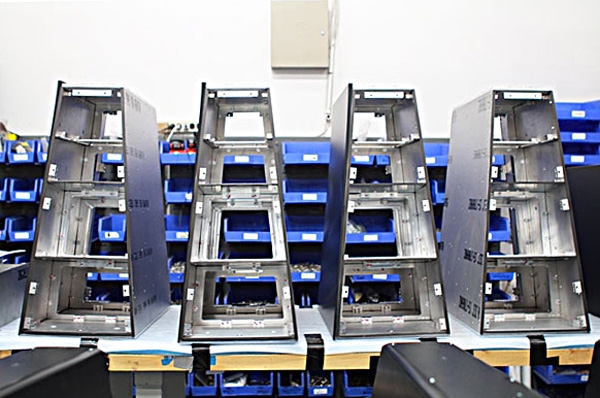 When
Rocky Mountain Audio Fest 2016
(RMAF)—the hot hi-fi rager of the Wild West—came to its close, I had one more official stop to make: YG Acoustics.
Located just 30 minutes from Denver in the city of Arvada, is the YG Acoustics facility—including the factory, showroom, and offices. Much like most factories, the exterior is an unassuming vanilla casing, with no evidence of the flavorful, no-compromise, high-tech, high-end speakers living (and being brought to life) inside.
The tour was informative. We breezed through the office space, then worked our way through the factory. Solid aluminum billets, raw cabinet parts, CNC machines at work, hollow speaker bodies, shipping containers, driver cones at various stages, the overhead crane, and their speaker measurement rig—I saw it all. The recurring theme: obsessive perfection. A $10,000 machine press that applies two tons of force to guarantee oxygen-free wire termination, a machine dedicated to winding toroidal air-core inductors—it's not about speed or quantity. YG prefers to do things right even if they take a little longer.
Next/Last on the agenda: the showroom. A spacious, minimally outfitted escape cave that provided to be a warm hued refresher for my dry eyes. The showroom's focus was on YG's latest and greatest: the Sonja XV ($265,900/pair), an extreme four-tower version of the flagship Sonja's. "XV" marks YG's upcoming 15-year anniversary (200–2017), and will make its formal launch at CES 2017 in Janaury. The showroom system contained amplification by Audionet, and Kubala-Sosna Elation! cabling throughout. The digital front end was a dCS Scarlatti four-box system, through which we listened to a YG demo disc.
Phenomenal. Gently persuasive, tastefully lyrical, and deliciously dynamic—the Sonja XVs were, indeed truly realistic. It doesn't feel right to comment on their sonic properties any further, because I know nothing about speakers that cost more than a quarter of a million dollars. But hey, I can enjoy them.
When we, listeners of the audiophile variety, think of speakers (or any component, really), we usually try to pinpoint what exactly makes them sound good. We tell ourselves it's the silk, it's the beryllium, it's the percentage of aluminum, it's all aluminum, it's the latest technology, it's the world's first, it's spherical, it's a braided, it's this, it's that—and so on. And these are all good to keep in mind.
When I entered YG's facilities, I had the following bullet points in mind: aluminum; made in the USA; luxury sound; luxury price. And sure, I added a few more bullet points through the course of the factory tour: perfectionists; toroidal air-core inductor winding machine; the precision of their wire termination machine, the image of an empty double-walled enclosure; and so on. And these are all good to keep in mind.
But at the core of it all lies the inexplicable reason behind it all; the driving force to reproduce a single sonic vision. The sole creator and brain behind YG Acoustics: YG himself. Yoav Geva is the President of YG Acoustics, but mostly focuses on inventing new speaker technologies, optimizing current designs, and programming the CNC machinery. YG Acoustics' speakers are named after YG's loved ones: Sonja is his wife, Hailey is his daughter, and Carmel is his son. The speakers follow this lineup in price and size, respectively. Being the sappy romantic that I am, I was touched to learn this detail.
I chatted with Yoav to learn a bit more about his personal background.
Jana Dagdagan: Why did you decide to start making speakers?
Yoav Geva: I started building speakers as a hobby when I was a teenager. I come from a musical family, with a brother who is a professional opera singer, and a father who played bass guitar. I myself have been playing keyboards as a hobby since childhood. So, the interest in music was always there. When I was 15 years old, I bought my first stereo system. It was definitely not high-end. It had a Sony CD player and integrated amp, and Bose speakers. As expected, it didn't sound lifelike at all. I then asked my father what to do, and he gave me two options: work more, save up more money, and buy better speakers; or—build my own speakers, which he saw as offering an educational value, so he would buy me books to learn the science and some parts to work with. I chose the latter option. That was my first foray into the world of audio, and the rest is history . . .
JD: Can you tell me about how you started?
YG: I started YG Acoustics in 2002 in Israel, in an abandoned bomb shelter that I was able to rent for a mere $180 a month. I was assisted by a grant from the Ministry of Industry that I won for an invention related to speaker crossovers. After a couple of years, it became clear that while I would always love my home country, it didn't offer the type of opportunity that the US would present. So I moved YG Acoustics in 2004 to Arvada, Colorado, USA. The factory has expanded since twice, and is now three times larger than it was back then.
JD: In your opinion, what is the most important thing about speaker design?
YG: I design for robust reliability and lifelike sound. The order is intentional—while I care deeply about fidelity, I must remind myself that if a speaker doesn't work, the customer won't care how wonderful it may sound. To answer more technically, a speaker consists of three main elements: drivers, enclosure, and crossover. While all three are very important, the crossover is what separates the exceptional from the ordinary. YG Acoustics utilizes a unique crossover design called DualCoherent, which combines neutrality with phase-coherence, whereas most other speakers must sacrifice one to achieve the other. Of all eight of our unique technologies, which are described in detail here, DualCoherent is in my opinion the most important for precise, natural, relaxed and lifelike musical reproduction.
JD: How many people were first working at YG Acoustics, and how many people are now working at YG Acoustics?
YG: When I started YG Acoustics, it was a one-man show for the first half-year, and only one additional employee for the year thereafter. Today we employ 12 specialists in two shifts, and in addition we have seven hard-working, precise, CNC machines to automate tasks from metal cutting to coil-winding.
JD: Who will you name your next set of speakers after? Rather, what do you have in mind for YG's future?
YG: My wife and I have no plans for more children, so the current lineup is pretty much fixed. For the past few years I worked nonstop on developing our new statement design, Sonja XV. Therefore, now I am concentrating on a few projects that were on the "back burner" during that time. The first of these, which you will be able to see at CES 2017, is a new made-in-house rack that I've been wanting to do for a while.