Technics OTTAVA f All-In-One Music System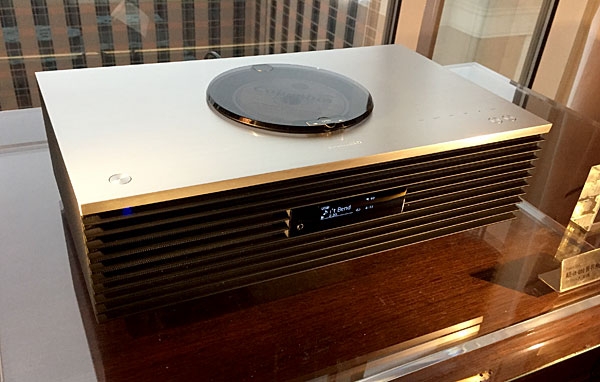 Largish one-box streaming systems have taken off it seems, and I guess we shouldn't be surprised. First the Sonos and inexpensive Bluetooth systems took hold and then inevitably high-end audio saw an opportunity. Naim and Bluesound (among others) come to mind and we can now add Technics to the list.
Their new OTTAVA f is a gorgeous-looking device and started shipping last September for $999. Basically a three-way system in a box, there are two speakers, woofer, and a subwoofer, powered by 30 watts each for the left and right channels and 40 watts for the sub. Couldn't tell in show conditions whether it is a gadget or useful, but the OTTAVA f also includes what Technics calls "Space Tune" which the company claims has three settings to tune the sound to your listening environment (how close it is placed to side walls or corners).
Features include CD player, FM/AM radio, USB input, optical in, Ethernet, AirPlay, DLNA, WiFi and built-in Tidal, Spotify, and Internet Radio. Remote included.
I listened for a short while and tonality was spot on with acoustic guitar and voice. It projected a big sound for an 18" wide box and didn't have any obvious sonic flaws. Beautiful sturdy construction too.