Synergistic Research Convinces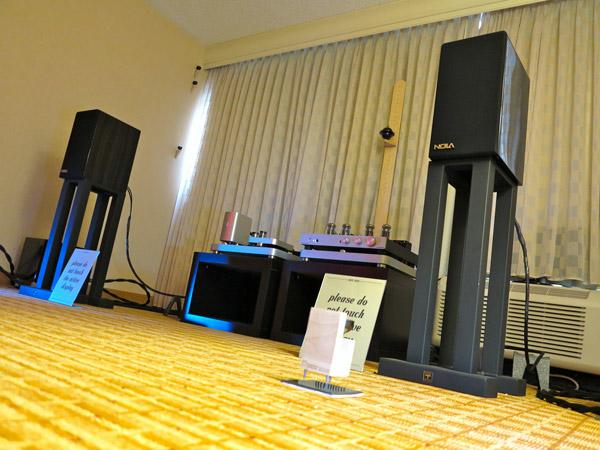 There's nothing like an active AB demo to convince that something major is going on with Synergistic Research's increasing arsenal of mind-bending products. In one comparison, Ted Denney and Peter Hansen turned on and off the two Tranquility Bases ($1995/each including MiG supports) which were placed under their Computer Audio system and Rogue Audio Cronus Magnum integrated amp ($2195). The difference in clarity, three-dimensionality, a lower noise floor, and image size was striking. Having a similar effect was turning on and off the Active Shielding on the company's SR Active Firewire 800 cable ($595).
When everything was called into play, including a host of carefully positioned Synergistic ART Resonance Control devices, the sound that these boys were getting from relatively inexpensive components rivaled in size, depth, air, and immediacy that from far bigger and more costly speakers and components in way bigger rooms. Equally impressive was the sheer quality of the sound, which portrayed colors of instruments with uncanny accuracy.
Other components in the system included an Apple Mac Mini equipped with Amarra ($1000), Synergistic Research's "The Music Cable" all-in-one upsampling DAC with hardwired SR Element Tungsten Active IC and Tricon Analogue Active USB cable ($3595), and a pair of Nola Boxers ($1500) positioned on Sound Anchor stands ($730) and augmented by two REL T5 subwoofers ($699/each). While the total cost of the system was hardly bargain basement—adding in all the cabling, power distribution, a SR PowerCell 4SE with included Element Tungsten power cable ($1850), and all the ART devices, the expenditure approached $32,000—the demo left me thinking that if one were to call into play all of Synergistic's devices and cabling in a far larger system, the results might be even more mind-boggling.