Sun Ra Live at Inter-Media Arts, April 1991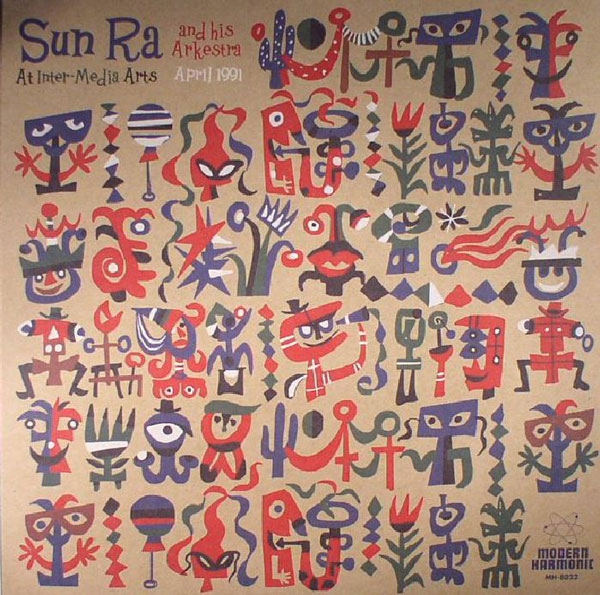 Sun Ra recordings take time to absorb through the ears, heart, and brain. The emotional osmosis necessary to process his multi-faceted explorations, which most often fall under the heading of jazz, but are really a music unto itself, can take a while. Hence, after much listening to Modern Harmonic's
3-LP set
, recorded in 1991 at the Inter-Media Arts Center in Huntington, NY and featuring the Arkestra in good form, it's time to declare this Record Day release a triumph.
This despite the fact that this is Ra, post his 1990 stroke, when he could still play the piano and lead the band but had stopped singing. Vocal parts are handled by the Arkestra's only female member, June Tyson, as well as trumpeter Michael Ray, singer T.C. Carney, and the Arkestra's co-leader and stalwart alto player Marshall Allen.
What works best here, in a live recording with much better than average live sound, is the same thing that makes most Ra recordings worth at least a listen: inventive arrangements, an ever-changing array of instrumental groupings and solos, a loose relation to both swing and bebop, and a general sense that anything could and usually did happen. His obsession with outer space, though often derided as a stunt or a circus-like stage ploy that enabled him to wear crazy costumes and babble about Egypt and aliens, belied a music that—when he was serious and dug in, as opposed to some of the recorded rehearsals and studio recordings ,which border on nonsense—was multi-part improvisation with a purpose and direction.
On the opening side of this new set, there's "Advice to Medics," a tune that had been in Arkestra's book from 1956, and which crystallizes everything Ra was about musically; from steadily ticking percussion, triangles, drum rolls, and all sorts of bass drum banging —and some utterly unidentifiable whooping percussive affects—to plaintive flute parts and strangulation trumpet solos. An intricately constructed cacophony or free-for-all musical chaos? Ra's art lies between the two.
What often tethered this fusion forward jazz-o-naut to a more earthly music even this late in the game was his deep knowledge and respect for what came before, particularly the sounds and innovations of swing and bebop. On a pair of tracks from side three, Herman Sonny Blount, aka Sun Ra, leads stunning arrangements of the Fletcher Henderson cooker "Yeah Man!" and Duke Ellington's "Prelude to a Kiss," where near the end Marshall Allen squeaks and honks in duet with Ra's piano which is clearly in an Ellington-inspired mode. A slower yet still cacophonous version of "Cocktails for Two," a tune recorded by Ellington but made famous through a comedic version by Spike Jones, features Allen alternating between a fluttering breathiness and hard blowing on his improvisations. In moments like these, it's easy to see why a man so beloved by adventurous fans who adore his restless, forward-moving art, could also be shunned by those for whom fusion, of any kind, is a dirty word.
Mastered by Bob Irwin of Sundazed/Modern Harmonic in Nashville and engineered for a WNYC radio broadcast by Edward Haber, Michael DeMark, and Karen Burdick, the LPs in this set were pressed at RTI. They are not 180 grams or heavier, which is presumably because heavyweight LPs would have made th set cost twice the current $39.98 price. The liner notes by Howard Mandel effectively tell the story. The cover art, which features a design adapted from the singularly wonderful LP artwork of the late, great Jim Flora, is a very special touch to this nicely done package. When it comes to any recorded Sun Ra, space will truly always be the place!
Listen below to Ra's version from this album of another tune once played by Fletcher Henderson: