SSI 2015, Saturday Continued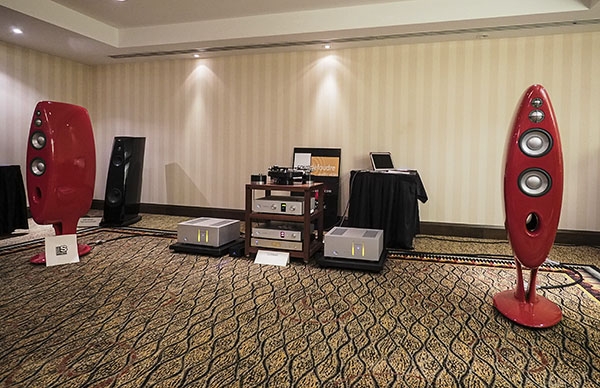 Montreal dealer Coup de Foudre's exhibit featured the 2012
Stereophile
Loudspeaker of the Year Vivid Audio Oval K1 (USD$26,000/pair), in a system featuring Luxman electronics. I've never heard these speakers sound anything less than great, and their sound at SSI 2015 did nothing to change my previous impression. I really liked the red of the demo pair, and asked importer Philip O'Hanlon if it was a popular choice. He said that although the red is much admired, most people end up choosing a different, more conservative, color. I guess I'm not like most people. My Avantgarde Uno Nanos are red, and so is the last car I bought.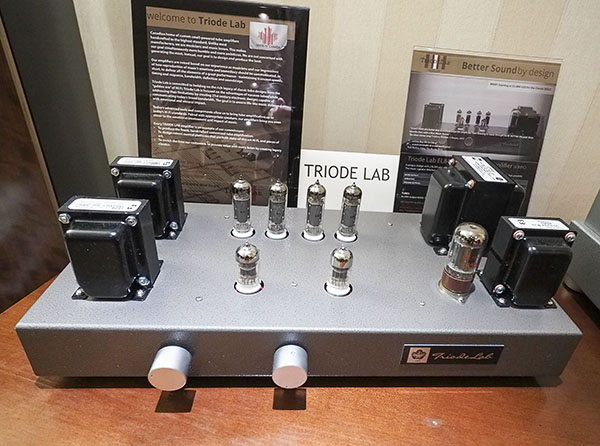 Also in the Coup de Foudre room was a product that caught my eye because it was so unassuming, the kind of product that can be just about any price, but usually turns out to be very expensive. It was the Triode Lab EL84TT integrated amp (four EL84 output tubes, producing 6Wpc), and the cost is a very reasonable CAD$2400. Triangle Lab is a Canadian company; the EL84TT could also be found in the SSI 2015 Canadian Pavilion.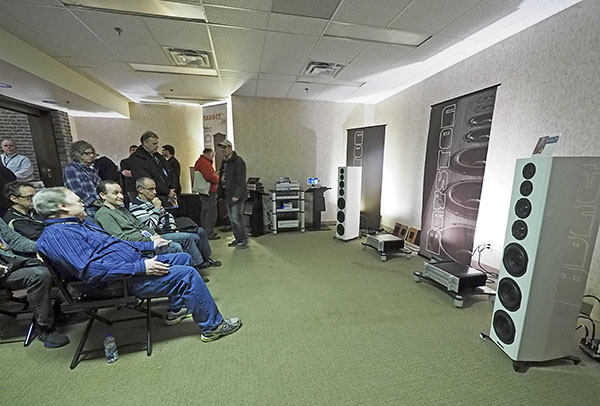 Bryston is a going concern. Having started as an amplifier manufacturer, they've expanded their lines to include digital product and now a brand range of speakers. Their product introductions at SSI 2015 included the BDA-3 DAC (just like the BDA-2, but including DSD, HDMI, etc., price CAD$3195), the BP-2 phono stage (CAD$800, moving-magnet, with transformer for moving-coil cartridges in the future), the ACI Micro center-channel speaker (CAD$490), and the Model A powered subwoofer (CAD$1895). Bryston had one of the larger rooms (which could almost be called a "hall") and it was busy both times I visited. The sound of the system featuring the large Model Ts had that by-now-familiar tonal neutrality, powerful dynamics, and good imaging.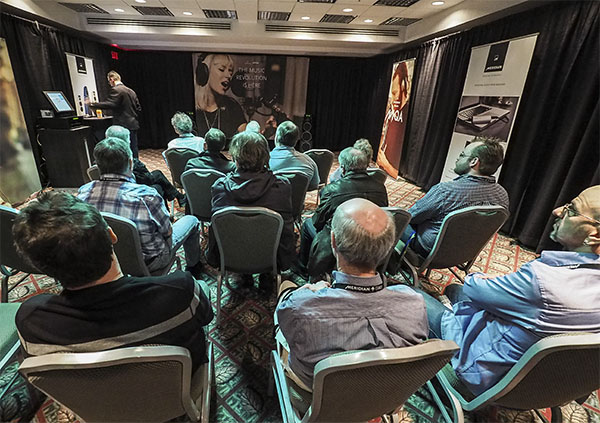 One of the events I was really looking forward to at SSI 2015 was the presentation on the Meridian MQA process, which promises the sound of high-resolution master tapes at data rates that are hardly higher than CD-quality PCM. John Atkinson has provided a description of the MQA approach here. Both he and Jason Serinus were most impressed by the sound.
The presentations on MQA at SSI 2015, by John Bartkowiak of Meridian, were in one of the large rooms, and proved to be very popular, to the point that they had to bring in extra chairs to accommodate people at the session I attended.
Bartowiak started by providing a brief history of Meridian's involvement in digital technology (starting with the first audiophile CD player, the Meridian MCD), gave a description of the theory behind MQA, and finally played some music that had been encoded using the MQA process. That was it. The musical selections—the only one of which I was at least slightly familiar with was Roberta Flack's rendition of "Killing Me Softly With His Song"—all sounded nice. No, make that "very nice." Very smooth and non-fatiguing. Were they much better than the 44.1/16 PCM versions? I can't say: there were no comparisons provided.
I found this omission in the presentation most disappointing. The theory behind MQA makes a lot of sense, and when it comes to digital audio Bob Stuart of Meridian knows more than just about anyone. I'm excited about the idea of being able to have access to master-tape-quality digital music—music that I actually want to listen to because of its value as music, not just because it sounds good. With broad support from the major record companies, MQA has the potential to deliver this. I look forward to being able to compare the sound of MQA with alternative sources.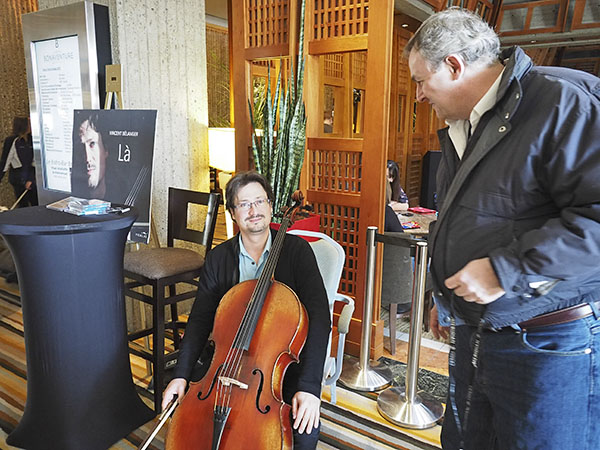 I believe that the practice of providing live music at audio shows was pioneered by the late, much-lamented Stereophile shows. SSI has picked up on this notion, and this was certainly evident at this year's show.
Vincent Bélanger is a gifted cellist who has played at previous shows, always impressing with his musicianship. I feel a special kinship with Bélanger, having played—in a manner of speaking—his cello without the instrument suffering from it—see this report.
This time, there was no live vs recorded presentation—just Bélanger sitting on a chair at the entrance of the bar, playing his cello, as people walked by, often stopping to listen to the music.
This was in an out-of-the way location, a small ballroom at the end of a corridor that did not lead to rooms with exhibits, and I almost missed it. It was a rock/pop group called Maison Corbeau, who played and sang most enthusiastically to what was a very small crowd. I talked to one of the members of Maison Corbeau, and she told me that the group—which also does improvisational acting—perform at industrial shows. They really deserved more attention, but if they were disappointed by the size of the audience, they didn't show it.
For me, the highlight of the live musical events of the show—and, in fact, the show itself—was a mini-concert by Canadian soprano Hélène Brunet, accompanied on the piano by Jérémie Pelletier, the event sponsored by Simaudio. Brunet has a gorgeous voice, flexible and with an easy top; she exhibits impeccable musicianship, and she's a charming performer. Her current repertoire includes the baroque, oratorios, and some Mozart, but her voice is such that I can see her expanding her repertoire to French opera, and even Puccini. A highlight of the show, for sure.