Sjöfn HiFi (the clue) loudspeaker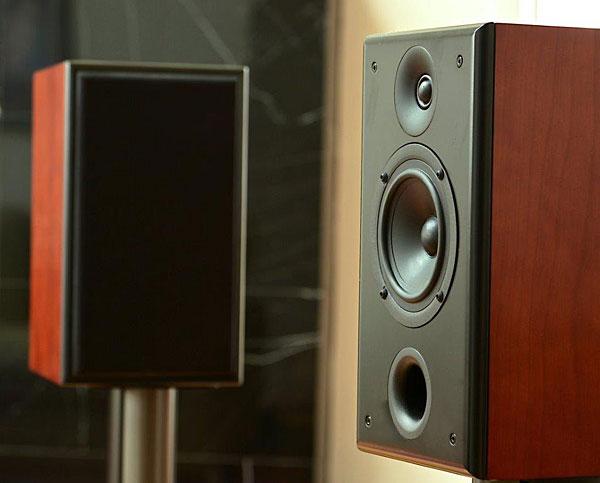 I was sitting in my high chair, eating strained peas. My father was walking around the kitchen with a wooden box in one hand and a cord with a plug in the other. The box and the cord were attached to each other. I was inspired to utter my first actual sentence: "Plug it in over there!" Moments later, a man with a disturbing voice began squawking from inside the wooden box. It was a radio. Schnapps, our dachshund, barked angrily. I started to cry. Ever since, I've been charmed, fascinated, and mostly annoyed by wooden boxes that talk to me.
At the 2014 Capital Audiofest (July 24–27), I listened to nearly 40 different stereo systems in three days. Squawking boxes everywhere! Only a few jumped out of the noisy swirl as sounding rich and musical. One of those was Sjöfn HiFi's (the clue)™. I introduced myself, and sat smiling as Sjöfn's Lars Erickson played music and explained the thinking behind the new speaker, hereafter referred to as The Clue.
Erickson described The Clues as "affordable full-range speakers" and "affordable state-of-the-art monitors." He said also that, because of The Clue's recommended near-wall placement, they are "wife friendly." I told him I liked what I was hearing and asked if I could review a pair. As I left, he piped up: "So, Herb, what's your favorite small loudspeaker?"
"Right now, it's the KEF LS50," I said, then added that I owned and loved the Totem Model One Signatures and a nice pair of Rogers LS3/5As.
He laughed. "This is going to be easy—The Clue will trounce all of those."
Strong words, I thought, especially when you're talking about a nondescript, generic-looking, made-in-the-US, 87dB-sensitive, wood-veneered box measuring 13.9" high by 7.9" wide by 10.9" deep and costing only $999/pair when sold direct from Sjöfn's website—boxes so anonymous they don't even have logos, nameplates, or serial numbers. What is not so anonymous about The Clue is how Sjöfn HiFi's chief designer, Jim Croft, seems to have rediscovered a bit of lost wisdom and used it to wring almost 10 octaves from a diminutive two-way.
A Different Use Model
From the first radios and cinema screens to the halcyon days of bookshelf speakers in dorm rooms, virtually all 20th-century loudspeakers designed after WW2 were designed to give pleasing, articulate sound in specific environments: public-address systems on ceilings, radios on tables, Klipschorns in corners, and bookshelf speakers just about anywhere we felt like putting them. Then stereo replaced mono, and loudspeakers like the Quad ESL, the Ohm Walsh, the Magneplanars, and stand-mounted minimonitors changed what Croft calls "the use model." Suddenly we had dipoles/bipoles, the Rule of Thirds, soundstages, and room tuning. Today, the last thing any perfectionist audio person wants is a speaker in the corner.
When I spoke with him, Croft told me, "When we first conceived The Clue, we explored all potential ways to create a state-of-the-art device—and to do so in a way that would make it affordable. . . . In comparing our performance targets to the majority of loudspeakers—both cost-no-object and reasonably priced designs—a few things became apparent:
"1) Any system that was going to achieve state-of-the art performance—and do so consistently—would have to take room interaction into account.
"2) Apparently, in an attempt to be all things to all people, the makers of [other] speakers suggest that they can be used effectively in any environment or arrangement that is domestically acceptable.
"To provide us with a significant leg up in maximizing performance, cost-effectively and consistently, we designed for a singular, optimized-use model."
Croft's words made me ask: Do you mean that the era of "I take it home and move it around 'til it sounds pretty good, but never know if it's right" is over?
Set-Up
The Clue comes with a printed setup guide that's very precise about how big the room should be (less than 2500 cubic feet) and where the speakers should be placed in it: on stands 19–22" high—I placed the review samples 21.5" above the floor—and less than 2.5" from the front wall (I put mine less than 2"). So far, this is all kinda "wife friendly" (a term I dislike), but the setup guide continues: "Position the loudspeakers so that the ratio of the distance between them to the distance to your ears at the listening position is approximately 1:1.18." Honey, can I move the couch? I placed The Clues 6' apart; my couch was about 7.5' away, which made a ratio of 1:1.25. Last but not least, The Clues "are designed to be toed-in at an angle of about 22.5 degrees," which I did.
Listening
It was August, so I was using Rogue Audio's cool-running, 100W, class-D Sphinx integrated amplifier with my VPI Traveler turntable and tonearm and Ortofon 2M Black cartridge. I put on Commander Cody and His Lost Planet Airmen's Lost in the Ozone (LP, Paramount PAS 6017), a classic stoner-roadhouse record that's basically an okay studio recording from 1971. "Hot Rod Lincoln" was its memorable jukebox and radio chart-topper, but hidden on side 2 are two well-recorded live numbers: "What's the Matter Now?," and Eddie Cochran and Ned Fairchild's rockabilly masterpiece, "20 Flight Rock," sung by Commander George Frayne and recorded at the Long Branch Saloon, in Berkeley, California.
Via the newly installed Clues, these songs sounded extremely live. Ambient room sound and crowd noises were vividly displayed and highly detailed. Almost instantly, my brain reached for the word transparent. But—this old, familiar record also sounded unequivocally and suspiciously different from how it's sounded through any other system—including the Dynaco ST 120/A25 system I first heard it on in college.
Lars Erickson told me that most other small speakers have a "bump" designed into the upper-bass response, and that The Clue does not. But this record didn't sound merely different—its fundamental tonal character seemed off. I wasn't hearing enough chest, texture, or stoned maleness in the Commander's voice. My kingdom for a bump! For me, the three octaves between 50 and 400Hz are hypercritical in making music sound real and enjoyable—a bump or a dip here can be fatal. Through The Clues, Frayne's voice and piano, and West Virginia Creeper's pedal steel, sounded thin and bleached through precisely that region. The upper midrange and lower treble (near the speaker's crossover frequency of 2.3kHz) sounded smooth and seamless, but maybe I was experiencing some weird comb filtering in the lower midrange/upper bass? It felt like several left-hand keys on Frayne's piano had gone missing.
Thinking I bet this'll sound good, I reached for another college favorite: the soundtrack album for Cabaret (LP, ABC ABCD 752), and put on Sally Bowles (Liza Minnelli) singing one of her best songs, "Maybe This Time." Just as with Commander Cody, I heard extreme clarity and detail, but Minnelli sounded vapid, bloodless, and unreal. Her voice was just sound—no skin or sin. The lack of weight in the upper bass pretty much eliminated the upright piano and drum kit from the experience.