Sasha Matson's First Day in Denver
One mile high—and when you touch down? The huge and energetic 2015 Rocky Mountain International Audio Fest, or RMAF, based at the Denver Marriott Tech Center. Spread out over several areas of floors in the towers, as well as an extended lobby area with its own mezzanine sections—ithe show takes a bit of initial navigating. This is the first RMAF I have had the pleasure to attend, and seems to have great and varied participation—from both the exhibitor side as well as attendees.
Heading to the tower's eighth floor, I was able to spend some quality time in a room hosted by Denver retailer Soundings, with Boulder Amplifiers. Appropriate, of course, in that the show is in striking distance of that other Colorado town. Most people reading this won't need me to introduce them to Boulder gear—leading the march toward ever better and better music re-creation for some years now. Starting upstream I heard the new Boulder 2120D/A Converter ($65,000). This unit I was told has been under development for some time, and the people at Boulder have obviously put serious technical firepower into this—it is a server as well as a DAC. This ran into a Boulder 865 integrated amplifier ($14,000), which puts out 150Wpc.
There were other pieces that were doing their part in lifting this system to a very high level of performance—an IsoTek EVO3 Mosaic Genesis Line Conditioner ($11,995) being one, and another being the Harmonic Resolution Systems RXR-1921-3V equipment rack ($13,435). Cabling was by Analysis-Plus from their Oval series—power, speakers, and interconnects. An interesting choice was made for a loudspeaker to accompany this not inexpensive system, the Chario Academy Sonnet Loudspeaker ($7500/pair, with stands). Boulder distributes these speakers—and there is a reason for this—they sounded excellent. And the kicker here was a stereo pair of REL S/3 Subwoofers ($1999 each). We listened with the subs engaged and then not—and anyone that thinks subwoofers are just for the trunk in someone's Honda needs to try the current generation of high-quality subwoofers out there. As another noted audio person once said to me, "It's not about bass, it's about space." Very strong performance in this room.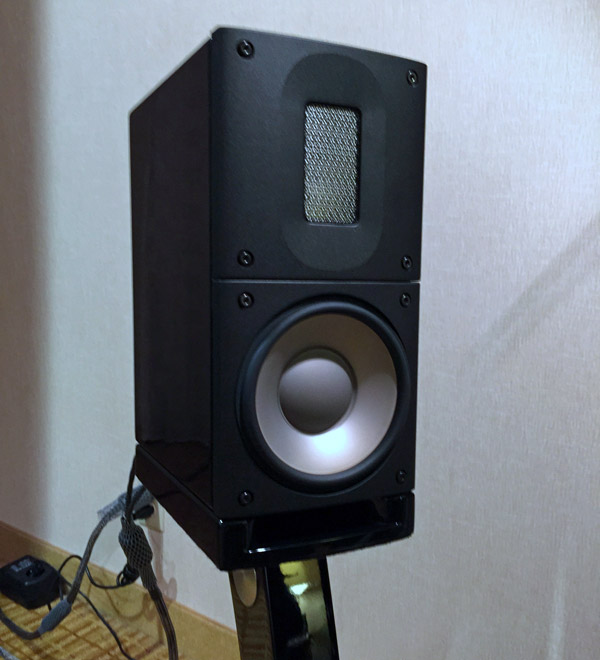 Wending my way further along this packed with super-gear eighth floor, I was able to spend a little time with the Raidho company and designer Lars Kristensen. Lars did a very effective A/B demo, in order to compare the Raidho X-1 loudspeaker ($6800/pair) to its directly related cousin the Raidho X-T-1 ($7900/pair). How closely related? These quite small two-way stand-mounted speakers' only difference is in the composition of the mid/low driver. They both share the same ribbon tweeter and cabinet construction. Only the coating of the driver is varied between the two models; the X-1 has a ceramic cone, and the X-T-1 employs that same driver—but coated with titanium.
I heard the same piece of orchestral film music played with a direct swap-out of the two models. My first reaction was "I could live with either of these!" The amount of high-quality music that Raidho gets out of the smallest packages continues to amaze. However, there was an expansion of the soundstage through the X-T-1 with its titanium coating, and the presentation of the harmonics in the music was simultaneously more detailed and more relaxed. Fascinating and very fine stuff!
RMAF includes a great mixture of hardware and software—big and small. A unique example of a company that covers both sides of the street is MoFi Distribution. MoFi, in addition to long being one of the significant players in the reissue of great music in both digital and analog formats, also distributes a select range of fine gear. On the software side—heck, let's just call it music—I just had to take a photo of a very important recent reissue of the immortal Miles Davis Kind of Blue. I was told this great album has just finally started shipping in both vinyl and CD formats a week ago. It was a genuinely moving experience to hear "So What" played from this brand-new 45rpm reissue. So what? Miles Davis—that's what! Like many people, I own this album in a number of versions and formats—but I have never heard it sounding better than this remastered version. Just fantastic.
And this listening benefited from a really fine system—all of which are components available from MoFi. Starting at the source: an Avid Sequel turntable ($10,000), fitted with the fine Koetsu Rosewood cartridge ($3500), and an AMG tonearm, (wasn't told model designation) ($3500). From the turntable on into a series of Balanced Audio Technology gear: the BAT VK-P6 tubed phono stage ($3500) into a solid state preamp, the BAT VK-23 SE ($4995), and a BAT VK-255 SE, which is a solid-state stereo amp that puts out 150Wpc into 8 ohms ($8995.). And Miles came out of a handsome pair of TAD Evolution 1 three-way floorstanders ($35,000/pair). These speakers look like a two-way, as a coaxial driver is employed for tweeter and mids. You could just feel the system synergy with this setup—and the fact that it was playing such great music, so finely remastered, really put this over the top.
Continuing to hang on the very busy and well-equipped eighth floor, I came upon the McIntosh room. I always like to see and hear what McIntosh is up to, and because they are a full-range audio manufacturer and have been forever, it usually is an all-in McIntosh system. I like to see all those blue McIntosh meters and panels all lit up! Let us welcome to the audio world, as I was told it was being premiered here at RMAF, the McIntosh C52 preamplifier ($7000). As it typical with McIntosh, this unit covers a lot of bases and offers a lot of flexibility, including any of the available DSD formats. Onwards to the McIntosh MCT 450 SACD/CD transport ($4000), and for loudspeakers a pair of McIntosh XR-100 loudspeakers ($10,000/pair). These latter are fairly large floorstanders, with a range I was told that extends below 30Hz. These speakers were being bi-amped by two different McIntosh models. For the upper range a pair of McIntosh 75's ($4000 each), a classic that has now been available again since the end of June. Amping the lower end were a pair of McIntosh MC 301's ($5000 each), which are serious solid-state hunksters that put out 300 watts—into any impedance. One final piece of gear was doing its bit, and that was a McIntosh MPC 1500 Power Controller ($5000). Good show Mac!
I heard Steely Dan coming out of a doorway, and just got sucked inside. Where I was introduced to Tony Crocker and his company SwanSong Audio, out of Tulsa OK. Tony had set up a fine system to demonstrate his phono stage designs—the Black Swan Solid State Phono ($1360), and for those who want tubes in their life, the Black Swan Tube Phono ($1540). These are the ticket for those of you who want a moving-coil phono stage without step-ups and no global feedback. The varied system included a restored McIntosh 825 amp, an SME turntable, and Zu Druid loudspeakers, which Tony Crocker had modified (approx. $5000/pair).
I wasn't given a lot of detail about this system, but it sounded fine, and the line "like a viper through these suburban streets" registered strongly, as it aptly describes Denver's Tech Center neighborhood.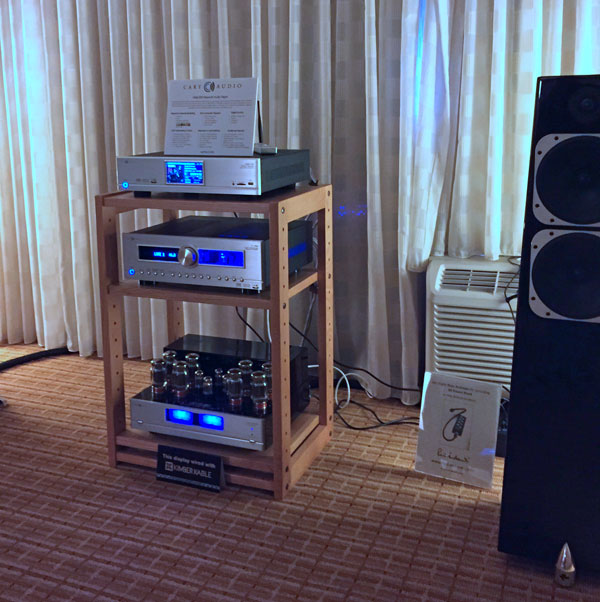 I have followed the evolution of Cary Audio for some time, and have owned a number of Cary components, so I was happy to catch up with Cary CEO Billy Wright and see what Cary Audio was up to. I found two new products up and running, the Cary Audio DMS 500 Streamer ($4995), and the Cary Audio TL-300d tubed preamplifier with DAC ($8995). This preamp offers analog and digital inputs, and is capable of processing 32-bit/384kHz PCM as well as DSD 64/128/256 signals. For amplification I heard the Cary CAD 120S Mk.2 ($5995). This is a stereo amp running four KT88 tubes per side, and in triode mode it puts out 60Wpc.
Cary briefly offered their own brand of loudspeakers but got out of that department some time ago. Here I heard the Cary system through a pair of Totem Metal floorstanders (approx. $13,000/pair), from the Totem Element series. All the cabling was by Kimber (no prices available). I listened briefly to some lovely unidentified female vocalist doing "Lush Life"—and the sound was indeed that.
Von Schweikert Audio was exhibiting in a room that also featured YFS (Your Final System) electronics and Master-Built Cables. US-based Von Schweikert has been building great loudspeakers and monitors for 35 years. Experience counts for something! The system assembled here to power the speakers was all first-rate gear. I heard the YFS Ref 3 Music Server ($13,500), as well as the YFS DT-100 Transport ($2000). This was run into an EMM Labs DAC2x ($15,500), a Constellation Audio Virgo 2 preamplifier ($29,000), and the Constellation Audio Centaur amplifier ($27,000). This latter stereo amp puts out 250W into 8 ohms.
And starring—the Von Schweikert Audio VR-55 Aktive loudspeakers ($60,000/pair). These imposing floorstanders incorporate an active low-end driven by the built-in 525W woofer amplifier. Other featured aspects are the ceramic-honeycomb woofers and midrange drivers, and damped beryllium-dome tweeter. These speakers are rated to be only 2dB down at 21Hz! And boy you could feel all the subtle texture, and also full symphonic power in the recording I heard of Rachmaninoff's Symphonic Dances. Outstanding work from Albert Von Schweikert and company.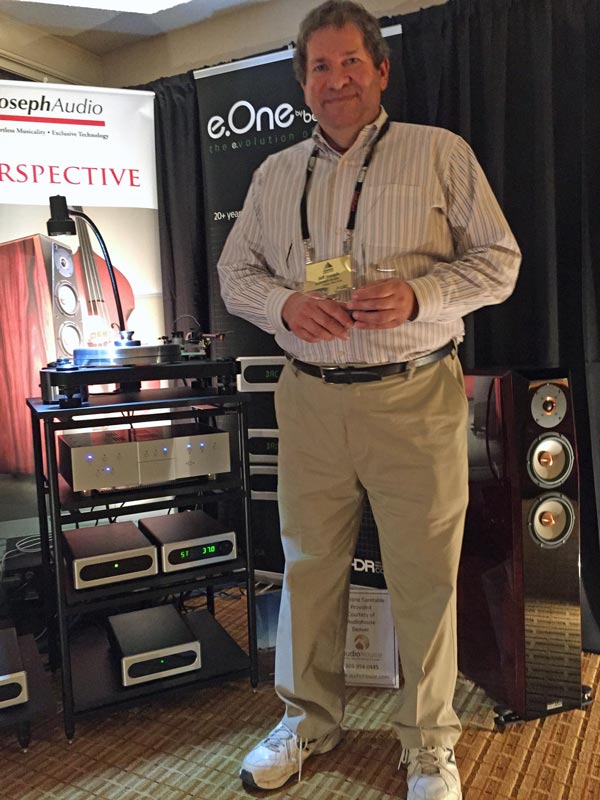 I concluded this first lap of my Day 1 of the 2015 RMAF with a visit to Denver retailer Audiohouse LLC, Joseph Audio, Cardas Audio, and Bel Canto Design. They were getting some great collaborative synergy going in another fine room up on that eighth floor. Designer Jeff Joseph was there himself to introduce me to the RMAF debut of his Perspective floorstanding loudspeaker ($12,999/pair). Jeff described this design as a two-and a halfway approach that he felt had similarities to his own Pearl model. Jeff explained: "One of the strengths of our speakers is cohesiveness."
Driving this system was a pair of Bel Canto's new REF600M monoblock amplifiers ($4995 pair). These little beauties put out 300W into 8 ohms, and operate with (if I am reading the number of zeros correctly) 0.0006% distortion over the entire audio bandwidth. Those of you who have been following the rave reviews out there of the Bel Canto Black Series, which I was able to hear a few months ago in Newport, need to know that Bel Canto is engaged in some very productive "trickle-down" technology here. Space does not permit a full description—for that I suggest checking out the Bel Canto website. Also operating at a strictly top-drawer level was a Bel Canto Design DAC 3.7 ($4495), All cabling was by Cardas, from their Clear series (prices not given).
I did not have time to hear phono playback, but Jeff Joseph chose to play for me from his laptop two tracks that had my jaw dropping—Elvis doing "Peace in the Valley", and Kenny Burrell doing "Chitlins Con Carne." This may be the first time at an audio show that someone has laid Elvis on me unannounced, and let me tell you—ELVIS LIVES! (at least in room 8032 at RMAF). And all I could say to Jeff Joseph on the way out about the Kenny Burrell track was "Cookin'!" And I meant it—beautiful system.