Reichert Rocks it on Sunday
If you don't like digital it just means you've never heard it through a good DAC like the pin-you-to-the-seat with inner detail and palpable presence Bricasti Design M1 SE ($10,000). Bricasti's Brian Zolner has a way with amps too. I have only heard them with Tidal speakers but his $30,000/pair M28 mono amplifiers appear to be equally extraordinary.
But that is old news. At AXPONA, Brian was demonstrating his brand new M12 Dual Mono Source Controller ($15,995). This handsome new device combines the state-of-the-art dual mono digital/DSD performance of the M1 SE with wide ranging analog level and control functions. The total package appears to be a completely modern front end for the best systems at any price point.
I covered the Emerald Physics room as a back up for my vivacious show-reporting partner Jason Serinus, and I am really glad I did. I got to meet the equally vivacious (and compelling) duo of Walter Liederman and Mark Schifter. After about five-minutes of jabber, I felt like I had known them both my whole life.
Emerald Physics was demonstrating a complete system that they are currently selling as a package—Internet direct—thru Underwood Hifi for $11,999. This moderately priced system is built around Emerald Physics' EP-4.8 open-baffle, controlled-dispersion loudspeakers ($8495/pair). The pair I auditioned were finished in an extraordinary hand-painted (faux) Cocobolo. The ones offered in the complete system will ship in the equally excellent natural Macassar ebony. I have heard these speakers before and always enjoyed them but I never knew there is a coaxial tweeter hiding behind the midrange-cone dustcover!
If you buy the complete Emerald Physics system, you will be driving the EP-4.8s with the new EP 200.2SE (special edition) 200Wpc/8-ohm stereo hybrid digital amplifier/controller ($2995). The included DAC is the Exogal Comet Plus—who thinks of these names?—which has a regular retail price of $3500. Also included in the package is the DSPeaker Anti-Mode Dual Core 2.0 bass room correction, which is a Stereophile Class A recommended product that lists for $1200. In case you are slow at math, Emerald Physics is offering this great-sounding system with a total retail price of $16,190 for $11,999.
Merrill Audio was demo/showcasing the new Reference 3A "Reflector" speakers ($12,000/pair) and I was amazed.
I am now (again) fascinated by loudspeakers employing full-range drivers. In the old days, full-range drivers were always much less than full range. Even the best were annoyingly shy of bass and high-frequency openness. The worst had whizzer cones designed (seemingly) to act as megaphones—allowing the upper midrange to shout over the top of their usually coherent midranges. But today, exotic high-tech materials and adhesives—coupled to sophisticated computer modeling programs have given one-voice speakers without crossovers a second coming.
To me, the Reference 3A Reflector represents a new summit in full-range loudspeaker design. The Reflector's woven carbon-fiber, hyper-exponentially shaped cone operates direct-coupled, with no crossover of any kind. The only "crossover" is a single capacitor to protect (and bandwidth limit) the beryllium-diaphragm tweeter.
The Reflectors I auditioned were driven by Merrill's own 400Wpc Thor monoblocks ($4800) and played with extreme wide bandwidth neutrality; delivering one of the most coherent, direct, and full-bodied midranges I can remember hearing. These speakers felt strong and played Ariel Ramirez's Misa Criolla (sung by José Carreras with Navidad Nuestra) with a beguiling subtlety.
My spiritual adviser and headphone guru (aka The Audiophiliac on CNET) demanded that I visit Dan Clark and his Mr Speakers display in Axpona's Ear Gear Expo. He wanted me to check out Dan's almost-ready-for-prime-time "Ether" electrostatic headphones ($TBA). I had already experienced a lot of open, transparent, and finely-wrought music through Mr Speakers "regular" open-backed Ethers ($1499) and was anxious to see of Mr. Clark's new electrostatics would raise the Ether's sound quality to a higher level. They did.
Playing through a Cavalli Audio Liquid Lightening Mk.II electrostatic amplifier ($4850) the Ether Electrostat sound was about as clean and detailed as (I imagine) the files it was reproducing. No cracker crumbs or dust bunnies anywhere. Bass was better than the regular open-back Ethers. But, to my old, sensitive, and romantic ears, the sound was a little too clinical and bloodless. I could hear deep into the songs—but they failed to capture my heart. I asked Dan how much of my experience could be related to the highly regarded Cavalli.
It was very busy and there was a line of showgoers to audition Dan's latest creation, so he suggested I go to the Blue Hawaii table where I could hear the Ethers on a different amp and compare them directly to the Stax SR 009s. In one second I was pushing through the crowd.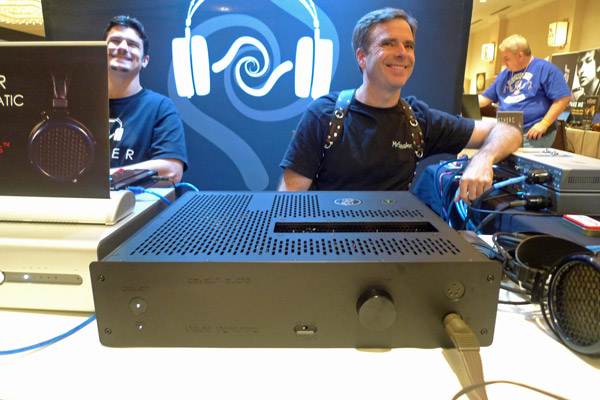 Two minutes later I was grinning like dog dreaming 'bout steak. The EL34 tube-based Blue Hawaii electrostatic amp ($4980, below) was showing me a whole different view of the Mr Speakers Ether Electrostats—one that better suited my musical proclivities. The all-black Blue Hawaii is a hybrid headphone amp using two EL34 tubes per channel in a DC-coupled OTL configuration, fed by a solid-state input section and power supply. I really liked the glowing colorful ease it imparted on the Ether Electrostatics' presentation. Even more, I liked the fact that now, I could switch back and forth between the Stax SR 009 electrostatics ($3500) and the Ethers; but I wasn't prepared for what I heard. The Stax + Blue Hawaii sounded so beautiful, rich and full-bodied I was stunned. Previously, I had only experienced the 009s with Stax's own amplifier. The 009s were always my benchmark for high-quality inner fidelity but now, I liked them even more. Except . . .
Compared to the soon to be released Ethers, the 009s sounded noticeably thicker, less transparent, and more gray, than the now LSD spider-web evoking Ethers. I still love them both, and the Blue Hawaii is one extraordinary amp—but I am now truly excited by Dan Clark's latest creation. I think my spiritual advisor will be impressed.