Recordings of June 1984: Two Great Telarc CDs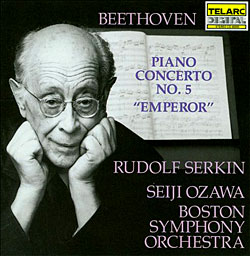 Beethoven: Piano Concerto No.5 "The Emperor"
Rudolph Serkin, piano; Boston Symphony Orchestra, Seiji Ozawa, cond.
Telarc CD-80065 (CD). Robert Woods, prod.,
Jack Renner
, eng.
Vivaldi: "The Four Seasons"
Joseph Silverstein, violin; Boston Symphony Orchestra, Seiji Ozawa, cond.
Telarc CD-80070 (CD). Robert Woods, prod., Jack Renner, eng.
I have never been a fan of Seiji Ozawa, feeling that his interpretive approach is too often cold and attached. That's not true of this performance of the "Emperor" Concerto. In fact, my only criticism is that the performance seems at time a little too broadly Romantic, where somewhat tighter phrasing would have been in order. Ozawa and Serkin have turned in one of the most satisfying performances in Telarc's catalog, which contains a remarkable number of lackluster performances.
The recording is also one of Telarc's best, although I continue to wish they would get a little closer to the orchestra; the perspective is always row-M, not most concert-goers' ideal location. The massed viola sound at the start of the second movement is simply ravishing, the richest, smoothest massed-string sound I have ever heard reproduced.
Unfortunately, there is the now-familiar sense of some strain and wiriness from the violin sound when the orchestra is playing full-blast. Telarc uses the Schoeps "Colette" microphones, whose string-pickup sound I have never liked as much as the old (and long-discontinued) CM-60 vacuum-tube mike.
Brass sound is excellent, instrumental balances impeccable, and the piano slightly wiry—though in the manner of a wiry-sounding piano, rather than a wiry-sounding recording. There's no scintillating percussion or floor-shaking bass drum here to use for audio demo, but this is one of the best classical releases on CD to date.
I am so sated with the endless procession of Seasons over the past five years that I was considering passing this one up. Fortunately, I bothered to audition this one from Telarc because it is one of the nicest of the whole crop of recent releases. Telarc has used good judgment here in moving the BSO's strings out of Symphony Hall, whose sound is just too warmly resonant for a work as light-textured as this, and into the drier, more pristine acoustical environment of Wellesley College's Houghton Chapel.
The sound is very good, with only a trace of massed-violin shrillness, and that is the only thing that that prevents this CD from being a "Definitive Disc." But the performances are elegant and the sound more than adequate. This is our first "Top-of-the-Pile" CD (footnote 1).—J. Gordon Holt
Margaret Graham wrote about the Silverstein Four Seasons on LP in June 1982 (Vol.5 No.4):
This recording is elegant. The acoustical environment and the mike perspective are just perfect. Anyone considering doing a chamber orchestra recording ought to carefully listen to this one. Telarc's goals and recording techniques are admirable. Their refusal to diddle with the sound once the mikes have been positioned leads to proper balances or, I should say, the balances which the conductor chooses. It's nice to know that at least one record company thinks its buyers know how to listen, and feels no need to spotlight the various instruments as they appear.
There is still a bit of strain in the high-end. If you have a moving-coil cartridge, the high notes of the violins will bother you even more than it did me. I don't know whether Soundstream has modified their equipment, or whether there is something inherent to the digital process which multiplies the grit per instrument. Hence the four violins in this recording would not generate as much annoyance as the full array of a symphony orchestra. This is only conjecture.
The jacket notes deserve some mention, as they are most interesting and informative. How many of you knew that Vivaldi was at one time a priest, but left his original calling to take up with two sisters, at least one of whom was his mistress. The notes also include Vivaldi's original sonnets which he wrote to accompany the concert!. Scrutiny of these will lead to an enhanced enjoyment of the music as he describes the program for each season in these verses.
The performance is more than adequate, and Mr. Silverstein's violin solos are exquisite. I am however a little weary of these concerti. Vivaldi was a very prolific composer—he wrote over 200 concerti for the violin—and why recordings of some of the other works are not done more often is a mystery to me. My favorite performance is still that of Neville Marriner, but this interpretation comes close to it. This is definitely a Top-of-the Pile LP, not only for the performance but for the exemplary recording technique.—Margaret Graham
---
Footnote 1: "Top-of-the-Pile" designates a very good recording of a very good performance—a recommended recording. The name reflects the fact that, at least among people who pile their records, the ones most often played are nearest the top.