Recording of October 2015: Time Present and Time Past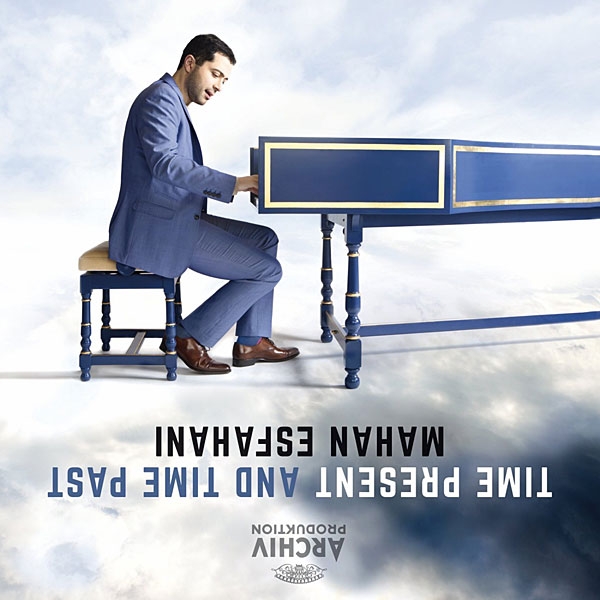 Mahan Esfahani: Time Present and Time Past
C.P.E. Bach: 12 Variations on "Les Folies d'Espagne." J.S. Bach: Harpsichord Concerto in d, BWV 1052. Geminiani: Concerto Grosso in d (after Corelli). Górecki: Harpsichord Concerto. Reich:
Piano Phase for Two Pianos
(harpsichord version: Esfahani). A. Scarlatti: Variations on "La Folia."
Mahan Esfahani, harpsichord; Concerto Köln
Archiv Produktion 4794481 (CD). 2015. Christoph Classen, prod.; Michael Morawietz, eng. DDD. TT: 73:45
Performance ****½
Sonics *****
This razzle-dazzle release is remarkable on several levels, and I wouldn't be surprised if it converted harpsichord haters to harpsichord hipsters. Iranian-American harpsichordist Mahan Esfahani, stealing a quote from T.S. Eliot about the relevance—or irrelevance—of time and (while he's at it) the harpsichord, here presents the instrument in works written for it in the 17th and 18th centuries, interspersed with pieces by two 20th-century composers. (The album's title references these lines from Eliot's Four Quartets: "Time present and time past / Are both perhaps present in time future, / And time future contained in time past.") Esfahani's argument holds water: bringing an "olde" instrument into the present with unflinchingly contemporary music turns this debut solo-recital disc into a splendid event—and, yes, proves that baroque music, with its repeating patterns, can make a fine pairing with minimalism. It's all far less jarring than you might think, and does provoke thoughts about the slippage of time.
The word folia or follia, which recurs in the titles of the baroque pieces, means "madness" or "folly," and also refers to an anonymous, simple, catchy, minor-key melody dating from the 16th century that has been used by more than 150 composers since, including Vivaldi, Handel, J.S. Bach, Liszt, and Rachmaninoff. It's now best known from Archangelo Corelli's Violin Sonata La Follia, Op.5 No.12. (Pre-baroque church vocal music also frequently sampled well-known, anonymous tunes, the most famous being "L'homme armé.") There's a good chance that the little melody got its name because it became such a fad or phenomenon—a folly—its eight notes being impossible to forget and easy to riff on.
The disc opens with a lively performance of Scarlatti's "La Folia" variations, whose perky busyness jams, almost without pause, right into the Górecki concerto's first movement, which features a dark underbelly of strings below the harpsichord's almost industrial churning. The second movement begins with an innocent enough tune that turns into a wildly dissonant perpetual-motion machine, violins swirling madly above the agitated keyboard. It's almost cruelly minimalistic, and it's riveting—all 8½ minutes of it. It ends unexpectedly—one might almost accuse Górecki of having a sense of humor—and Esfahani's playing is a whirlwind of vitality and exactitude: a hard combination to find.
Back on earth, C.P.E. Bach's seemingly simple work takes us through the entire range of the harpsichord and, like the good variations they are, keep the listener guessing—yet another example of this underheard composer's brilliance. Esfahani's fast fingers dance about, catching the wryness and temper of each variation in just over seven minutes as he and C.P.E. take "La Follia" through its changes. Speaking of brilliance—this time in programming—the C.P.E. ends on the same note, D-flat, that begins the next piece: Geminiani's familiar Concerto Grosso in d, after Corelli. Here the Concerto Köln shines brightly, the melody leaping from harpsichord to entire band and back, with star turns along the way for solo violin and cello.
Steve Reich composed Piano Phase for Two Pianos in 1967, in an early experiment in duplicate performances of the same notes (in this case, just 12): the pianists were to start together, but one is directed to play slightly faster, and soon the piece becomes something else entirely, its harmonies and textures changing, clashing, then becoming consonant; eventually, the two players come together again. The rippling effect is like a fast baroque cadenza that comes and goes. The two pianists—Esfahani overdubs himself on harpsichord—must play with an almost punishing precision. Here, the rhythm never falters, making us wonder about time and what a shift of one beat can do to a composition.
Oddly, the least successful piece is the last: J.S. Bach's Harpsichord Concerto in d, BWV 1052. It's driven too hard—the great Concerto Köln seem to be on a different page from the soloist, their playing both too cumbersome and not as loose as Esfahani's. And I'm not certain that Esfahani's choice of Brahms's cadenza for the last movement, which is lumpier than anything around it, was a good choice. Esfahani himself conducts, so the blame must be local. But this is a small complaint—this CD is intelligent, thought-provoking, musically fascinating, and superbly performed.—Robert Levine