Recording of May 2019: Never the Same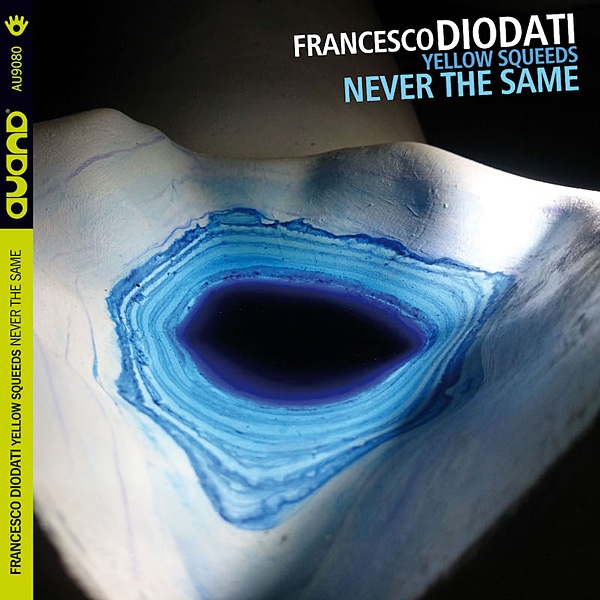 Francesco Diodati Yellow Squeeds: Never the Same
Francesco Diodati, electric & acoustic guitar, gongs; Francesco Lento, trumpet; Glauco Benedetti, tuba, valve trombone, flute; Enrico Zanisi, piano, Fender Rhodes, synths; Enrico Morello, drums, gongs
Auand AU9080 (CD). 2019. Francesco Diodati, Marco Valente, prods.; Stefano Del Vecchio, Roberto Lioli, engs. DDD. TT: 44:24
Performance ****½
Sonics ****
Guitarist Francesco Diodati is one of the freshest voices to enter jazz in the new millennium. If this news comes as a surprise, you probably live in the US. A disproportionate amount of the innovation and energy within America's only indigenous art form now comes out of Europe. Most of the American jazz community has not gotten the memo.
Diodati's breakout came in 2015, when he appeared on Enrico Rava's Wild Dance (ECM) and began touring with Rava. At 79, Rava, Italy's most revered jazz musician, went young on Wild Dance, introducing a quartet with three of Italy's most talented new players. Rava had rarely worked with a guitarist. Diodati's minimalism (with no piano present) suddenly allowed Rava to operate in wide-open space, where he thrived. Diodati almost never comped. Instead, he shadowed Rava's enigmatic trumpet lines with mysteries of his own.
Diodati's most important statements to date have, of course, been his own albums. He records for the edgy, colorful independent label Auand, run by Italy's most alert talent scout, Marco Valente. Never the Same is Diodati's fourth release under his own name on Auand. The players in the quintet he calls Yellow Squeeds are: Francesco Lento, less recognized but more adventurous than Italian trumpet players like Paolo Fresu or Fabrizio Bosso; Enrico Zanisi, perhaps the best pianist under 30 in Italy; drummer Enrico Morello, who played on Wild Dance; and Glauco Benedetti, a tuba badass and the reason Yellow Squeeds does not need a bassist.
What immediately strikes you about Diodati's music is his group concept. Yellow Squeeds is a band full of hot soloists, but it is not about solos. Or rather, it is not about individual solos. Diodati's priority is ensemble form, first advanced by his asymmetrical modular compositions and then wildly expanded in the moment. It is only a slight exaggeration to say that everyone is always soloing. Within Diodati's overarching order, freedom reigns.
The first track, "Here and There," is founded on a body-slamming beat from Benedetti and Morello, on which an astonishing amount of content is arrayed in five minutes. The charging anthem of the theme contains inner solos, and even Benedetti's tuba, as it bumps along the bottom, plays insinuations of the melody. As the whole unfolds, piano, guitar, and trumpet are often fused into one piercing treble voice. When a single source emerges—say, Zanisi's Fender Rhodes—it's soon overtaken by others. Backgrounds and foregrounds often change places.
Diodati has compared his version of jazz to folk music, "where the collective spirit is more important than the individual one." He has also said that "the 'solo statement' is something very rigid and refers to a tiny part of how music is improvised in the world." But his approach does not deemphasize individual creativity. In fact, because solos are selective and concise, they stand out more vividly. In "Cities," Diodati's series of quick forays, all different, is riveting. So are Zanisi's long piano lines, unwinding to introduce "River," which then becomes a remarkable seven-minute group endeavor in which players feed off one another without ever breaking the atmospheric mood. It is hard to think of a young jazz band more selflessly attuned to one another's thoughts, or more immersed in the communal exploration of sonority. Diodati's arrangements paint with all the diverse colors of his band's sonorities, which also include Zanisi's synths and Benedetti's valve trombone and flute.
There is a piece called "Entanglement," but all Diodati compositions and arrangements are entanglements: shifting forms with up to five voices generating spontaneous counterpoint. For contrast, there is a brief (1:13) interlude, "Blue Dreams." It is an acoustic guitar reverie, rapt yet, like all Diodati expressions, tense with energy withheld and then released. In the title track and "Cities," you suddenly hear that the interactive urgency of this music is a means to an end, and the end is lyricism, in startling new forms, most with hard edges.
Three of Diodati's four Auand albums have contained a Thelonious Monk composition. Here it is "Straight, No Chaser." Diodati is not so much a Monk interpreter as a Monk fantasist. He should stay on a roll and keep blowing up Monk tunes.
This session took place in a small, capable studio in Rome. Any recording of a Diodati band must be sufficiently detailed to document all the inner workings of his ensemble. This one is.
Never the Same is obtainable from online sources in the US, including downtownmusicgallery.com, bandcamp.com and forcedexposure.com, and as an MP3 download from Amazon. It is also available in 16/44.1k resolution from the Qobuz and Tidal streaming services.—Thomas Conrad