Recording of December 2018: Where the River Goes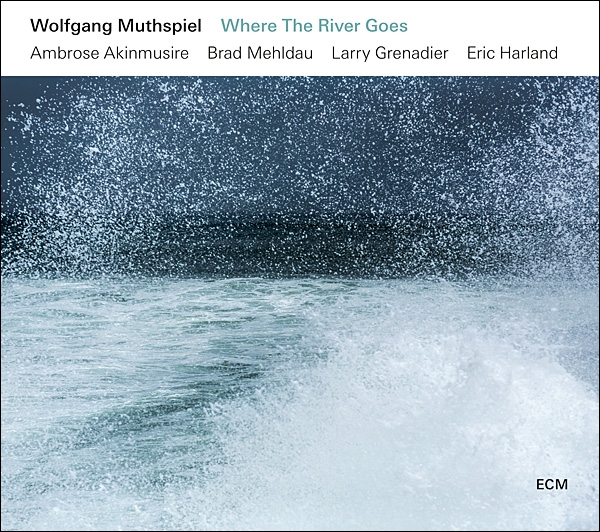 Wolfgang Muthspiel: Where the River Goes
Wolfgang Muthspiel, electric & acoustic guitars; Ambrose Akinmusire, trumpet; Brad Mehldau, piano; Larry Grenadier, bass; Eric Harland, drums
ECM 2610 (CD). 2018. Manfred Eicher, prod.; Gérard de Haro, Nicolas Baillard, engs. DDD. TT: 48:15
Performance ****½
Sonics ****½
Wolfgang Muthspiel of Austria has been active and respected on the European scene for 30 years. But like so many of the best European jazz musicians, he began to get famous only when he began recording for ECM: His Travel Guide (2013) and Driftwood (2014) were endorsed by critics and embraced by guitar junkies.
Muthspiel's true breakthrough came with his third ECM recording, Rising Grace (2016). It took everyone, even his fans, by surprise in presenting not an all-star band but a superstar band. Muthspiel's American sidemen were trumpeter Ambrose Akinmusire, pianist Brad Mehldau, bassist Larry Grenadier, and drummer Brian Blade. Rising Grace appeared on many important Top Album lists, even in places usually oblivious to jazz achievements by Europeans—places like the United States.
Rising Grace could easily have been a one-off, a special studio project by a band that never toured. When word hit the street that this same ensemble (with drummer Blade replaced by Eric Harland, no downgrade) had made a second record, Where the River Goes became one of the anticipated jazz releases of 2018.
There are eight pieces, six composed by Muthspiel. (Mehldau wrote "Blueshead"; "Clearing" is a group improvisation.) Muthspiel's melodies are varied forms of yearning. They draw you into their alluring warmth, but never let you relax because they keep veering. Muthspiel's electric-guitar sound is intimate as candlelight. He is usually the one who introduces themes, as in the title track. But sometimes it's Mehldau ("Clearing") or Akinmusire ("Descendants"). Always, initial melodies are threads to which new threads are added in order to weave large ensemble tapestries. "For Django," like all Muthspiel songs, is an alchemy of affirmation and pensiveness. Mehldau and Akinmusire circle each other, then Muthspiel enters and makes it a three-way conversation. The melody keeps returning, enhanced by one voice, then another. For an extended passage the piece becomes a flowing guitar-and-piano duet and you think the melody has dissolved, but then Akinmusire comes back and you hear it again, like a sublimated thought within the collective ensemble consciousness.
"For Django" is Muthspiel's heartfelt memorial to a great guitar ancestor, but, like all of this music, it never feels gentle because of Grenadier and Harland. Even though they keep their enormous power in reserve, and stay within themselves, their restless energy often sweeps the music forward on sudden currents.
Musicians with the stature of Mehldau and Akinmusire do not often serve as sidemen. Akinmusire sounds like a well-behaved version of himself. His trumpet tone still ranges from flaring brilliance ("Descendants") to guttural darkness ("One Day My Prince Was Gone"), and his ideas are still continuously startling. But he turns down the volume, to suit the prevailing ambience. Mehldau applies his own unique capacity for spontaneous melody to a body of music primarily defined by another leader's lyricism. Not many elite players are willing or able to become temporarily selfless.
"Blueshead" is a departure. On a recording that is a deeply integrated ensemble commitment and not about solos, "Blueshead" cuts loose five killing soloists. Grenadier goes first and is funkiest. Akinmusire spatters color like an action painter. Muthspiel, that cultivated artist, shows his nasty side. Mehldau flows out of Muthspiel's phrases so seamlessly that at first you don't notice when a guitar solo has become a piano solo. As for Harland, he never stops soloing. For one track, this session is an ass-kicking jam.
Two acoustic-guitar features—one solo ("Buenos Aires"), and one a duo with Harland ("Panorama")—remind us that Where the River Goes is, after all, Muthspiel's statement. The romanticism of "Buenos Aires," with its lavish, resonant sonorities, can lull you into serenity, until you perceive how many contrasting ideas Muthspiel discovers in four minutes.
Manfred Eicher's renowned, crystalline ECM sound comes in more than one version. Eicher's touch is the constant. What changes are the studios and the engineers, with their subtly different sonic signatures. Where the River Goes was recorded at Studios La Buissonne, in Pernes-les-Fontaines, in the south of France. Engineers Gérard de Haro and Nicolas Baillard achieve a balanced, clear depiction of five instrumental voices that never calls attention to itself, but leaves us alone with the richness of the music.
All-star bands are often fun but rarely make albums that last—jazz ensembles require time to develop oneness. The quintets on Rising Grace and Where the River Goes are exceptions. They played a total of three live gigs, then made two records that sound as if they exist outside of time.—Thomas Conrad