Recording of August 1963: Nielsen: Symphony No.5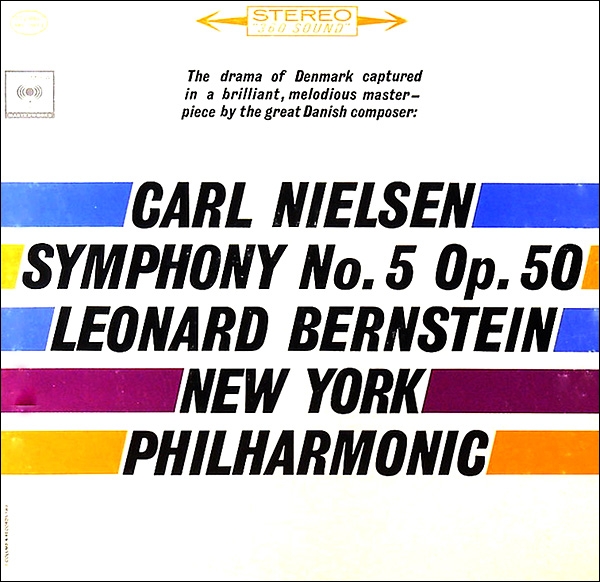 Nielsen: Symphony No.5, Op.50
New York Philharmonic Orchestra, Leonard Bernstein, conductor
Columbia MS-6414 (LP). John McClure, prod. TT: 33:10
This is surely one of the most exciting works written in the twentieth century. and if there is going to be an upsurge of interest in the works of this great Danish composer as a result of this recording, then Mr. Bernstein and the New York Philharmonic will have rendered music lovers an invaluable service.
I don't recall another recording by these artists which I can greet with greater enthusiasm than this one. We are fortunate, too, in that Columbia has provided perhaps its finest stereo recording of the Philharmonic to date. There is an excellent sense of space here, with an effective but but not intrusive directionality, and this, coupled with a reasonable amount of dynamic range and good low end, gives a sense of realism to this recording that which not been in evidence in other recent Philharmonic recordings.
While tracking distortion is generally no problem, it does occur in some of the heavy passages where the all-important percussion is involved. Also, there was some breakup toward end of side two, where the engineers were forced to compress dynamics at a crucial point in the coda. But even this miscalculation cannot detract from such an overpowering performance by Mr. Bernstein and his orchestra.
We can be grateful, too, that the Columbia engineers have tempered their usual habit of zipping up the first violins, but I do not like the excessive violin sweetening, which places them outside the orchestral body. These comments should not deter from acquiring this record, however, since it offers a wonderful performance of a fine work that would be a welcome addition to the tired repertoires of many more of our major orchestras. But we all know by this time that it's possible to cut a truly fine stereo disc, clean and natural in sound, with wide dynamic range, silent surfaces, and a solid low end. Deutsche Grammophon has shown us that this is possible, and it's about time American manufacturers began producing comparable stereo discs.—James W. Keeler
---
Footnote: James W. Keeler (1927–2009) was a classical music announcer at Philadelphia's WHYY FM in the late 1950s and program director for Philadelphia's WFLN Radio in the 1960s.—
Ed.