Recording of April 2011: Mozart Piano Concertos 22 & 25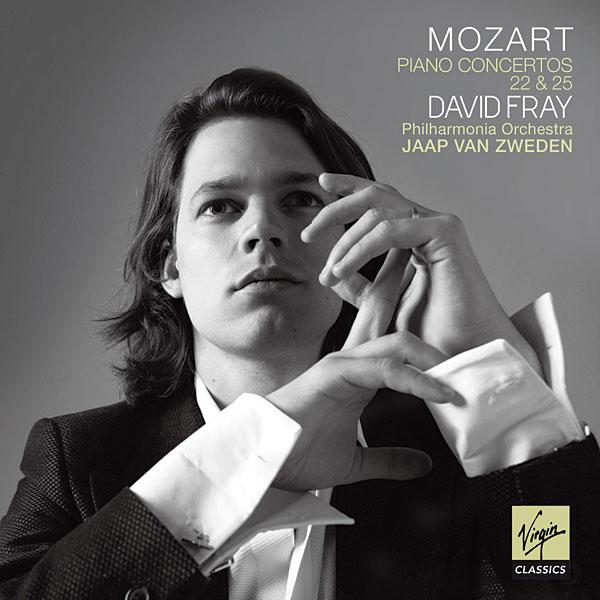 MOZART: Piano Concertos 22 & 25
David Fray, piano; Jaap van Zweden, Philharmonia Orchestra
Virgin 5099964196404 (CD). 2010. Etienne Collard, prod.; René Möller, eng. DDD. TT: 66:04
Performance *****
Sonics *****
From 1782 to the end of 1785 were successful, fertile years in Vienna for Mozart. He was sought by the aristocracy and the upper classes as a pianist, teacher, and composer. Throughout this period—and the following year, during which he ran out of money—he composed piano sonatas, songs, marches, wind serenades, a horn quintet, Die Entführung aus dem Serail, arias, quartets, works for violin and/or viola, horn concertos, the C-minor Mass, symphonies 35, 36, and 38 (37 was written by Michael Haydn), piano concertos 14–25, Le Nozze di Figaro, and dozens of other works.
Piano Concerto 22 in E-flat, K.482, was first performed the day it was finished, December 16, 1785, by Mozart himself, between the two halves of Carl Ditters von Dittersdorf's oratorio Esther. Like Concerto 25, also recorded here (and composed exactly one year later), it is one of Mozart's more formal concertos: Each begins with a certain straight-backed dignity that leads to multiple surprises. Concerto 22 was performed again on December 23 (without the Dittersdorf work), and the songlike Andante had to be encored—a rare enough occurrence in those days to have Leopold Mozart comment on it in a letter to his daughter, Mozart's sister. It is a stunning work, and the first by Mozart to use clarinets—which, along with a pair of bassoons, horn, and a flute, gives the work a wonderful "wind" color and allows for charming dialogue between winds and piano. Indeed, in its first movement, before the piano enters solo after more than two minutes, we hear the winds in as many combinations as possible. The orchestral tuttis have a march-like attitude that contrasts with Mozart's virtuoso writing for the piano.
There's not a dull moment in the work, veering as it does from solemnity to wacky impertinence: after the gentle earnestness of the second movement, with its lengthy solos for wind quintet and then piano, the jaunty theme of the third seems like a joke. But, Mozart being Mozart, even the hunt-like dash of the last movement turns reflective exactly halfway through (if one excludes the cadenza, which is not by Mozart), its wind solos reminiscent of the transcendent moment near the end of Figaro when the Count begs Rosina for forgiveness, before, a few minutes from the end, returning to jolliness for its final moments.
French-born David Fray, not yet 30 years old, is, happily, not quite as wispy as he appears in this disc's cover photo, where he looks as if he could be blown over by a stiff wind. His touch in Concerto 22 varies from poised but authoritative and noble in the first movement, to sensual in the second, to alternately playful and pensive in the last. He not only uses rubato brilliantly, he also embellishes the piano part as Mozart probably would have (when Mozart composed for himself, he tended to write down only bare bones). Edwin Fischer's cadenzas are somewhat odd, and in the one for the third movement, Allegro (Rondo), he includes a quote from Rossini's Il Barbiere di Siviglia, specifically a moment from Rosina's aria "Una voca poco fa." A reference to Figaro, which Mozart was composing at the same time and which features a somewhat older Rosina? How sophisticated! Fray leaves the cadenza with such grace and wit that it's impossible not be charmed, and his late-movement ornamentation is a delight.
Concerto 25 in C Major, K.503, is an even bigger-boned work, though it lacks the clarinets. The opening tutti, Allegro maestoso, is colossally symphonic, but the entry of the piano, almost three minutes in, is quiet and graceful, and Fray plays it as such, allowing the dazzling piano part to sing for itself. Because the movement veers often and surprisingly from major to minor and back again, we get great shades of light and darkness, and, again, Fray's use of rubato—particularly as the changes are about to take place—adds suspense and drama with no hint of aggression or affectation. The woodwinds again are off on their own field trip, and the fact that the melody of "La Marseillaise" (though the song was not written until after Mozart's death) keeps popping up adds formal nobility to this almost 15-minute-long movement.
The mellow Andante takes a moment to get going—Fray keeps us waiting dramatically when it is his turn to enter—but this interpretive detail seems more stylish than showy, and he keeps the lyricism concentrated. Despite the merry tune and the quick uptake of the final movement, Mozart again moves into the minor frequently, giving this Allegretto a complex feel. Fray's rhythmic spring and sense of delight in alternating dynamics to great dramatic effect make the nine minutes fly by. His hand is invariably heavier here than earlier in the concerto, and it is thrilling. Friedrich Gulda's cadenzas are more apt than Fischer's for K.482.
Clearly, Fray and conductor Jaap van Zweden both love stretching melodies; they work as one to keep the theatricality alive, but also relish the lightness of Mozart's piano writing so that there is still a sense of spontaneity. The Philharmonia Orchestra plays classically, and with great precision and smart attacks. What a stunning release!—Robert Levine