The Record Hunt: Williamsburg (Brooklyn, NY)
At 5pm on a Thursday, some Thursdays ago, Robert Baird and I embarked on a post-work record hunt in Brooklyn. More specifically, we explored Williamsburg, otherwise referred to as "Hipster Land" (footnote 1). Aside from being an all-round neat neighborhood, Williamsburg is also home to quite a few record shops. This trip, we decided to keep our stops to a minimum and focus on two of our favorites:
Rough Trade
(64 N 9th Street, Brooklyn, NY 11249) and
Earwax Records
(167 N 9th Street, Brooklyn, NY 11211).
First stop: Rough Trade
Rough Trade is an all-in-one, two-floor kingdom of musical goodness. Inside, you'll not only find a wide selection of LPs, CDs, cassettes, reading materials, top-notch miscellaneous knick-knacks, and a trendy bar/cafe. Rough Trade also happens to be a "Bowery Presents" venue that hosts superb concerts with artists almost as varied as its LP collection, covering both mainstream and obscure grounds.
And of course, all of that wouldn't be complete without a classic photo booth.
Rough Trade has the aesthetic feel and color palette of warehouse-meets-fortress—I mean this in a good way. In a "if I ever have to live off the grid, under the radar, or in a witness protection program because of my involvement with the mafia, I hope it's in a place like this" type of way.
The walls are methodically lined with ample listening stations, consisting of Nakamichi MB-V300s and Sennheiser HD280s. Music constantly plays overhead via Bowers & Wilkins CT-74s and AM-1s that run through a Rotel RCD-1520 and a Rotel RC-1550. There are also LP listening stations by the checkout counter, consisting of Audio Technica AT-LP1240-USB tables (I checked out two, one had an Ortofon Concorde cartridge, the other a Stanton Discmaster 2), paired with Sennheiser headphones.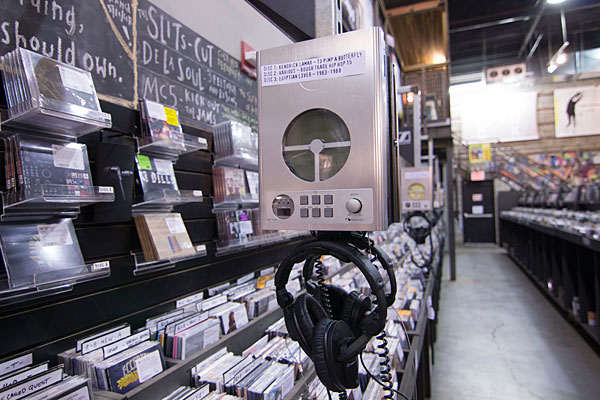 This visit, I purchased: Second Woman's Second Woman (a recent release at the time, highly recommended for any/all Telefon Tel Aviv fans); Sufjan Stevens's Carrie & Lowell; and Bill Evans's Sunday at the Village Vanguard. ("This my favorite Bill Evans record," says everyone and their mother, but I mean it.)
RT's store manager, George Flanagan, was kind enough to chat with me about the inner workings of the record shop life.
Jana Dagdagan: Would you like to share some thoughts on Other Music coming to an end? Is Rough Trade going to do anything differently?
George Flanagan: Other Music will be missed. We were fans of OM and, at times, had different people who worked at both stores. [New York] is a huge city full of music lovers. There's plenty of business to support all of us. What was clear to us, like everyone else, when the news came out—they weren't closing 'cause sales were down, they were closing 'cause of real estate, which is sad. I came from HMV, Virgin Mega Store, these stores where the press always said record-industry sales were down—and yes, there were dips, but most of those stores closed because it was so much easier for the landlord to just shift us out of there and ask for $20k more a month because there're businesses that have a bigger profit margin. It's never been easy to be a record store in NYC, but if there's any city in the US where you could have a store like this, or OM (in the area that they were in), it would be NYC (or maybe LA). And I think a testament to OM is how they outlasted Tower across the street.
That said, there's nothing we're really changing on how we do our business. It's about having a great range of products, trying to stay relevant in terms of curating what we think is worth checking out, and celebrating not just the vinyl experience but also the experience of what a record store means as a community, a hub of where you go to discover stuff, be it a book, or grab a coffee, or buy a record, see a show. We're just pushing forward and trying to grow awareness.
JD: Cassettes are so rare nowadays. How do you know which ones to carry?
GF: Cassettes are great in how they speak to a very niche customer that respects the fact that we bother to bring in these very small cassette labels that have a high level of credibility in that scene. But it's a very small percentage of sales, because there're only so many people releasing cassettes, and there's an even smaller number of people who want to buy them.
People who buy cassettes from us are psyched. The percentage is small but it's better than being down. So for us, we're always trying to bring in more cassettes. Many major labels are getting into cassettes. Some work, but some—to us—don't.
A great example is—they reissued Purple Rain in (purple) cassette. That's cool, and we'll sell it, but to me it's more about having the weird, noise label out of Toronto that made 50 copies of the cassette that we have three of. To me, that's what I want the cassette section to speak more to.
JD: Is it ever difficult to decide what to bring in? How "mainstream" to go?
GF: When they put out the last Taylor Swift album on vinyl, we thought, "should we cover it?" I think we brought in one, just to cover ourselves. That day, we sold it, then 5 other people asked for it. So we thought, "Okay, all right, we have a Taylor Swift customer." One thing I'm really big on is not having an elitist record store mentality about what we will or won't carry. Of course we also have the luxury of having such a big space.
To me, if Taylor Swift makes you as happy as Clash's Sandinista makes me happy, it's all the same. Music brings you joy. That's the challenge: our ever-evolving customer base. [Rough Trade] has a history of being one step ahead in very indie-centric stuff, and not losing sight of that because we're trying to satisfy our populous customer that likes Taylor Swift. So, like I said, it's very important with cassettes to seek out these indie labels and bring in these imports that no one else has. Not only because it's what we've done in the past, but because we're passionate about it.
Our second/last stop: Earwax Records
"Earwax" is not normally a pleasant noun (or experience), but when closely followed by the (much more favorable) plural noun "records," the result creates a mist of intrigue. And also, for whatever reason, a similar delightful feeling to that associated with the word "nougat." My feelings towards Earwax Records are exactly that: intrigue and delight.
Earwax is conveniently located a block away from the Bedford L train station, but isn't the most obviously placed shop.
In fact, I first discovered Earwax a year ago completely on accident. While making chicken karaage (Japanese fried chicken), I found myself desperately in need of Kewpie (Japanese mayonnaise), which led me to Midoriya, the Japanese market right by Earwax. This trip, however, was very intentional and not in the slightest bit motivated by fried chicken.
Earwax is a cozy, petite shop: straightforward, minimal with retro artistic character. Since it's such a small space with usually only one staff member at a time, it's always a uniquely personal experience. The corners are usually occupied by used vintage gear for sale. This visit, there was a Technics SL1200 Mk.2, a Technics SL-D1, a Luxman PX-99, a Yamaha CR-840, and a Yamaha CR-620. There's also a playback table, which, at the time of my visit, consisted of Dynaco A-25 and Ohm D-2 speakers, an Akai AM-2250, and a Rek-O-Kut Rondine 2. Each component is outfitted with an adorable hand-written description card.
I left happily with: Reflection Eternal's (Talib Kweli & Hi-Tek) The Blast, and the Seven Samurai (Soundtrack).
And, of course, we couldn't leave without exploring Midoriya as well.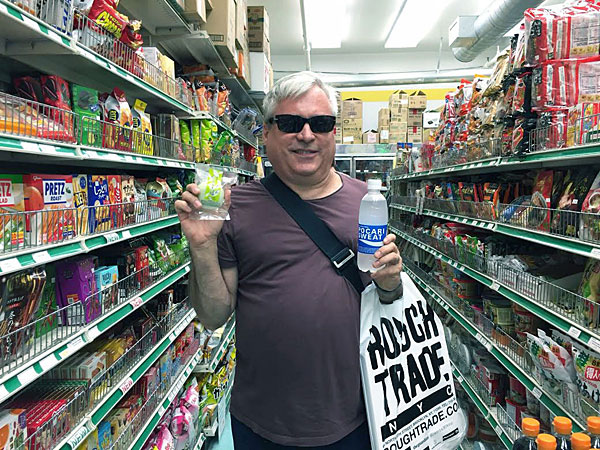 ---
Footnote 1: And this is by no means an insult, because I've spent a great deal of time living in Williamsburg myself.