"Professor" Johnson Scores His First Grammy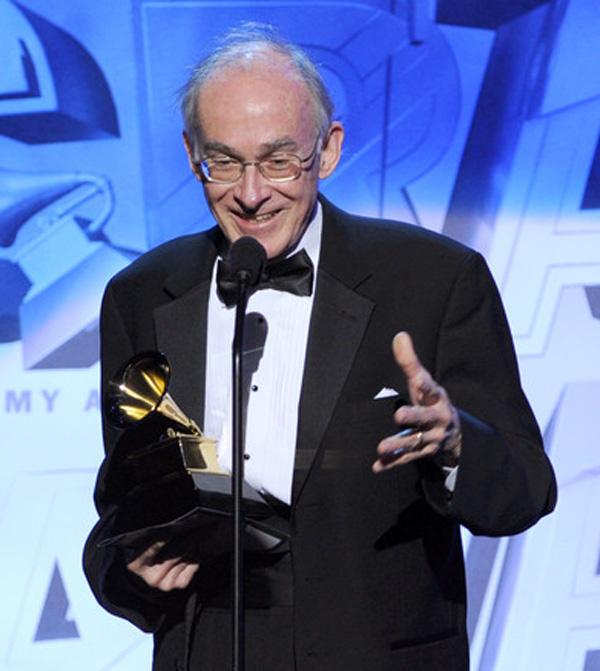 After seven previous Grammy nominations for his engineering efforts, veteran recording engineer and equipment designer Keith O. Johnson has received his first Grammy. Together with producer David Frost, "Professor" Johnson won Best Surround Sound Album (for vocal or instrumental albums) at the 53rd Annual Grammy® Awards.
Presented on Sunday, February 13, 2011, at Staples Center in Los Angeles, Johnson and Frost's Grammy-honored Reference Recordings' hybrid multi-channel SACD, Britten's Orchestra (RR-120SACD). Performed by the excellent Kansas City Orchestra, conducted by Michael Stern, the recording includes The Young Person's Guide to the Orchestra; Sinfonia da requiem; Peter Grimes: Four Sea Interludes and Passacaglia, all by 20th century English master Benjamin Britten.
What is most interesting is that Johnson's Grammy came for his first surround-sound effort in SACD format, rather than for one of his fabled recordings in the HDCD process he developed and championed.
"I've learned a lot," Johnson says of his first multi-channel SACD effort, when I spoke to him after the Grammies. "I spent I don't know how many days and hours and hours to put it together and learn the editor at the same time. I had visions of creating the wrap-around character that we experienced in the recording venue. The hall is an arena, with a very different sound than a concert hall. It's a big round shell, somewhat like the Mormon Tabernacle. It doesn't really have a front and back as such; it's all curved surfaces. What you hear in the space is an amazing wraparound sound. You hear reflections of instruments popping out all over the place because of the curved surfaces."
Johnson feels the arena's acoustic is similar to that of England's Royal Albert Hall, one of the venues where Britten chose to perform his work. "I really wanted to capture what I thought Britten might have wanted," he says. "He would be close in, so this performance is miked very close in. It's very detailed, because, after all, it's Britten's orchestra. You want to be able to grab and savor all the things that are happening. The recording is a bit different than recordings of Vaughan Williams, Rachmaninoff, Strauss or the crowd that wants to have a big, flowing tapestry of sound. This one is very tight, and yet it's big."
It also has, in Johnson's opinion, the biggest dynamic range of just about any recording on the market. Having learned the score by heart before the recording, because he chooses to accent and mix while musicians are playing rather than using an editor program after the fact, Johnson recalls the dynamic span going from 90 dB down in one extremely soft passage to an >100 dB, ffff drum whack.
"I've listened to some fine surround recordings, and there's no question this is very good. It does what I feel should happen in surround: create a visual acoustic, which is like being there. You close your eyes and you have it in front of you. That way, the brain has an easy decode. It doesn't have to try to reconstruct space or centers. It floats along, so the musical experience is better. It's very different than most older surround recordings, which are the equivalent of ping-pong stereo. They have all the stuff in the front and reverb in the rear, and that's not what you hear in a real space. What really happens is the ambience is a continuum all the way around. To make that work, one has to create time-phase alignment. It's very simple, and a few of the other recordings out there do it."
Britten's Orchestra is currently available in SACD hybrid multi-channel, PCM-based two-channel CD, 16/44.1 and 24/88.2 downloads from HDTracks, and as a 24/176.4 HRx DVD-R master from Reference Recordings. Most exciting for audiophiles with surround systems is the prospect that the 24/176.4 surround file will end up pre-implanted on music servers.
The recording was initially made in 24/176.4 PCM on the Pacific Microsonics devices that Johnson helped create, and then converted to SACD.
"SACD is a strange animal," he contends. "It's a very inefficient, DSD-based system of encoding, with compression methods going on to allow the data to fit. It technically is not as good as a straight 176/4 file because of what one has to do to make it fit onto the DVD, but it's a whole lot better than 44.1."
Although he felt his recording deserved the award, Johnson actually expected the Grammy to go to George Benson's Songs and Stories (Concord Records/Monster Music), one of whose surround mastering engineers was Doug Sax. ("It was also very good, and I thought it would likely win because more members of the Recording Academy were familiar with him.") When the announcement came at the afternoon ceremony, Johnson was not only stunned, but also quite bleary eyed due the onset of the flu. He admits that he so out of it, and so caught off guard, that when he ran onstage, he didn't even recognize producer David Frost.
Johnson's next multi-channel hybrid SACD project is again with the Kansas City Orchestra. In a few months, he'll record Elgar's Enigma Variations and Vaughan Williams" Greensleeves Fantasia and The Wasps. Also slated for release in two-channel format are recordings with Chris Brubeck's outfit in Boston's Mechanics Hall, and with up-and-coming Brazilian singer-songwriter-guitarist Reinaldo Brahn (first name pronounced hay-NAHL-do). The latter, with rich and complex arrangements for woodwinds, trumpet, electric guitar, keyboards, electric bass, drums, and exotic percussion, has "audiophile demo" written all over it.