Plantronics BackBeat 500 On-Ear Bluetooth Headphones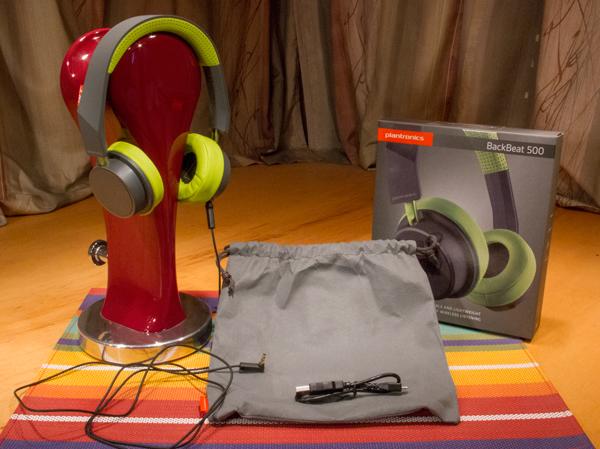 This story originally appeared at InnerFidelity.com
A couple of weeks ago I reviewed the Jabra Move and found it pretty good...a little too bass heavy for me, but pretty good for those who like some thump. The headphones mostly interested me because they came from Jabra, a company best known for both corporate and consumer telephone headsets.
That same curiosity had me contacting Plantronics for a similarly price headphone, the BackBeat 500. I've been more impressed with these products than I expected, but I think they're going to have to keep working on it to beat the likes of Sennheiser. Let's check 'em out.
Plantronics BackBeat 500 ($79)
The Plantronics BackBeat 500 is a sealed, on-ear, Bluetooth headphone. I'm usually not a fan of bold colors, flashy graphics, and spanky shapes—I'm more of a form-follows-function, simple and elegant kinda guy—but I must say Plantronics did a pretty fine job of tasty pizzaz with these little cans.
I've got the light gray/bright green version, but there's a dark gray and white version that are a bit more toned down and too my liking.
At this price it's no surprise the construction is mostly plastic. What is a nice surprise is that it seems to be pretty high grade synthetic materials. The one bit of metal apparent is the headband extension arms, which are green (in this version) anodized aluminum. Good thing too...we'll get to that in a moment.
The perforated pleather headband pad covers a regular foam cushion. This pad is a bit larger than most headphones of this price and type, and does a good job of contacting my head over a fairly wide area. With a svelt 157 grams, I found this pad quite comfortable.
The earpads, on the other hand are memory foam—kind of unusual at this price—and the coverings, if not protein leather, are a really nice grade of pleather. I found them quite comfortable...after I made a somewhat unsettling modification.
The ear pads can swivel forward and back for fit, and flat for transport and storage. And they til up and down, but have only a small range of motion. Unfortunately, for me, and many people I suspect, they don't tilt downward far enough to properly line up with my ears. Out of the box there was too much pressure on the bottom of my ear, and it only touched gently at the top. Not good.
At that point I almost called off the review—comfort is crucially important on a headphone, so if they don't fit properly it's a deal breaker. Oft time these kinda situations are best served by bending the middle of the headband out, but in this case the headband is extremely flexible, and it fits so well that I didn't want to change the bend up top.
Fortunately, I had noted the aluminum extension arms and quality build, so I figure they might be manually persuaded into a better position, and it's really the pad angle that needed changing, not the caliper pressure.
By carefully gripping the headband, and more importantly, the earpad in such a way as to not overly strain either, I positioned both thumbs up against the aluminum extension arm. Then carefully applying just enough pressure to deform the aluminum, I could bend the slightly curved arm into a straighter position. It didn't take much of a bend on each side to correct the fit, so be sure not to over do it. Go in small steps and recheck fit each time.
Once the pads are in good position, the headphones are remarkably comfortable as a result of the nicely implemented headband and ear pads. Still, this is a bit of an Achilles Heel for these cans; most owners won't read this review and some may have a hard time with fit. Of the 43 Amazon reviews three negative reviews were clearly about comfort issues. (Overall rating was 4 of 5 stars.)
Accessorization was minimal, as expected at this price. The included cable is a tad long for portable use at 57", and is terminated at either end with 3.5mm TRS plugs—the headphone end is straight and player end is 90 degrees. Also included is a USB charging cable and simple drawstring fabric bag.
The electronics automatically turn off when the cable is plugged into the headphones; you can not use the BackBeat 500 as a phone headset while on the wire. The good news is that a 2.5 hour charge will get you about 18 hours of play time, so the need to go on the wire for a dead battery will be minimal. It's a slightly inefficient headphone; I felt it reached solid listening levels wired to a phone, but some who like it very loud (please be careful) may find it not quite loud enough.
Pairing was quick, easy, and as expected with my Android phone, but it was lightning fast with my iOS products. If I had previously paired both my iPad and iPhone, and then initiate pairing with Bluetooth enabled on both iOS devices, the BackBeat 500 would pretty much immediately pair with both devices. Bluetooth range was about average and voice quality good.
I was able to play media with good resolution from both devices, and latency for movies was low. If I had one device playing music and started playing music on the other device, the BackBeat 500 would remain on the currently playing device; if I pushed stop on the current device and then pushed play on the other, the audio would switch. If I got a call on my iPhone while listening to the iPad it would pause the iPad and switch to comms on the phone. It all worked just dandy.
The buttons are ergonomically positioned around the circumference of the ear capsules and are easy to find and push by thumb tip. The play/pause/FF/RW controls, which push to click, are embedded under the flexible cover of the left ear capsule. All controls worked as expected; you can check them out in the remarkably sparse product manual here.
Let's have a listen.