Parasound Halo JC 1+ monoblock power amplifier Measurements
Sidebar 3: Measurements
I tested the Parasound Halo JC 1+ with my Audio Precision SYS2722 system (see the January 2008 "As We See It"). I preconditioned the amplifier by operating it at one-third the specified power into 8 ohms for an hour with the output-stage bias set to Normal. (With a class-AB output stage, one-third power results in the maximum dissipation in the output devices.) At the end of this time, the side-mounted heatsinks were hot, at 116.7°F (47.1°C). The top panel was a little cooler, at 98.9°F (36.7°C).
The Parasound's voltage gain into 8 ohms, set to Normal, measured 29.2dB from the balanced inputs, 29.4dB from the unbalanced inputs. Switching the gain to Low reduced both gains by 6.4dB. The amplifier preserved absolute polarity (ie, was noninverting) with both balanced and unbalanced input signals. Although slightly lower than specified, the balanced input impedance was still very high, at 92k ohms at 20Hz and 1kHz, dropping to 89k ohms at 20kHz. The unbalanced input impedance was 44k ohms at low and middle frequencies, 36k ohms at the top of the audioband.
The Parasound's output impedance was a very low 0.067 ohm at 20Hz and 1kHz, increasing slightly to 0.085 ohm at 20kHz. (Though these impedances are higher than specified, they include the series impedance of 6' of spaced-pair loudspeaker cable, which I have estimated as 0.011 ohm.) The modulation of the amplifier's frequency response due to the Ohm's law interaction between this source impedance and the impedance of our standard simulated loudspeaker was negligible, at ±0.1dB (fig.1, gray trace). The response into an 8 ohm resistive load (fig.1, blue and red traces) was down by 3dB just below 100kHz and was flat to almost 20kHz, which correlates with the JC 1+'s superb reproduction of a 10kHz squarewave (fig.2). Commendably, there was no overshoot or ringing with the squarewave response.
Measured with the unbalanced inputs shorted to ground and the bias set to Normal, the amplifier's unweighted, wideband signal/noise ratio was an excellent 75.8dB ref. 1W into 8 ohms, this ratio improving to 87.25dB when the measurement was A-weighted and to 114dB when referenced to the amplifier's specified clipping power. Low-level spuriae at the 60Hz power-supply frequency and its harmonics were present in the Parasound's noise floor (fig.3).
The JC 1+ is specified as being able to deliver 450W into 8 ohms (26.5dBW), 850W into 4 ohms (26.3dBW), and 1300W into 2 ohms (25.1dBW), all at 0.15% distortion. Using our definition of clipping, which is when the output's percentage of THD+noise reaches 1%, the Parasound exceeded its specified powers into 8 ohms, clipping with a 1kHz signal at 500W into 8 ohms (27dBW, fig.4). It didn't quite meet its specified power into lower impedances, clipping at 830W into 4 ohms (26.2dBW, fig.5) and at 1200W into 2 ohms (24.8dBW, fig.6). However, it is fair to note that I don't hold the AC wall voltage constant when I test an amplifier's clipping power. With the Halo JC 1+ idling, the wall voltage measured 121.8V. With the amplifier clipping into 4 ohms, the supply voltage had dropped to 119.4V, which explains the slight shortfall in maximum power.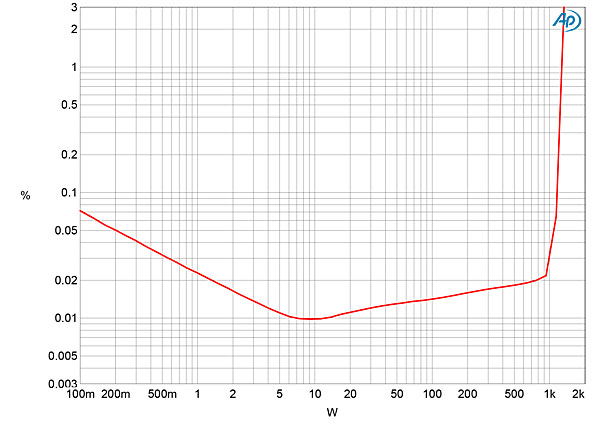 The shape of the traces in figs.4–6 suggested that, below a few tens of watts, the measured THD+N percentage was dominated by noise. I therefore examined how the percentage of THD+noise changed with frequency at 20V, which is equivalent to 50W into 8 ohms, 100W into 4 ohms, and 200W into 2 ohms. The THD+N was very low in the midrange into 8 ohms (fig.7, blue trace) but rose both into lower impedances (magenta and red traces) and at higher frequencies. Even so, other than at 200W into 2 ohms (red trace), the THD remained below 0.1% up to the 20kHz limit of this graph.
The JC 1+'s distortion was predominantly the subjectively innocuous second harmonic (fig.8), and higher harmonics are all very low in level (fig.9). The second harmonic lies at a low –86dB in this graph (0.005%) and didn't rise in level when I reduced the load impedance to 4 ohms. When the amplifier drove an equal mix of 19 and 20kHz tones at 100W into 4 ohms (fig.10), the second-order difference product at 1kHz lay at a very low –89dB (0.003%), though higher-order intermodulation products were slightly higher in level.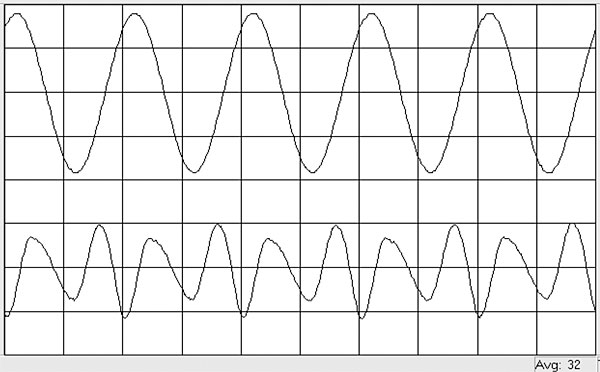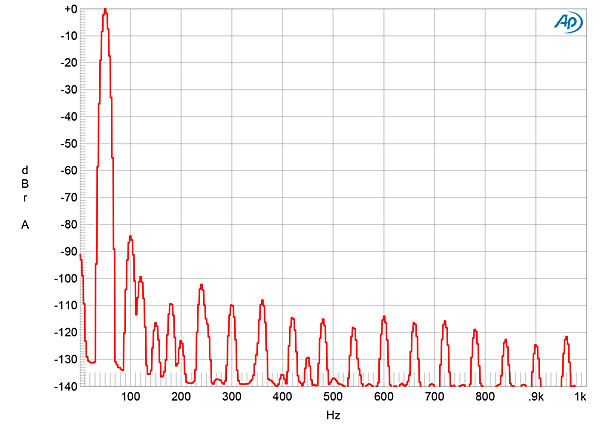 Like its predecessor, the Parasound JC 1+ offers a lot of low-noise, low-distortion power, and it is safe to say that its distortion signature will have no effect on the amplifier's sonic character.—John Atkinson