NYAS 2016: Sunday Near the Park With Ken
I hit the ground running on Sunday, the final day of the show, joining audio pals from far and wide and enjoying the company of inspired product reps and dealers—and their beautiful audio systems. I'm grateful for this year's New York Audio Show: an oasis of friends, music-loving family, and mostly good sound.
The Axiss Audio/Soulution/Critical Mass Systems room featured a wealth of electronics unknown to me, as well as Magico's S1 Mk II speakers ($16,500/pair). Also on tap: Accuphase DP720 CD player ($27,000), Soulution 725 preamplifier ($5500), Soulution 560 D/A converter ($3500), and Soulution 511 class-A 120Wpc stereo power amplifier ($35,000).
Soulution, located in the Swiss town of Dulliken, is led by Cyrill Hammer and Roland Manz, who were on hand—and who played some interesting music. Mary Stallings' classy "Sunday Kind of Love" was full and rich sounding; Buika's Portuguese grooves featured his (her?) visceral vocals, wiry electric bass, and processed sheen; Eva Cassidy's folksy goodness and rocking-chair simplicity sounded spot-on.
Rutherford Audio presented a massive pair of Paradigm's 300 lb. flagship Persona loudspeakers ($35,000/pair), which featured a 7" tweeter and 10" midrange manufactured from solid Beryllium, plus front and rear 8.5" woofers, powered by two onboard 700Wpc Anthem amplifiers. Anthem's "Phase Aligning Lenses" were integrated into the tweeter and midrange drivers, their circling filigree designs reminding me of my dope days and zoning out to Spirograph drawings. Also in attendance in the Rutherford room, Germany's T+A and their full line of manly-modern, silver-face components, including the G2000R turntable ($8000), PDP 3000AV CD player/SACD player/DAC ($22,500), P3000 HV preamplifier ($16,500), and PA3000 class-A/B power amplifier ($19,500).
The sound of Emerson, Lake & Palmer's "In the Beginning," played via files, also put me in mind of my dope-smoking days, Greg Lake's flowing acoustic guitar and Keith Emerson's tone-splayed Moog solo entirely ethereal and engaging. The bass energy from the ELP track was overwhelming, but Audio Doctor's Dave Lalin explained that if not for built-in Anthem room correction, the low end would have been entirely unlistenable. If you say so, Dave! A young Elvis Presley boomed forth from the Paradigms with spooky resonance, but once again the low-end frequencies were so powerful, I could practically see Elvis's hair vibrating.
On a tip from Michael Lavorgna, I popped into the GTT Audio & Video room and was greeted by a storming Ray Brown Trio bouncing off the walls like 20'-tall energized acoustic basses slamming and swaying. The super punchy Kii THREE stand-mounted loudspeaker ($13,900/pair) is a German-manufactured monitor employing six DACs and six drivers, the latter including four 6.5" woofers, a 5" midrange, and 1" Waveguard tweeter, powered internally by a 250Wpc NCore amplifier designed by Bruno Putzeys. A Totaldac streamer-reclocker ($5000) and Kubala-Sosna Elation! Ethernet LAN cable ($2600 first meter/$600 additional meter) rounded out the Kii TRHEE rig.
The most remarkable aspect of the Kiis is their unique ability to a cast a soundstage that basically contains no sweet spot. Instead, the entire room was a sweet spot! I strolled around the GTT room listening closely and from many angles: the same massive, turbocharged soundfield followed me, no matter where my ears pointed. The Kii THREE powered by the Putzeys amps was a true sonic force: commanding, streamlined, gutsy. Everything from James Blood Ulmer to the Peter Gabriel guilty favorite "Sledgehammer" back to Ray Brown purred like Robo-Animator sounds in Wonderland.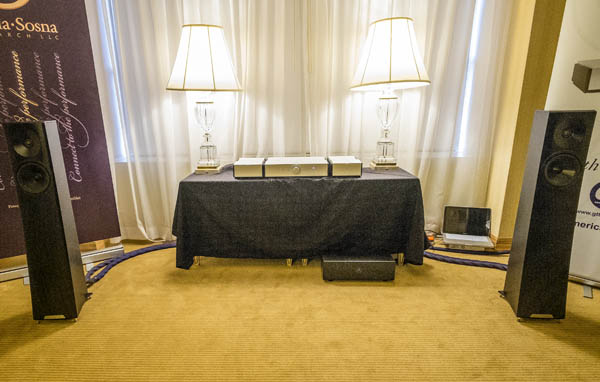 Next door in the other GTT Audio & Video room, some of the slickest looking (razor-and-anchor punks might say the sickest-looking) speakers in the show were manning the room like Noir sentries. The YG Acoustics Carmel 2 loudspeaker ($24,300/pair) was powered by the Mola Mola Kaluga Monaural amplifiers ($16,500/pair) and Mola Mola Makua preamplifier ($11,740), fed by the Mola Mola Optional DAC front-end ($7,850). Cabling included Kubala-Sosna Emotion interconnect and speaker cables ($3000 first meter/$900 each additional meter), and Kubala-Sosna power cords ($1100 first meter/$300 each additional meter and USB cable) and Realization USB cable ($3500).
A woman began to sing. I sorta liked it. She reminded me of Carmen McRae. Her trio was thick and woodsy sounding (think: fall leaves burning in…fall.) Diana Krall! I usually run from her lazy-jowled vocals, but this was good! Smooth and rich were the keywords, followed by lack of bass definition and sense of flow that more resembled a lazy cat than a clear river stream. But the YGs nailed vocals beautifully. A Joni Mitchell track was as rustic and gorgeous as I've ever heard her, and even Erykah Badu had me a-thumping. The gang at GTT played one of my fave audiophile records, James Newton Howard & Friends, with the late, great Jeff Porcaro kicking his bass drum like a big old jet airliner plowing into my forehead. The YGs played the Howard track like the airless 70s studio epic it is.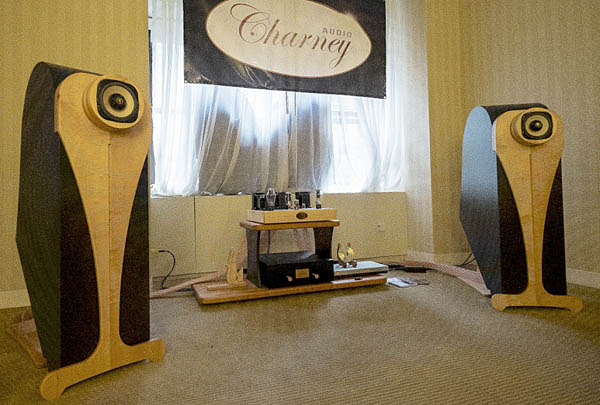 There was yet another horn-loaded speaker on the 7th floor, from Charney Audio. Their Companion ($5850/pair) speaker uses a single Lowther DX55 driver for a claimed sensitivity of 105dB. Also in line, the Charney Audio 300B Amp ($6500) and a Resolution Audio CD player. Cassandra Wilson purred through the Charney rig, as did Alison Krauss: refinement, elegance, delicacy.
Finally, I hoofed it upstairs to the 9th floor to check out a new speaker, the Sonner Audio Allegro Unum ($9990/pair). Using an Acoustic Signature Wow XL turntable ($3249) and Acoustic Signature TA700 tonearm(41195), Ortofon Black MM cartridge ($755), Acoustic Signature Tango Ultimate phono stage ($2399), and Hegel integrated amplifier ($5700), with Nordost cabling, the wrapped-birch enclosure of the Allegro Unum sounded very nice. Sweet. Clean. Neutral (in a really good way). Owner Gunny Surya follows Linn's lead with the Allegro Unum, offering interchangeable baffle covers to fit your décor. But this little wonder doesn't need any perfuming up: it released lovely, grainless treble notes, warm mids, and quite deep lower-bass notes. Gunny declined to give up ordinary details like efficiency, load, or frequency response. I liked his speaker a lot, anyway.
Three days! My very own floor! And my Stereophile comrades to cheer me on! The show was a raging success: many new-to-me products sounded quite good, and I'd rate a handful as excellent. Next year? The future looks bright.