NYAS 2016: Friday Afternoon with Ken
Whether large in scope and scale or just a few small rooms at the end of a hotel hallway, I get a kick out of hi-fi shows—and this is a truly beautiful time of year in New York City. Add to that the fact that this was my first show as an esteemed
Stereophile
correspondent, and you can imagine my excitement. (Pinch me!)
At 1:00pm, I met up with John Atkinson, Art Dudley, Jim Austin, and Jana Dagdagan; we drew straws for floor assignments and hit the hallways of this year's show venue, the Park Lane Hotel on Central Park South. The show was abuzz and practically jammed from the start: the atmosphere of excitement was palpable—nowhere more so than in the vendor's ballroom, where I spotted an old friend, Vinh Vu, of Gingko Audio (on the right in the photo above, with his partner Norm Ginsburg). People like Vinh are one of the reasons I enjoy our way of life (hobby? It's no such thing). Vinh Vu is a serious music lover, and his isolation products and cables are rock-solid performers.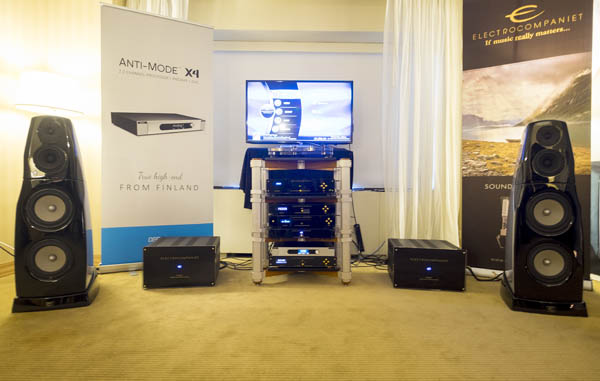 After greeting a few other old cronies, I had business to attend to on floor 7, beginning with the room shared by Electrocompaniet and Simplifi. Upon entering their room I spotted the EMC 1 MKIV CD player ($6000), cosmetically the same Electrocompaniet CD player I owned and enjoyed in the mid-90s. Because piano black is their house color, distinguishing one Electrocompaniet product from another is a challenge, but I'd recognize that massive, top-loading CD machine anywhere. The tone and timbre of the entire Electrocompaniet system echoed the sound I recalled so well, it was practically a déjà vu moment.
The Electrocompaniet system included their ECG 1 turntable ($4450) with Jelco arm, ECM 2 balanced network media player ($2500), EMP 3 3D Multiplayer disc player ($2500), ECP 2 balanced phono stage ($2000), EC 4.8 dual-mono reference preamplifier ($4500), and two Nemo AW600 mono amplifiers. Combined with Electrocompaniet's Nordic Tone Model 1 floorstanding loudspeakers ($30,000/pair), the system presented a large soundstage, even in the small hotel room. I heard 44.1kHz FLAC files of selections from Minor Majority's Reasons to Hang Around, Björk's Debut, Roxy Music's Avalon, Bob Marley, and the Berliner Symphonen performing Bach: the always-precise Electrocompaniet sound was clean, weighty, even wet. Notes had an agreeable leading-edge momentum that never assaulted my earlobes but rather pleasantly massaged my temples. Lower bass was a bit gummy, but, given the small room and general limitations of the hotel environment, that was but a minor quibble. Marley's "I Shot the Sheriff" righteously rocked and bumped with thick low-end tonnage; Berliner Symphonen's Bach performance wowed me with sweet tones and elastic rhythmic drive; Bebel Gilberto's "River Song" rode atop wave-surfing rhythms and blissfully mindless synthesizers. The Electrocompaniet system left me wanting more, and conversely, nothing more.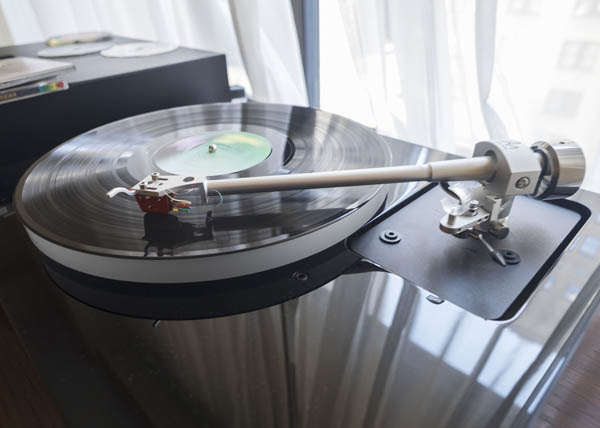 No matter the show, the city, or the hotel, Audio Note UK consistently provides a natural and graceful sounding audio system. Though I'm Stereophile's requisite jazz bohemian (Fred Kaplan resides uptown, I'm downtown), I wasn't enamored of the vinyl that Audio Note's Andy Whittle had chosen to spin on their TT Two Deluxe turntable ($3320 in high-gloss black ), IO I MC cartridge ($3320), TT Two external power supply ($1931), and Arm 3 tonearm ($1628). MPS's recent reissue of the Monty Alexander Trio's Live! at the Montreux Festival and Harry James and his Big Band's The King James Version provided snappy, swinging entertainment, but the gloss outweighed the goodness. But, again, we're talking hotel rooms, where optimal sound is a like a crap shot on the Titanic so…
Andy Whittle informed me that Audio Note's new TT Three Deluxe turntable is set for release in the New Year; products available in the here and now and exhibited in the Audio Note suite were the S8 MC step-up transformer ($10,568), CD 4.1x CD Player ($9463), M6 Phono Preamplifier ($16,536), Shinri 300B Monoblock Amplifiers ($14,693), and AN-E Lexus Signature speakers ($14,693/pair) with Audio Note speaker stands ($515.)