My Brief Affair with the Klipsch S4s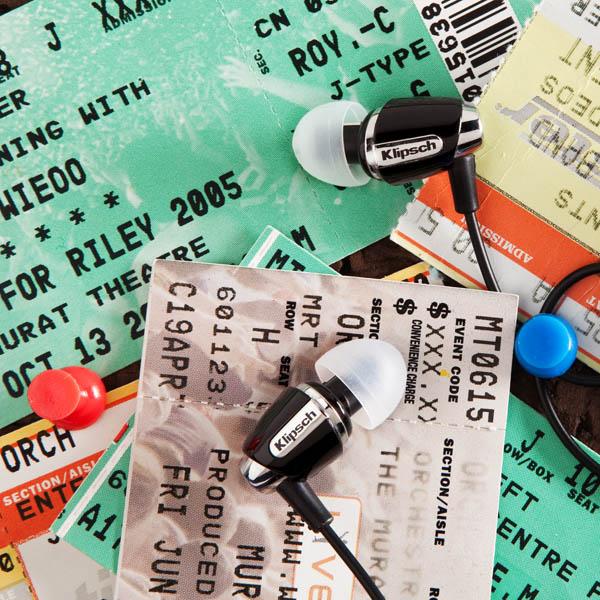 It had been many years since Stephen or I had been to Irving Plaza, but an invitation from Klipsch would grant us another encounter. Performances that evening included neo-punk new wave group the Tom Tom Club featuring Tina Weymouth (bass) and Chris Frantz (drums), both of the Talking Heads, opening for headliner the Psychedelic Furs, a band iconic for their soundtrack chart-topper "Pretty in Pink".
In a partnership with Live Nation, Irving Plaza, a Live Nation-owned venue, redubbed itself "Irving Plaza Powered by Klipsch" as we discovered on the billboard under the marquee.
Klipsch hopes to raise awareness with potential East Coast customers through expanded visibility at sponsored venues. Klipsch gear featured at Irving Plaza includes four Klipsch KI-102 loudspeakers, six Klipsch CA-800T outdoor speakers, and three iGroove SXT iPod speaker systems in the dressing rooms. Other investments include the Bayfront Park Ampitheater in Miami, now known as the Klipsch Amphitheater at Bayfront Park, and the Klipsch Music Center in Noblesville, Indiana. By placing their name on the real thing, Klipsch wants concert-goers to associate their positive live-music experiences with the Klipsch brand. Furthermore, they want patrons to know that their products can re-create the live-music experience.
Upon entering Irving Plaza Power by Klipsch, SM and I are greeted by two smiley public relations assistants, who give us tickets to the evening's show, three drink tickets, and a set of Klipsch S4 headphones. They must think we're cute. The Klipsch S4s are a popular in-ear headphone model released in May of 2010. Highlights from the S4 include oval-shaped tips to more naturally fit the shape of the human ear canal and a modest price tag of $79.99.
Two flights up from the base floor of the venue, Klipsch gave demonstrations of their new S4A Android compatible headphones as well as the Klipsch M40 noise cancelling over-ear 'phones. With the S4As, Klipsch claims to have created the first Android compatible microphone+music and phone control center. The control device was fun to use, allowing for user-defined parameters for volume shifts as well as customizable button click settings for user-defined playback actions. For example, if you double-click the one-buttoned apparatus, this could either mean next track or previous track or pause—however you choose to program your controller. Next to the S4A booth were demonstrations of the M40 noise cancelling 'phones. It was tough to make sound judgments on the M40s in the loud and crowded Irving Plaza mezzanine, but both SM and I noticed that at high volumes (not dangerously high, still comfortable for listening) with the noise-cancelling function on, the M40s distorted playback making Metallica's "Enter Sandman" crackle and sputter. The M40s can be used in passive mode as well, during which the music did not distort at high volumes.
Following headphone demonstrations and a delicious series hors d'oeuvre (including mini-bacon sandwiches, some greasy beef sliders, and tuna tar-tar with avocado dripping off a gigantic piece of fried dough), Klipsch guests were invited to the balcony of the mezzanine for a soundboard view of the show.
Tom-Tom Club were under-rehearsed. They lacked confidence and an overall tightness that should be expected from a professional band, but it was certainly exciting to see two members of the Talking Heads playing "Take Me to the River" as well as "Psycho Killer". The Psychedelic Furs, on the other hand, were a true rock-star showcase. Frontman Richard Butler lead the way with swooping melodies and frivolous yet forceful hand gestures. SM surprised himself by recognizing a bunch of the tunes. I did not know a single one.
Following the event, I was happy to spend some time with the Klipsch S4 in-ears. My quest for some decent over-ears under $100 had ended quite quickly, once I encountered the Sennheiser HD428s. Unfortunately, my current in-ears, some Etymotic ER6s, were out in one channel. When the S4s briefly stepped into my life, I was grateful for their presence.
The S4s come in an easy-to-open and placid blue cardboard box, the cable clasped by a twisty-tie and accompanied by a "crush-resistant" aluminum case. The Klipsch-emblazoned aluminum case lined with foam includes three other sets of ear-tips in a side compartment within the foam. The case was difficult to close with the S4s inside, as the clasping gap on the front lip of the top half of the case did not actually grip the peg on the bottom lip, and instead just rested on the peg's border, allowing the headphones to push open the case. As a result, I lost some of the eartips in the side-compartment which fell out during a commute. Fortunately, the eartips I had been using were already the right fit, a rare occasion. The case would be better at holding the headphones and eartips securely if the foam did not occupy so much space. It is "crush-resistant," no?
The S4s nestled themselves comfortably in my ears. The oval-tips are certainly worth their self-proclaimed hype. In my two months of listening to the Klipsch S4s, the seal was always easy to achieve. The headphones fit snugly, and never hurt the insides of my ears after an extended listening period.
My first positive listening impression came when listening to Gang Gang Dance's "Glass Jar" and "Adult Goth". Laden with harmonically rich interweaving synthesizer lines careening from all different angles, with the S4s, each synthesizer's line was clearly delineated, each note tactfully following the next in good time. Despite the multiple layers of synthesizers, each melodic line from the different instruments was clearly separated. Also, bells and cymbals had a special sparkle. A tipped up treble the S4 has, as well as an extra high level of sensitivity (110db at 1mW), which led to the clear instrument differentiation and "sparkle".
What I was missing from the S4s was true and deep bass response. On Jimi Hendrix's posthumous live compilation Hendrix In The West, the sound of Billy Cox's bass favored bringing out his attack on the strings rather than the woody, visceral boom that a Fender bass can provide. I wanted a thumping groove, but instead got more of a thwack, the sound of his fingers hitting the strings, and a slight crackle from his cabinet.
A good month into listening to these 'phones, I met Charlie Narwold, guitarist/bassist for the band Plastic Flowers, a band that describes themselves falling somewhere between post-punk and dream pop, with influences such as The Cure and Depeche Mode. What is special about Charlie is that he has owned three different pairs of Klipsch S4s.
Charlie and I met on the music video shoot for the Buckwheat Groats' "Take Yourself Out Tha Game," where I served as the maniacal mustachioed van driver and Charlie as the navigator as we trekked to a random farm in south-central New Jersey. During this car ride, Charlie very excitedly described himself as an audiophile. In our interview later, he answered the question what does it mean to be an audiophile: "Someone who is willing to spend a little more time than the average person learning about high-fidelity audio equipment, and what it is that makes it sound good. Someone who's willing to put the research in to find better sound." In his quest for better gear, Charlie discovered the Klipsch S4s via various online reviews. Charlie elaborated, "I'm not an audiophile in the sense that I have lots of expensive gear, but I do really enjoy researching what sounds good and trying to find bargains." (Sound like Charlie should read some Entry Level.) When the subject of conversation came back to the S4s, Charlie interjected, "I don't even have those headphones anymore." He points to his Sennheiser HD-280 over-ears.
"What happened to your S4s?" I asked.
"Well I had three sets of S4s over a span of two and a half years. The first pair got run over by a taxi. The other two pairs, well. They're pretty easy to lose, and the 1/8" connection would come loose in one pair, and I had to wiggle the plug. Also, one of the earbuds would cut in and out."
"Well how did you store your headphones?"
Charlie, like myself, just ended up just shoving them in his pocket. "That is definitely what lead them to deteriorating so quickly. The case is really bulky, and to carry around a metal case in your pocket is really just something else to worry about." As mentioned before, the metal case that Klipsch provides with the S4s is inefficient. Too big, and there are difficulties closing it. Fortunately for Charlie, the headphones come with a one-year warranty, and he only had nice things to say about Klipsch's customer service: "All I had to do to get my headphones repaired was send a screenshot of my Amazon purchase, file a valid return form, and send them a receipt. They get back to you with a Return Number. Then you send them the headphones with the Return Number, and then a week or two later, they will send you new or refurbished headphones, wrapped in bubbled wrap." An appreciatively fast response from Klipsch.
In terms of what Charlie actually thought about the S4s, "I thought they were great headphones… they're just kinda fragile."
My S4s eventually succumbed to a fate similar to those of Charlie's. They're gone. Maybe run-over by some New Jersey Transit bus or eaten by my cat. I'm not sure, but I miss them. They were so comfortable for extended use thanks to their snuggly oval-tips. I probably should have used the case, but it was just so bulky and hard to close! I recently discovered (recently, as in half-year later) that the foam was removable from the case. Doh! Yes, they lacked body and deep bass, but they made up for it with a clean projection and a tipped-up treble, which will be enjoyed by those who favor accuracy and attack. After losing the S4s, I returned to my Sennheiser HD-428 over-ears and remembered the full-bodied sound of the music I was missing, but for those looking for an in-ear option under $100 without bloated bass, the Klipsch S4s are a great opportunity. Just make sure you take care of them!