Margules Audio U280-SC Black power amplifier Page 2
Also on the top deck are blue LEDs to indicate the power tubes' bias and operation. These light up only after several minutes, when autobiasing is completed and the U280-SC is ready to be used, and change intensity with the output level. If an LED's illumination remains constant, dims, or is rarely activated, there's likely a problem with the associated tube.
Act I: Where's the Soprano?
The U280-SC Blacks arrived the same day that John Quick and Brad O'Toole of dCS stopped by with review samples of the dCS Vivaldi 2.0 and Network Bridge. As I prepared lunch for our starving fish and dogs, the dCS boys installed the amps. Thank goodness, they removed the foam padding inside each amp's tube cage before firing them up; had they not, our soprano might have sung Brünnhilde's Immolation Scene much too soon. Carlos Smith assures me that at the top of his to-do list is the creation of a printed manual (at present it's available only online), and warning stickers to affix to the cages.
Operation was a snap. Tubed and class-A though they may be, the 67-lb Margules amps omitted less heat, used less power, and were easier to move than my reference monoblocks, the 160-lb, solid-state Pass Labs XA-200.8s.
Other than producing through the tweeters a soft buzz that was inaudible from my listening sweet spot 12' away, the Marguleses operated flawlessly. They'd arrived with only 100 hours of break-in, so between listening sessions I played music or break-in tones.
As my listening began, the U280-SC's "Black" appellation mirrored my mood. The bass sounded anemic and muffled, and the entire sound was hazy and rather gray. None of this stopped the communication of emotion—my sister-in-law was in tears as we listened in DSD to mezzo-soprano Alice Coote sing Mahler's Rückert Lieder, with Marc Albrecht conducting the Netherlands Philharmonic Orchestra (SACD/CD, Pentatone PTC 5186576), but pianist Arcadi Volodos's Brahms (24-bit/96kHz FLAC, Sony Classical 88875130192) sounded, in her words, "like it's behind a heavy, velvet curtain." The sensitivity of Volodos's playing came through loud and clear, but it was impossible to get a true sense of his sound.
Over the years, I've found that manufacturers frequently understate how much break-in their products need. The U280-SC Black's manual says 150 hours; in my experience, 250–350 is more like it. With time, that heavy, velvet curtain lifted to reveal more beauty. Nonetheless, on Jobim and de Moraes's "Insensatez," from Rosa Passos and Ron Carter's Entre Amigos (CD, Chesky JD247), the low-key, seductive vibrancy of her voice was too toned down. In addition, Carter's double bass sounded far too soft, and Luis Galvão's acoustic guitar sounded muffled, as if played with a mute. An especial paradox was the grand piano in Murray Perahia Plays Handel and Scarlatti (CD, Sony Classical 62785), which sounded simultaneously clangy and soft. The air was wonderful, but the body and texture were deficient.
Julian Margules had urged me to experiment with setting both amps to 4 ohms and to Triode mode. Neither improved things. The decreased power output meant that the bass went further AWOL—forget about playing a symphony by Mahler, or by anyone—and piano sound had no meat on its bones. Only when the amplifiers were set to 8 ohms and Ultralinear mode could I hear a semblance of what I'd hoped to hear. But even then, as I scribbled while listening to Mozart's Great Mass in C, K.427, with Masaaki Suzuki conducting the Bach Collegium Japan (SACD/CD, BIS 2171), "the recording sounds beautiful as long as you're willing to sacrifice soprano Carolyn Sampson's winning freshness, and forgo expected depth of soundstage, richness of instrumental color, and transparency."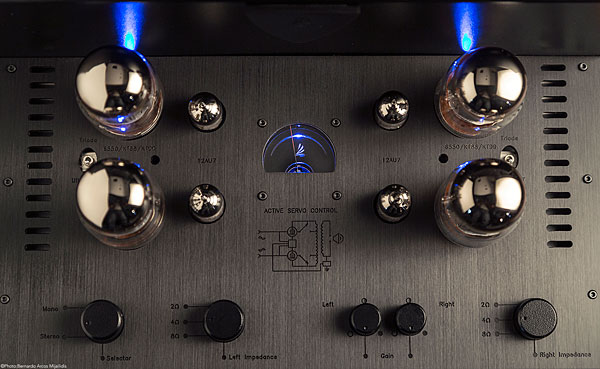 What to do? I knew that earlier versions of the Margules U280 could sound much, much better than this. Clearly, the amps were a poor match for the Alexias.
So I asked René Jaeger, president of the Pacific Northwest Audio Society, to canvass the group's members to see who had easier-to-drive speakers and was willing to let me swap out their amps for the U280-SC Blacks. I received invitations from two members: Renan Jefferies, with Harbeth M40.1 speakers, and Max Verun, with Sound Lab Millennium 2 speakers. Bless everyone's big hearts for coming to my rescue.
Entr'acte: What We Do for Art
Yours truly lugged two 67-lb amps and, just in case, Nordost Odin 2 interconnects and power cords from his music room to the trunk of his ancient car, and embarked on a three-hour journey that included one ferry ride and a drive across a floating bridge—harrowing for someone with bridge phobia. Having made it across alive, I hauled the amps through Renan's large garage and up two flights of stairs to his lovely listening room. After playing several tracks to get a baseline sound—beautiful depth, natural timbres, rolled off on top, with excess midrange and bass energy—we switched to the U280-SC Blacks.
Act II
Are you familiar with the ecstatic Sonnenaufgang (Sunrise) section of Richard Strauss's Eine Alpensinfonie? That's how I felt when I heard the Margules U280-SC Blacks through speakers friendly to lower-powered tube amplification: Renan's Harbeth M40.1s. With Carolyn Sampson's wonderful recording of Schumann's deceptively simple song "Schneeglöckchen" from her recital disc Fleurs (SACD/CD, BIS 2102), the leading edge of her fresh tone glowed, and Joseph Middleton's piano possessed a natural midrange. True, there was more sibilance than I'm accustomed to, but this was, without a doubt, the Carolyn Sampson I've grown to love.
Even more revelatory were ultra-demanding 24/96 WAV files of the final section of Stravinsky's The Rite of Spring, with Ludovic Morlot conducting the Seattle Symphony (Seattle Symphony Media 1005). Colors were natural and ideally saturated, the top was intact, and the midrange in balance—just what I'm accustomed to hearing through my Alexias. Especially believable were timpani attacks, their sharp edges quickly morphing into resonant decays.
Switching the cables to Nordost Odin 2s delivered more natural body and weight, and a more even distribution of volume and emphasis across the music's multiple octaves. Most important, it made for a far more savage Rite. All I expected from this recording, and all I needed to know about the Margules amps, were there.
During my trips to the other audiophile's homes, there was no need to repeat the process. Hey, I was tired, and I had to find my way back home without recrossing the Bridge from Hell. Instead of auditioning the U280-SC Blacks, we listened, swapped cables, listened again, and had a great time. Maria Callas never got her chance to sing Aida's Triumphal Scene. Wrong opera. This one has a happy ending.
Critical Accolades
As our diva steps forward to thunderous applause, she parts her robes to reveal a glowing tube core. The star is the Margules Audio U280-SC Black. Previously booked in theaters where her gifts couldn't shine, she's now hailed as a full-throated artist with a voice filled with color, and whose interpretations are richly nuanced. Most remarkable are her huge range, thunderous chest tones that rival in power and depth those that any other dramatic soprano can produce, and rapid response to anything composers might throw at her.
With appropriate speakers and settings, the Margules U280-SC Black deserves top billing on select marquees. It's a fine class-A tube amp whose modest power output belies its ability to deliver one winning performance after another.