Klipsch Reference Premiere RP-600M loudspeaker Page 2
I first noticed this contracted soundstage with Georg Solti and the Vienna Philharmonic playing the prelude to Act 1 of Wagner's
Die Walküre
(5 LPs, London OSA 1509). I noticed this effect only when I listened for it, and it was more than offset by the RP-600Ms' grand ability to direct my attention toward rhythm and melody. The RP-600Ms slightly emphasized the leading edges of notes, which in turn allowed those notes to do an extraordinary job of emphasizing the beat, diagramming the melody, and propelling Wagner's drama. Think ultimate
PRaT
.
Compared to the Harbeth P3ESR
Besides the British speaker's higher price and quality of finish, there were three important differences between the Harbeth P3ESR ($2190/pair) and the Klipsch RP-600M ($549/pair). The most obvious had to do with the fact that the Harbeth is decidedly lacking in voltage sensitivity (83dB/2.83V/m), while the Klipsch is unusually sensitive (JA measured 89.6dB/2.83V/m). This difference affects every aspect of music playback.
As noted above, more sensitive loudspeakers will play more succinctly at low and high SPLs. They can sound pure and operatic in a way that makes insensitive speakers seem as if they're compressing the signal. For me, though, the chief virtue of sensitive speakers is that they allow their users to experiment with high-quality, low-power amplification.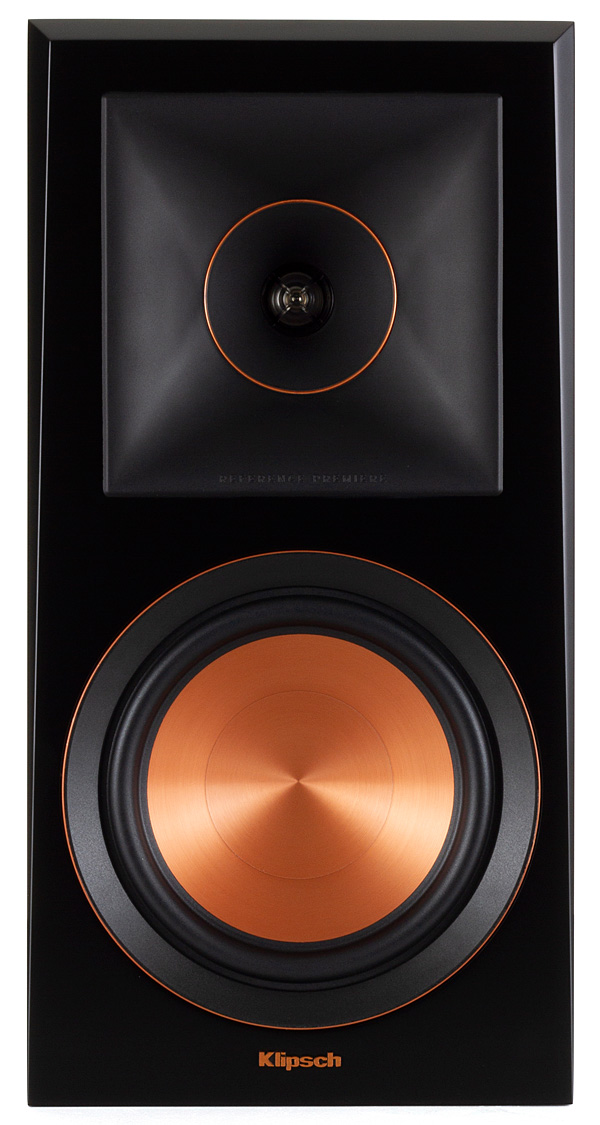 In my experience, the Harbeth P3ESR needs at least 25W to get going—and to take off and fly, it needs something like the 100Wpc of Rogue Audio's Stereo 100. In contrast, the Klipsch RP-600Ms roared like jet engines with just the 18Wpc of the First Watt SIT-3. And, as you'll soon see, the Klipsches could play really loud with even a simple 8Wpc single-ended-triode amplifier. The little Harbeth can't play loud with any amp.
The second difference I heard was one of tonal character and saturation. The little Harbeth reproduces recordings with a sound that reminds me of Kodachrome photographs shot through a polarizing filter, which limits the angles of light entering the camera, thereby reducing glare and increasing contrast and color saturation. The result is supersaturated color with no-glare highlights. In contrast, the little Klipsches generated images that were sharp and well focused but that seemed naked in comparison to the P3ESRs' images—as if shot through a lens without filters or coatings. With the Klipsch, light occasionally glared off a trumpet bell, or from the polish on the body of a violin.
The third difference was spatial. The Harbeth P3ESRs present music with a wide perspective and substantial depth of field—like photos shot with a stopped-down f16 aperture on a 24mm wide-angle lens: Everything is in focus. In terms of force and impact, these speakers play small, but in projecting a soundfield, they're giants—especially when I set the P3ESRs far out from the front and sidewalls and sit in the extreme nearfield.
The Klipsch RP-600Ms projected music with considerably more force and impact, but within a narrower horizon line and a shallower field of focus—as if shot with a 90mm lens.
Compared to the DeVore Fidelity Orangutan O/93
The raison d'être of DeVore Fidelity's Orangutan O/93 loudspeaker ($8400/pair) is to provide a high-quality, musically satisfying transducer for use with low-powered class-A and single-ended-triode amplifiers, and at this it excels. The O/93's sound is less detailed than DeVore's more expensive Orangutan O/96's, but no one could fail to admire the O/93's effortless flow, saturated tones, or waltz-and-polka musicality. The 93dB/W/m-sensitive DeVores revealed the full merits of both the 18Wpc, solid-state First Watt SIT-3 and the 8Wpc, 300B-tubed, single-ended EleKit TU-8600R amplifiers.
Both of the abovementioned amp-speaker combos made me never want to change my system again. Both reproduced Elly Ameling singing Bach cantatas with a quality of tone and an assuredness of tempo that made me forget all audiophile concerns. How could the humble Klipsch RP-600M compete?
The first thing I noticed when I switched from the DeVore O/93s with their 10" woofers to the Klipsch RP-600Ms and their 6.5" woofers was the reduction in energy from 80 to 300Hz. The German Bach Soloists, and especially the cello, harpsichord, and organ, moved back in space and became less fully realized. Bass was strong and detailed down to about 60Hz, but definitely on the lean side. Suddenly, I wanted to add one or two of Klipsch's matching subwoofers.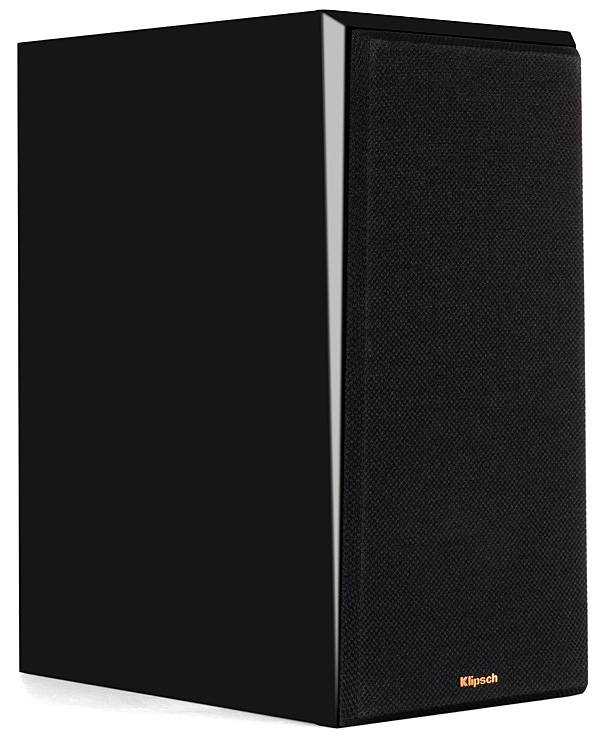 The Klipsch emphasized odd-order harmonics, which made their sound feel punchy. Rhythms grabbed my attention. The RP-600Ms delivered more microdetail than the DeVores, and with greater dynamic ease. They put a smaller but denser, quicker-revving energy into my room. Compared to the DeVores, the Klipsches delivered less bottom-octave fullness and midrange color, but more tuneful fun and visceral excitement. And, lest you forget, the RP-600M costs less than 7% of the price of the esteemed DeVore.
With the Line Magnetic LM-518 IA
On recording after recording, with every amplifier I tried, the one virtue of the RP-600M that kept holding my attention was how piano notes and keyboards were presented. More than any other speakers I use, the RP-600Ms forced to me watch how piano notes are played: their sequence, their shifting patterns, their touch and force. This effect was most obvious with a 22Wpc single-ended 845 tube amplifier, the Line Magnetic LM-518 IA integrated amplifier ($4450).
The RP-600M showed me anew the elegant simplicity and intoxicating virtuosity of Skip James's piano, guitar, and singing. I've rarely experienced the full intricacies of his piano playing as I did when listening to "Little Cow, Little Calf Blues," from Blues from the Delta (44.1/16 FLAC, Vanguard 79517-2/Qobuz), through these speakers. I've rarely been more attuned to the way James bends a phrase. The counterpoint of his modulating voice, set against his mad little melodies, was never more conspicuous.
Likewise the timbre of Alexander Melnikov's piano in Debussy's Préludes, Book 2. I was using the Line Magnetic amp while I fined-tuned the setup of the RP-600Ms, and folks, I swear on Debussy's grave, this $4999 amp-speaker combo reproduced piano recordings with $10,000 worth of élan and realistic presence. If, like me, you're psychically invested in piano recordings, I urge you to give this speaker a whirl—maybe with Line Magnetic's LM-518 IA and a Klipsch subwoofer.
Compared to the KEF LS50
While using the Line Magnetic LM-518 IA amplifier, I switched to a speaker that I know this SET amp really likes: the universally admired, super-well-balanced KEF LS50 ($1299/pair). The first thing I noticed was a denser, more palpable energy in the two octaves from 50 to 200Hz. The LS50's midrange (200–1600Hz) was also richer and fuller, more consistent in tone, but with less sparkle and vitality in the octaves above 1.6kHz.
The KEF LS50's sound was more rounded than the RP-600M's—darker, slightly veiled, more compressed. Through the KEFs, Melnikov's piano was smaller and farther from the microphones. Sometimes, it seemed that the LS50s couldn't keep up with Melnikov's fingerings.
Compared to the Zu Audio Soul Supreme
Wagner's Die Walküre was more fully and subtly expressed when I switched from the Klipsch stand-mounts to Zu Audio's floorstanding Soul Supremes ($4499/pair). The RP-600Ms' 6.5" woofers felt small compared to the primary 10" full-range drive-units of the crossoverless Soul Supremes. John Culshaw's historic production of this opera got bigger, more immediate, more epic-dramatic; the layout of the recording venue became more comprehensible.
Both speakers enjoyed being driven by low-power amps, and both performed gracefully under the direction of the 22Wpc Line Magnetic LM-518 IA, but the Zus' treated-paper cones delivered gentler, more lifelike timbres than the Klipsches' Cerametallic cones. The Soul Supremes showed me the walls of the recording venue. The Klipsches didn't.
My chief criticism of the RP-600M was that it lent an extremely slight, overdamped hardness to everything it reproduced, especially brasses and strings. Similarly, the leanness of its bottom octaves reduced my ability to enter the Solti-Culshaw recording space. Obviously, each speaker's woofer had its own sound; I prefer the relaxed nature of Zu's treated-paper, full-range cone to Klipsch's harder cone.
Conclusion
A speaker this inexpensive isn't supposed to be this good. It isn't rational. The Klipsch Reference Premiere RP-600M is not just a great loudspeaker for its price, or for horn-loving Klipsch Kids—it's way better than that.
If you're not already a fan of Klipsch speakers, all I can say is, why not? You don't like speakers that spin torque and exude horsepower? Some tool told you that horns sound like megaphones? And you believed him?
If you're not a fan, I have to ask: What other speaker manufacturer has continuously manufactured the same flagship model for 73 years? What other speaker maker has three anechoic chambers, one engineered specifically for measuring the compression drivers of horns? What other speaker maker would sell a "Reference Premiere" model for only $549/pair?
Most important: What other stand-mounted loudspeaker lets itself be driven by low-powered, single-ended, directly heated triode amps with the air, punch, boogie, and resolution of the Klipsch Reference Premiere RP-600M? None that I know of. In my world, this speaker is a uniquely important discovery. Super-highly recommended.