JVS Hits the Floors at RMAF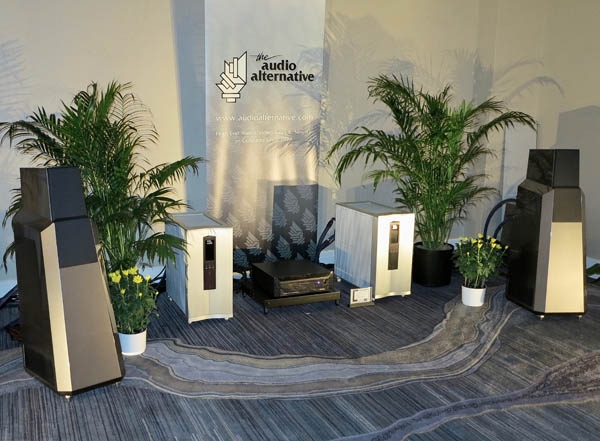 My day began on a vital high note. After our blogging team of three—me, Herb Reichert, and Jana Dagdagan—finished discussing how we were possibly going to cover 143 exhibit rooms plus the third edition of the Rocky Mountain International Press Awards, I headed to the large lobby level room sponsored by Colorado-based retailer, The Audio Alternative. The set-up was dominated by the mono amplifiers destined to win an International Press Award later that evening—VTL Siegfried Series II monoblocks ($65,000/pair)—which mated with Vandersteen's Model Seven MKII loudspeakers ($62,000/pair) and Sub Nine subs ($18,900) to produce quite wonderful sound.
Since I am accustomed to hearing VTL electronics paired with either Wilson or Rockport loudspeakers, I was eager to hear how the Siegfried IIs would mate with the Vandersteens. While the voice of tenor Peter Schreier on LP singing a Mozart aria seemed to glow from within, with very open highs that made for a presentation as musical as it gets, the LP version of Sanderling's Berlin account of Shostakovich Symphony 5 sounded a little gray and muffled farther down.
Timbres on Zubin Mehta's LP account of Holst's The Planets were ideally neutral, but the lively top and impressive percussion bookended a midrange that curiously seemed to lack some energy. A listen to the latest LP from Cecile McLorin Salvant confirmed that highs were perfection—well, my notion of perfection, at least—but the midrange was a bit murky. My educated guess: there were room issues that could not be fully tamed with the acoustic control devices at hand.
Also doing the honors: Brinkmann Balance turntable with 12.1" tonearm and RöNt power supply plus Lyra Atlas phono cartridge ($11,995), VTL's TP-6.5 phono stage with MC step-up ($12,500) and TL-7.5 Series III linestage preamp ($25,000), AudioQuest Niagara 5000 ($3995) and 7000 ($7995) AC conditioners plus Dragon and Hurricane power cords and assorted cables, and HRS Audio Stands. Note that both AudioQuest cabling and HRS rack also won International Press Awards. In short, this was a system of winners.
In the large room shared by EMM Labs and Kimber Kable, the former set up a four-channel system that employed two pairs of mono amplifiers and two preamps—their MTRX monoblocks ($130,000/pair) and new PRE preamp ($25,000, and shipping at the end of November) on the front channels, and MTRX2 monoblocks ($85,000/pair) and PRE2 preamp ($15,000) on the rear. Together, they played digital files of the new Robert Silverman Chopin LP that had just been released by Ray Kimber's IsoMike. (Plans to play the LP itself had to be put on hold until a missing turntable, which had finally been located, could be delivered to the hotel and set up.) The sound was extremely warm, listenable, and pleasing. It was so fine that the lack of sparkle on top, which seemed due to the heavy black velvet draping behind the system as well as the character of the room—see my Robert Silverman blog that follows—had little impact on overall enjoyment.
It was hard not to note that the Chopin files were played on computer, whose sound usually pales when compared to the sound of a good music server. (See my review of the Aurender A10 in an upcoming issue of Stereophile.) However, EMM's Shahid Al Rashid assured me that Ed Meitner has optimized the USB inputs on EMM Labs' DA2 reference stereo D/A converter ($25,000) to minimize the negative impacts of computer-based audio. The pairing of the aforementioned EMM Labs products with Kimber Kable Select cabling and Sony's midrange-strong SS-AR1 loudspeakers made me want to listen far longer than my show coverage commitments allowed. Before I took my leave, however, I discovered the special pungency that this system coaxed from Rachel Podger's baroque violin.
It was impossible to miss Kimber's lengthy display of headphones that can benefit from the company's hand-built Axios headphone cables. Although I didn't get the opportunity to listen, let alone to talk to anyone from Kimber Kable, their website lists multiple headphone models from 11 different companies that have benefitted from Axios cables.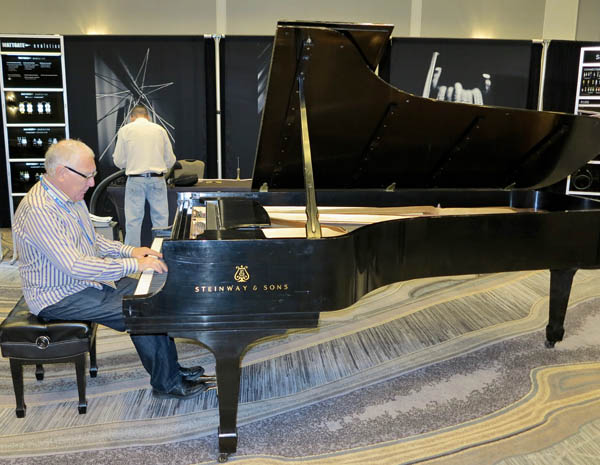 Although I couldn't take in any of pianist Robert Silverman's performances in the huge Kimber Kable room, he indulged me by sitting at the piano and playing a few measures of Chopin. What amazed me was that even though Robert had just walked into the room, with his bag slung over his shoulder, and was not warmed up, he was able to sit down amidst the competing stimuli of a busy audio show and make beautiful, heart-touching music. The sound I heard from Silverman's Steinway also provided unintended confirmation that the sonic signature of the EMM Labs set-up was greatly affected by the sonic attributes of the room, which toned down highs.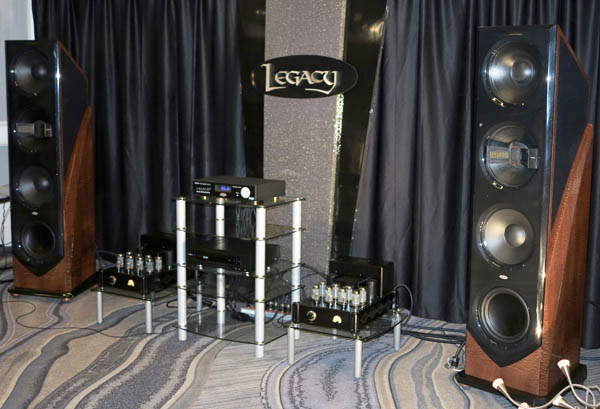 Sound of a very different sort came from the pairing of the forthcoming Legacy Audio Valor loudspeakers ($TBD, but probably over $50,000/pair), which are due this spring, with Legacy Wavelet DAC/preamp/ processor/correction unit ($4950), Raven Audio Shaman MK2 monoblocks ($49,995/pair), and Douglas Connection cables. Though Bernstein's early digital recording of Mahler's Symphony 2 exhibited a very splashy top, slightly murky midrange, flat bass, and a distinct lack of color, I couldn't tell how much that had to do with room acoustics and positioning.
The Legacy Valor is powered by 2750Wpc, and employs Stereo Unfold technology licensed from Bohmer Audio of Sweden. According to Legacy's literature, "By combining a controlled-directivity front array for the initial wave-launch and a side/rear-firing ambient array, Valor is able to reconstruct the natural sequence of sound arrival of the live performance space." The company further claims that the speaker's design reduces early reflections in the direct field, thereby unmasking critical spatial cues, and that the Stereo Unfold algorithm helps with time alignment of ambient information.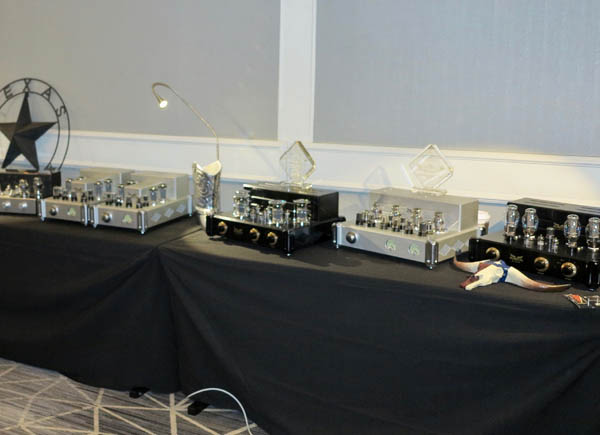 Raven was determined to show that oil and cows aren't the only things that make their home in the Lone Star state of Texas.
The best sound I've ever heard from a Classic Audio loudspeaker system came from either Classic Audio's T-3.4 ($54,950/pair) or T-1.5 ($72,950/pair) field-coil-powered system. (I wasn't told which.) Whichever speaker it was, ample credit is also due a 2017 UHA United Home Audio OPS-DC tape deck with class-A output and outboard DC power supply ($28,000), Atma-Sphere's Novacron Mk3.3. amplifier ($22,200) and MP-1 Mark 3.3 preamp ($18,900 with installed options), and a Kuzma Reference turntable ($8900) with Tri-Planar Ultimate 12 tonearm ($9800) and van den Hul Crimson Stradivarius cartridge. In my first exposure at RMAF 2017 to the overplayed albeit superb music-making of Ella & Louis, their "Tenderly" sounded so lovely that it was almost possible to forget how many times it tends to be played at shows. (The third time their duo album was offered up in a demo room on the first day of the show, I made the sign of the cross and begged off.)
This system's midrange was as lovely as it was musical. Even Hugh Masakela's trumpet on "Abangoma" sounded gorgeous and fetching. I loved it.