John Hollenbeck's Shut Up and Dance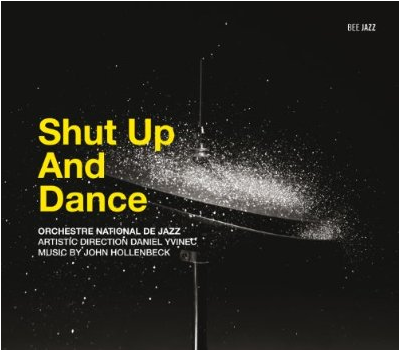 Shut Up and Dance
, on the French label Bee Jazz, should catapult John Hollenbeck into the pantheon of living big-band composers, along with Maria Schneider, Bob Brookmeyer, Jim McNeely, and (if his debut works are matched by what's to come) Darcy James Argue, among perhaps a very few others.
I've praised some of Hollenbeck's earlier albums in this space, especially his Large Ensemble's Eternal Interludes and his Claudia Quintet's Royal Toast, but I have to say I admired them more than I liked them. His arrangements were heady, his feel for harmony nearly peerless, but some of the pieces were a bit parched.
Not so with this one, as the title suggests. The project started in 2009, when Daniel Yvinec, director of the 10-piece Orchestre National de Jazz, commissioned Hollenbeck to compose a sheaf of music for his band, with two conditions: he had to write 10 pieces, each giving space for one of his musicians to play a solo; and all the pieces had to be written in some sort of dance rhythm.
Hollenbeck traveled to Paris, spent time with the musicians, and came up with this marvel. It's packed with all the complex harmonies and knotty melody lines of his earlier material—and it swings like crazy, though not always in familiar "dance hall" fashion; these are dance rhythms that Merce Cunningham and Duke Ellington might both have liked in their fashion.
And the band! I've never heard the Orchestre National de Jazz before, but I'm going to check out the catalog. These guys are tight and limber all at once, virtuosic without dipping into a drop of academicism. The sound quality is also very good: tonally true, airily ambient (check out the piano's bloom), with only a little compression on the drum kit.
One caveat: This is a double-CD, and the first disc is more consistently riveting than the second. Even so, check this out!