Jake Shimabukuro In The YG Acoustics/Audionet Suite At The Venetian
While the dCS and Nagra suites at the Mirage approximated the size of a typical medium sized living room, the YG suite at the top of the Venetian was something else entirely. The room was quite large, the speakers human size, and a bigger crowd was also on hand. Lori Lieberman was playing on the system as we walked in and YG's Director of Sales, Dick Diamond greeted us with a big smile and helped me get the laptop connected.
Jake was going to hear his music for the first time on a system totaling over half a million dollars.
You could see the wide smile on Jake's face when he spotted the speakers, taller than himself. "This is going to be a blast" he quipped. And I again realized that Jake, like the majority of the public, has no idea what the high end audio business has been up to the last couple decades. Most music lovers, including myself, can't afford a set of YG speakers, but knowing what products like this are capable of should be on all audiophile bucket lists.
I could sense Jake was a tad intimidated, so I suggested he not be afraid to nudge the volume up as we started. Again the same two tracks as in previous rooms, sounding bigger than life. "I grew up with boom boxes, so I'm completely blown away," Jake started. "It's incredible, the imaging is so wide its incredible. I don't understand how these speakers can do this." Someone in the room joked "big cables!"
Inspired, this time Jake also wanted to hear the last track on the Nashville Sessions, "Kilauea", which features his ukulele's electric pickup plugged into an effects rack, essentially releasing his inner Jimi Hendrix. If you didn't know, you'd swear this was a screaming electric guitar, which is a trick Jake has used on albums before, always startling first-time listeners. On the YG/Audionet system, this track sounded like a wild force of volcanic nature, as I'm sure Jake intended.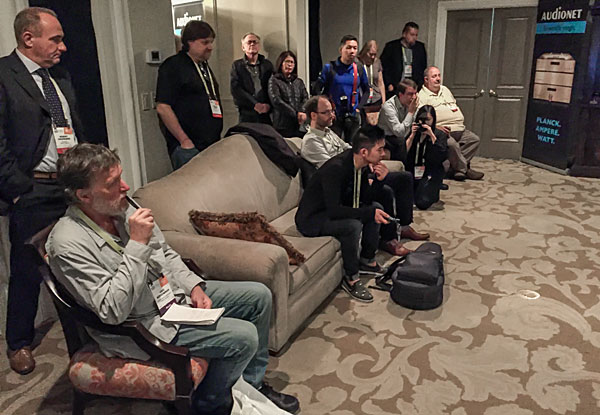 Time for the live performance and reality check. This is the third time Jake had played "Eleanor Rigby" today, but he was really getting into it, not holding anything back as the song reached its climax. We played the recorded version and I canvassed the room.
"My perspective is from behind and above the instrument," Jake noted, "but when listening back on this system, it sounds pretty natural, nothing exagerrated. I hear the characteristics of the wood, but I notice, like on the other systems, that the dynamic range is a little squashed on the recording, likely a characteristic of the mic and preamp combination. I don't hear as much detail on the top end, but that's been a common thread on all systems. But it felt very natural and easy to listen to--very neutral sounding."
YG President and founder Yoav Geva, who was listening throughout on Jake's left, spoke up next: "First of all this is a wonderful experience. It's humbling when we get to have a musician hear what their recording sounds like through our system. I agree with Jake's comments. I'm very familiar with the Neumann mics and what he's describing shows me that [turning to Jake] you're not only very good at playing, you're also very good at listening. Plus as a fan, I'm just enjoying meeting you!"
Jake: "For me as a musician, to be able to have this experience, is a once in a lifetime thing. I'm never going to afford one of these systems, but it inspires me to want to raise the bar when I'm in the studio. Not just going the extra mile, but the extra hundred miles to get it sounding the way that I hear it and feel it.
"As musicians we spend our whole life on our touch and our tone, and recording engineers are so knowledgeable about tracking us, capturing that essence. And manufacturers get it to the ears of audiophiles. There is so much room for collaboration of all three worlds, to educate our listeners, the younger generation, that MP3s are not the really the way to experience recorded music.
"Listening to a system like this you not only hear the notes, but you feel the emotion--you can almost feel the musicians on their instruments. To me, that's such an eye-opening experience."
After we were finished everyone gathered around Jake for a group photo and then we headed downstairs for lunch.
YG Acoustics/Audionet Equipment List:
YG Acoustics Sonja XV Loudspeakers $265,900 per pair
Audionet MAX Mono Power Amplifiers $30,500 per pair
Audionet Pre G2 Stereo Preamplifier $23,350
Kronos Pro Turntable w/Black Beauty Tonearm and Armboards $48,000
Kronos SCPS-1 Power Supply (optional) $13,500
Airtight Opus 1 MC Phono Cartridge $15,000
Audionet PAM G2 Phono Stage w/EPX Power Supply (optional) $20,200
MSB Select DAC w/2 Mono Power Bases $109,900
MSB UMT V Disc Transport w/Dual Power Base $11,990
Kubala-Sosna XPander Power Distribution Box $5,400
Kubala-Sosna Realization Int. & Spkr Cables (1st meter/add'l) $10,000/$1,800 pr
Kubala-Sosna Realization Power Cables (1st meter/add'l meters) $2,800/$600
YG Acoustics Rack 1.3 Equipment Rack $14,850
More info on Jake @CES here. You can read all of the Jake @CES posts here.