Herb's First Morning in Munich
So, folks, here are a couple things you need to understand about Munich High End 2018:
As a rule, Europe brings to audio a different aesthetic and perspective than America—they are way less into giant, million-dollar, solid-state amplifiers and way more into low-power tube amps. And . . . they are definitely into horn loudspeakers in a way that most Americans cannot fathom. I was in Munich for three days and I could never have covered all the rooms featuring horn speakers. Can you imagine that many horn speakers at CES, RMAF, or AXPONA? I can't.
Mainstream taste in American high-end audio leans towards a kind of left-brain precision in detail, imaging, and, of course, super-tight bass response. Europeans, on the other hand, take a more colorful right brain approach. Europeans understand that presence = essence and they demand a lot corporeality from their hi-fis. Americans favor speed and focus while Europeans favor weight and body.
Americans want to see the piano. Europeans want to feel the piano—which is why they favor horns so much.
Also . . .
In Europe, virtually everyone lives within driving distance of a major historic concert hall. Consequently, people on the Continent enjoy music from a broader, more international, and historical perspective—one that includes classical, early music, and the indigenous music of Europe's native national cultures. Hence, less Eagles, and more Chieftains and Arvo Pärt.
To illustrate my above thesis, I am going to start my reporting, with a wild looking single-ended triode amplifier + horn loudspeaker that I believe might appeal to both Americans and Europeans: the Odeon Audio "No.33" horn loudspeakers (28,000 Euros/pair) driven by the outrageous looking NAT Audio "Magma" tube amplifier (44,900 Euros). The Magma features, nay showcases, in its beautiful cage, the fantastic GM100 "watermelon" tube, which, is bigger than a football and hotter than a stove. NAT claims the Magma's single GM100 puts out "170W (!!!) of no-feedback, class-A power—into either 4 or 8 ohms." And it looks crazy good to me.
The Odeon NAT people played a digital Getz & Gilberto's Girl From Ipanema with an Aqua La Diva CD transport (7680 Euros), an Aqua La Scala MK II Optologic DAC (6780 Euros). They also played LPs with the outstanding (11,000 Euros) Reed Muse 1 C Laufwerk turntable, a Reed 1X tonearm, and a Lyra Delos moving-coil cartridge. With no apparent struggle, good horns with SE triodes will generate copious texture and tangible weight, but more often than not, horns play too big to be real. Guitars can be 8' wide and singers can be 10' tall. But not with the No.33s. Of all the myriad horn speakers I've heard, the three-way 33s produced proper-sized instruments and 5–6' vocalists. Instrumental textures were vivid, tone was rich and colorful, but I thought I heard a subtle grain through the upper midrange that I imagined was generated, not by the 33s, but by the monster high-voltage GM100 tube.
Racks were Atacama Bambus Module. Interconnects were JPS Aluminata and Superconductor while the loudspeaker cables were Odeon.
Throughout the 1990s I used a big, heavy, loud, tedious-to-operate Keith Monks record cleaning machine. I put a lot of miles on it, and every time I used it, I thought to myself there's got to be a better way. When I moved my living quarters from a big firehouse to a small boat, I gave Monk's machine to an friend and returned to using Palmolive soap and a shoe polish-applicator brush to clean my records. I was never once tempted to buy another machine until the AudioGläss Desk System appeared—but it was too loud and out of my price range.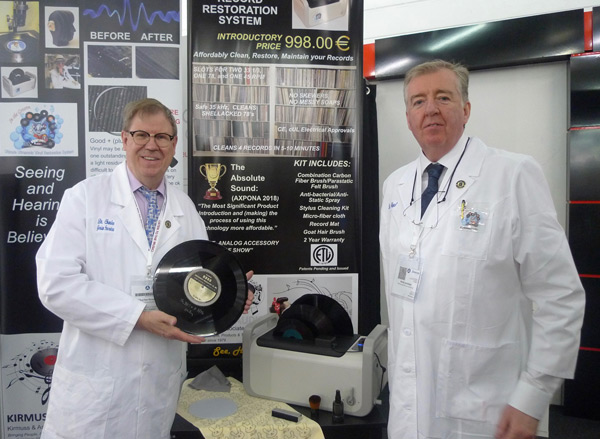 Today, however, I believe I've discovered a made-in-Denver record cleaning machine I could live with: the Kirmuss Audio "In The Groove Ultimate Ultrasonic Vinyl Restoration System" (a High End 2018 world premiere). In its separate slots, it can simultaneously clean two 12", one 10", and one 7" disc (four records total) in 5 minutes. Best of all, because it operates at a lower ultrasonic frequency (35kHz) than other currently popular disc cleaners, according to Kirmuss CEO Charles B. Kirmuss it can clean delicate shellac discs without damage. More best of all: it costs only $795!
As some of you might know, I am a rabid fan of Vincent Brient's discrete resistor ladder DACs that he builds in France in the shadow of France's Mont Saint-Michel monastery. Today, I finally I got to meet Vincent in person and experience his two-way d150 horn loudspeakers (46,000 Euros/pair). I was impressed by both of them. The d150's sound was relaxed very wide open and delightfully coherent. These beautiful turned-wood horns were driven, not by a compression driver, but by a full-range cone driver; which is crossed over to a 15" bass driver at 150Hz. I was immediately impressed by how smooth, vivid, and 3-dimensional the sound was. Sensitivity is claimed to 98dB/W/1m.
The d150s were supplemented by two Totaldac subwoofers (6500 Euros each), which feature 18" drivers mounted high up. Think big, full, open, and exceptionally coherent. I would have nominated Brient's system for best sound at show, but is was only the morning of my first day, so I moved on.
When the patent expired on Oskar Heil's Air Motion Transformer (AMT), a number of audio engineers wisely began exploring the nearly unlimited possibilities of this low-coloration air-squeezing transducer technology; but the 2m-high AudioNec Diva XL (245,000 Euros/pair) is, to my knowledge, the most ambitious of these explorations. The Diva XL's large "Duo-Pole" AMT driver covers frequencies from 200Hz to 20kHz and is powered by a 1-Tesla neodymium motor. The XL is open-backed and the Duo-Pole therefore operates as a box-less dipole; one which made me sit slack jawed in awe at the largeness of image and the relaxed grainlessness of its presentation. The Divas hypnotized me. Their midrange was more natural, airy, and open than any electrostatic loudspeaker I know. To my even greater surprise, the two 15" top-bottom woofers were making bass that was as big and smooth and transparent as the Duo-Pole's midrange. Clearly, the Diva XL is an extraordinary loudspeaker designed for an extraordinary audiophile—with a healthy wallet and an appropriately sized listening room.
Amplifiers were Jadis JA-80 Mk.IIs (15,000 Euros/pair) and power cables were by Absolue Creations (2800 Euros each).
"Beauty is only the beginning" is the tagline on Lawrence Audio's website and that is how I felt when Lawrence Liao and Angela Yang greeted me with extreme warmth and fine sounding music. I could have (and almost did) melt in my chair. The Taiwanese company Lawrence Audio's "Dragon" loudspeaker was making yet another "Munich-midrange" to die for.
I always heard that the glass-wall rooms at Munich's High End audio show ruined the sound for most exhibitors. But I am not experiencing that at all. The Lawrence Audio Dragon, and every other speaker I heard on Thursday, was making clean bass and sensuous midrange.
The Lawrence Audio Dragons employ a Jantzen Diamond tweeter, a German-made Accuton Cell 5" ceramic midrange and two 10" Accuton aluminum "sandwich black cell drivers" for the lows. The Dragons sounded refined and "beautiful" but I never got the price. (Lawrence and Angela promised to send me a list of components and prices but I never found it in my email.) Sorry.