Fyne Audio Loudspeakers, Audia Flyte Electronics, Melco server, Lindemann DAC, Swiss Cables, Quadraspire Racks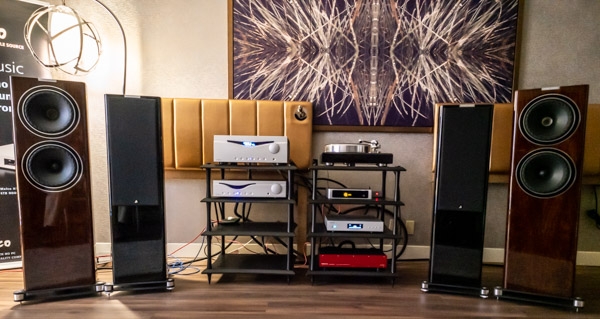 I wasn't paying a lot of attention to Scottish audio in 2016, but here's what I know: The new owners of Scottish loudspeaker company Tannoy at first threatened to move production to China, but ended up opening a new factory in Scotland instead.
That would seem to be a positive outcome, but along the way, a group of employees separated from the company, including Paul Mills, Tannoy's longtime product development head, some other engineers, and key production staff. Those former Tannoy employees soon formed a new company: Fyne Audio.
Just 20 months later, Scotland's Fyne Audio already has a large lineup of loudspeakers, from small budget standmounts to some serious high-end contenders, like the nominally 96dB/2.83V/m, 8 ohm flagship F1-12, with its 12" concentric driver. I counted 23 models in 5 series, including four subwoofers but not counting their in-wall and in-ceiling lineup, in the Gramophone Distribution Company room here at the Toronto Audiofest. Here in Canada, inventory is reportedly still low, but a major shipment is expected next week; then the new speakers should really start to flow.
In the States, Fyne distribution has also commenced just recently; the US distributor is the Sound Organization, which also imports such venerable brands as Rega, ProAc, and Bryston. Stereophile will be reviewing a pair of their inexpensive speakers soon.
Here in Toronto, some eight models were on display; the further up the size-and-price scale you go, the more these speakers resemble classic Tannoys, some with dual 8", 10", and 12" drivers, one of them with a concentric compression tweeter.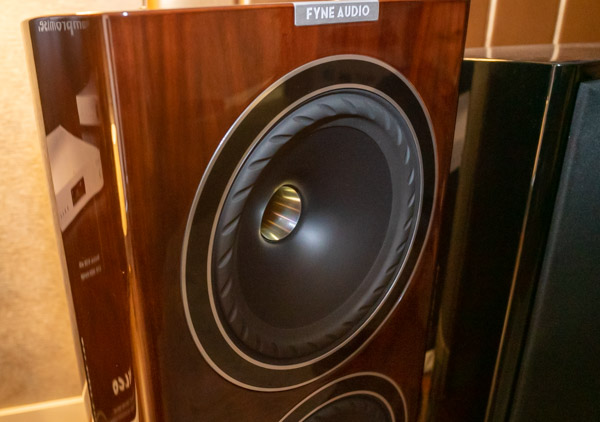 When I entered the room, two were in position to play music: the F703 ($15,950 CAD/pair) and the F702 ($11,295 CAD/pair). I heard from very fine sounds from the F702s (which were already connected) driven by an Audia Flyte FLS 10 Super integrated amplifier ($11,990 CAD). Digital music was provided by a Melco N1Zh server ($6995 Can) and a Lindemann Music Book Source DAC/Streamer/Preamp ($4695).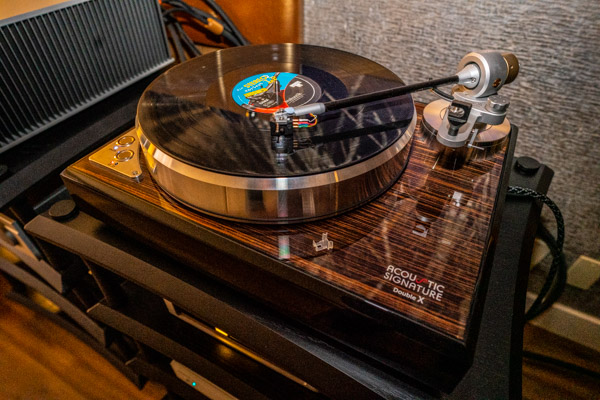 I also listened to vinyl via this very handsome Acoustic Signature Double X turntable with TA-2000 tonearm ($8600), Acoustic Signature Tango Mk3 phono preamp ($1450.00 CAD), and a Hana ML MC cartridge.