First Public Day at T.H.E. Show Newport
Silverline Audio's tiny SR7 loudspeaker punches above its weight. Rated down to 68Hz at -3dB, it's clearly bass light. But its 2.5" paper cone woofer and soft-dome tweeter work overtime to deliver. It's not without issues and sounded a bit pushy and cutting at times in the low to mid treble. The lack of deep bass to balance the top end certainly contributed to this.
I'm sure you can blow one up if you try. Using it to play Das Boot at reference level with no subwoofer will likely do the trick. But used with intelligence, it can solve more than a few problems—not the least of which is keeping your wallet under control. At $600/pair it was one of the relatively few budget speakers at the show. Or how about desktop sound, or ceiling mounted ATMOS speakers for a hone theater setup? One observer suggested that it be made available in different colors apart from basic black, and I agree. But that might run up the cost. High end? Not really. But to paraphrase a famous saying, it's not surprising that it does its job so well, it's surprising that it can do it at all.
Also on display was Generation Audio's MW01 class-A stereo power amp. It puts out 100Wpc (class-A is, as always, highly inefficient) while weighing in at 187 lbs. Price and availability TBD.
Many audiophiles aren't aware that there's an entire subculture of audio fans out there who build their own speakers. It isn't easy to do properly, and the results can be unpredictable. To another old saying, any fool with a table saw can build a loudspeaker (or start a loudspeaker company!).
But companies like Madisound stand ready to offer help with the parts, drivers, and even complete kits. They can be relatively inexpensive or pricey. The new Eton woofer/midrange shown at the lower right (with the circular swirls of indentations in its cone), at $680 each, falls into the latter category. Don't be surprised if you see it in a $50,000/pair commercial speaker in a couple of years. I have no idea how good it can sound, but it looks the business.
Pelican Hill and Joseph Cali Systems set up an elaborate show. A pair of Vivid Giya G2 speakers served the front ($50,000/pair), while G3s at $40,000/pair served as rears. The front of the system employed more high-end Luxman components (preamp, amps, players, etc.) and ancillaries than can be described here. Joseph Cali is shown here, introducing the 20-minute demo. Program sources included quarter- and half-track open-reel tape, a music server, vinyl, and 4K and standard HD Blu-ray disc. The video came via a Sony 4K home-theater projector. Audio fans who break out in hives at the thought of a projection screen at an audio demo were likely not put off by the video, as it only ran for a few minutes of the demo. Most of the material was music, mostly two-channel but with some surround.
While I would have been happier with playback levels 3-5dB lower, the demo was unquestionably dynamic, and certainly the most unique presentation at the show.
Two open-reel tape decks provided part of the program material in the Pelican Hill/Joseph Cali presentation.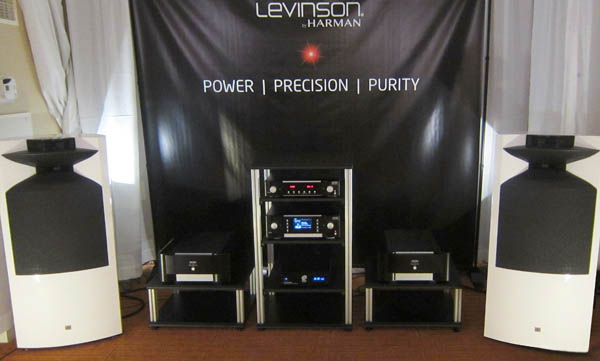 Harman had three rooms at the show. The priciest setup drove a pair of JBL K2 loudspeakers ($55,000/pair) with dual Mark Levinson No.536 monoblocks (400W into 8 ohms, 800 into 4 ohms, $30,000/pair). Also included were the new No.526 preamp ($20,000 with built-in DAC; an otherwise-identical No.523 preamp, available without digital inputs or DAC, will be $15,000), and a new No.519 combination digital preamp, streamer, and CD player ($20,000).
For me, the key feature of the Harman setup in another room was a complete Revel Concerta2 surround setup (featuring only the second video screen I saw at the show for A/V programming). The keystone of the setup was a pair of Concerta2 F36 floorstanders ($2000/pair). The driving electronics were all from the JBL Synthesis line of custom installation products; these included room EQ, which was only applied with surround-sound program material. Both surround (from a classical music Blu-ray I had brought with me) and two-channel music (the latter played sans subwoofers) sounded superb and offered an island of affordable escape for audio fans benumbed by the prices of most of the systems at the show.
The show's Marketplace was located in a large ballroom filled with small booths, most of them selling software of various kinds—vinyl, CD, and high-res. I bought an HRx Sampler from Reference Recordings.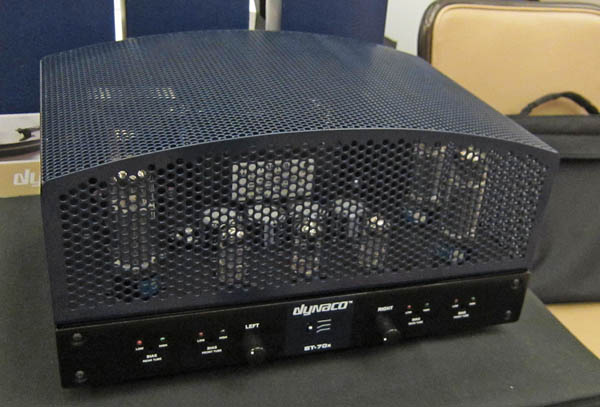 Rutherford Audio will be offering an updated version of Dynaco's classic Stereo 70 tube power amplifier (35Wpc/8 ohms). Now called the ST70x and newly built (these aren't refurbished older samples), it's been redesigned to use currently available tubes, and includes significant upgrades in the power supply. It's expected this summer, though the exact price is as yet unsettled ($2500-$3500 was mentioned as a ballpark range).
The CanJam or Euphonium or Head-Fi (take your pick) of this year's show was a bit sparse, but Audeze was making sweet tunes along with easily accessible program material (not always a given at headphone demos). The man in the white coat is not Matthew Polk.
ASC, the long-time purveyors of Tube Traps for helping to minimize room modes, is now featuring what they call Isothermal Bass Traps. These are said to offer twice the bass absorption of ASC's regular Tube Trap below 60Hz. This might help somewhat, but keep in mind that modal bass problems in most rooms are higher in frequency, ranging even to 200-300Hz. (That's why subwoofer EQ, while helpful, can't do the whole job.)
Here's a company that claims to have a solution for backaches caused by sitting a lot—and audiophiles sit a lot. It looks like a variation on gel mattresses or Dr. Scholl shoe insoles, but is designed instead to soothe your tush and back.
Pioneer put on an effective demo of their SE-Master 1 headphones ($2500) driven by Pioneer's XDP-100R Digital Audio Player ($700) and U-05 USB D/A converter (not yet available in the US). More than that, however, there was material on the player allowing comparisons between conventional high-resolution audio and MQA. I listened to two different selections, pop and classical. The differences were elusive, though I found them a bit more evident on the classical piece. But even if the differences are subtle or even undetectable, the point remains that MQA saves download bandwidth without apparent—in the context of a very brief audition—audible degradation.
I mentioned Madisound earlier as a purveyor of parts to the DIY crowd. The same is true of Parts Express. The latter offers an even wider range of products, including the huge range of quality bargain drivers offered under the Dayton Audio brand. Parts Express formerly issued an annual, printed catalog, but now, apart from occasional sales flyers, all their offerings are on-line. (Madisound discontinued their printed catalog years ago.)