Everybody Digs Bill Evans (Again!)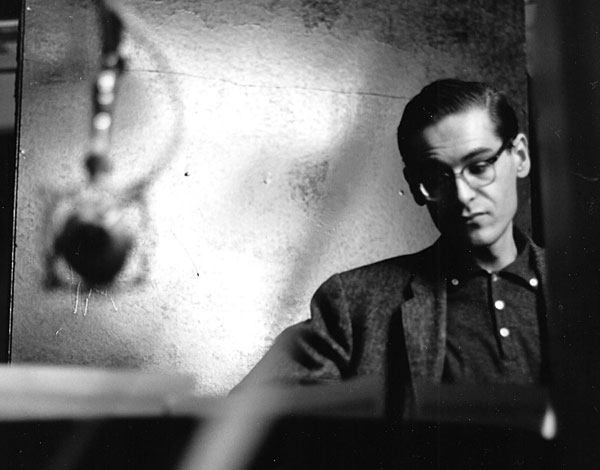 For fans, of course, he's never been gone, not even for a minute. A jazz pianist who played from the heart and spent a tumultuous life fighting his demons while searching, as singer Tony Bennett has often said, "for truth and beauty," Bill Evans is now the subject of four previously unheard, recently released titles, on LPs, CDs, and downloads, of live recordings of his music. There's also, from Mobile Fidelity Sound Lab, a new and superlative One-Step Process vinyl reissue of his classic
Sunday at the Village Vanguard
. Finally, there's a wonderful new documentary,
Bill Evans: Time Remembered
, a labor of love by a fan and titled for one of Evans's best-loved tunes. And, unlikely as it sounds, the demand for Evans's music is still strong enough to inspire a controversy over rights and clearances, 37 years after his death, in 1980, at the age of 51.
Directed by Bruce Spiegel, CBS news editor, Emmy Award–winning producer, and devoted Evans fan, Bill Evans: Time Remembered was released on DVD on Janaury 15, 2017. The film's bedrock are the many interviews, conducted over eight years, with such players as Jack DeJohnette, Gary Peacock, and the late Jim Hall and Paul Motian, all of whom played and recorded with Evans. There are also reminiscences from friends such as lyricist Gene Lees, and Evans's family—including his niece Debby Evans, for whom he wrote "Waltz for Debby." Also included are a number of clips of Evans playing in concert, and segments of audio-only interviews with him.
The film details Evans's upbringing in North Plainfield, New Jersey; his close relationship with his brother, Harry; and the fact that he was a piano prodigy at the age of five. Working jazz gigs late into the night during his high school years, Evans and, later, Harry moved on to Southeastern Louisiana University, in Hammond, where Bill learned how to be a composer, before finally moving to New York City, to seek his fortune as a jazz musician.
The film is a fitting tribute to a man whose work changed jazz piano for all time. Evans made it okay to play "pretty," and greatly expanded the vocabulary of the once-stodgy piano-bass-drums jazz trio. And he made playing from the heart, whether happy or sad, an obvious truth.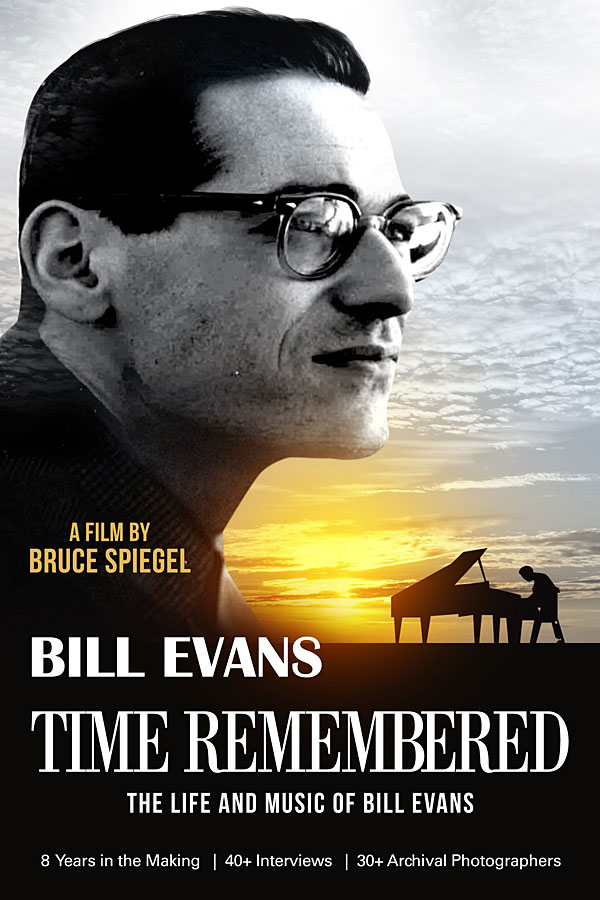 Jumping out of the film are many profound quotes about Evans and his work. At one point, the singer Jon Hendricks, now 95, talks about how the always-emotional Evans, who poured his feelings into his work, needed to "deal with the work but not feel the pain, and heroin is particularly suited to that." Jazz pianist Bill Charlap marvels at Evans's "complete control over the tonal colors of the piano." Bassist Gary Peacock calls his voicings "a complete marriage of harmony and counterpoint." Hendricks might have the last word when he says that Evans's work was filled with "sweetness and elegance."
The sudden wellspring of previously unissued Evans recordings began in April 2016, with the release on Resonance Records of Some Other Time: The Lost Session from the Black Forest, recorded June 20, 1968, at MPS Studios, then part of the Schwarzwälder Apparate-Bau-Anstalt (SABA) electronics factory in Villingen, Germany. The MPS studio and record label were run by producer and engineer Hans Georg Brunner-Schwer (aka HGBS); in the years MPS was active, jazz players like Oscar Peterson and Duke Ellington made the journey to the Schwarzwald (Black Forest) to record there.
At a recent jazz conference in Bremen, Germany, one of Brunner-Schwer's sons mentioned the session to the intrepid Zev Feldman, who is the man of the moment for finding, clearing, and releasing previously unknown jazz recordings. As is their wont, Feldman and his boss at Resonance, George Klabin, went to great lengths to clear the tapes with all parties—the Evans family, Verve Evans's label at the time, and the musicians who played on the session—and voilà! Some Other Time was released in April 2016. Although this limited-edition set of two 180gm LPs has since sold out, used copies can be had on eBay and Discogs for $175 to $250.
MPS originally intended to release a single LP from these sessions. Although for some reason that never happened, it's that unreleased album's sequence of tunes that comprises the new set's first disc. But when Feldman and Klabin received the 24-bit/192kHz digital transfers of the entire session, they realized that they included a second disc's worth of music. Some Other Time is the entire session, split mostly between duo and trio numbers and including, as bonus tracks, an incomplete take of "It's All Right with Me" and an alternate take of "You're Gonna Hear from Me."
In these years, Evans was playing with a number of different drummers. His first and most classic trio, with bassist Scott LaFaro and drummer Paul Motian, suffered a blow in 1961 after LaFaro's tragic death, at 25, in an automobile accident in upstate New York. Motian left in 1964. Evans had had a deep, almost telepathic musical connection with LaFaro; it wasn't until 1966, after working with bassists Chuck Israels and Gary Peacock, that he finally settled in with Eddie Gomez.
Evans also worked with a long string of drummers that included Philly Joe Jones, Larry Bunker, Arnold Wise, and Shelly Manne, all of whom played and recorded with Evans in the years following Motian's departure. For six months in 1968, a very young Jack DeJohnette joined Evans for a European tour, during which Evans recorded the Grammy-winning At the Montreux Jazz Festival and two newly discovered recordings, of which Some Other Time is one. By this time, Gomez and Evans had played together for two years and, as musical thinkers and players, had begun to mesh with some of the same ease Evans had previously enjoyed with LaFaro. Their consecutive solos in track 1, "You Go to My Head," follow the same harmonic and rhythmic path.
What's most fascinating about Some Other Time is the presence of DeJohnette. Best known as the rhythmic leader and centerpiece of such Miles Davis fusion landmarks as Bitches Brew and On the Corner, DeJohnette here uses an infinitely lighter though no less rhythmic approach, one appropriate to a quieter trio setting. It was a way of playing that still drove Evans, already a percussive player, into a more rhythmic mode of playing. Amazingly, DeJohnette's work on snare and cymbals in a tune like "My Funny Valentine" is so soft, just brushes on snare, that it nearly slips in and out of audibility. And yet Evans responds to its insistent underpinning by playing crisp, long lines. Listening to "Some Other Time," I had to walk to the window and make sure it wasn't a breeze—DeJohnette's snare work is such a subtle flavor that it sounded like air rushing by.
If, as jazz pianist Larry Willis mentions in the film, Evans's mood could be gauged by his playing, then he must have been in good spirits when he sprinted through this jaunty solo take of "Lover Man (Oh, Where Can You Be?)." It's telling of the deep feeling Evans put into his playing that, in a two-LP set of 21 mostly duo and trio recordings, it's one of the two solo cuts that stands out.
As with all Resonance releases, this one comes with a booklet containing Feldman's story of how the original tapes were discovered, as well as essays on Evans by jazz journalist Marc Myers and reminiscences by Gomez and DeJohnette. Although one of the discs in my copy arrived with a slight warp, the quality of the pressings was otherwise outstanding, and the resealable sleeve is a nice touch.
While Some Other Time has many fine moments, I prefer Another Time: The Hilversum Concert (180gm LP, $99), which documents a concert from the same 1968 European tour that gave us At the Montreux Jazz Festival and the Black Forest recordings. DeJohnette is again the drummer, but in a concert setting he's more active and assertive. Recorded two days after Some Other Time, this session, from the studios of Netherland Radio Union (NRU), in Hilversum, was recorded in front of a live audience for a radio program, Jazz in Actie, produced by Joop de Roo for Dutch Public Radio.