Emerald Physics: $6500 Gets You Music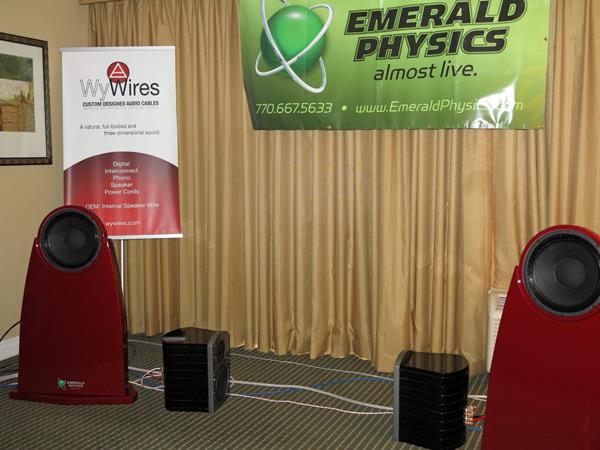 I'm not talking any music; you can get that from my '94 Toyota Corolla's car radio, which is somewhat bearable at low volume. I'm talking about a system where the pace of the Fairfield Four singing something like "These Bones" in classic doo-wop fashion—a Best Buy special, Walter Liederman told me—or the beautiful tonality and sense of space on a recording of the Brahms Clarinet Trio made me first sit up and take notice, then sit back and wish that the music would just go on and on.
I was handed five sheets of literature, yet assured that the cost of everything I heard in this Emerald Physics/WyWires room amounted to $6500. Someone questioned the math in one of my other blogs, so this time I'm going to do the total along with you.
First, the show debut of the new Emerald Physics CS3 Mk.II open-baffle, controlled-dispersion loudspeaker with the company's DSP2.4 digital electronic equalizer/crossover and a new 12.1 custom woofer/midrange and tweeter, in the optional Firenze Red Tri-Cast finish ($3500/pair up, depending upon finish). Then, the equally new Emerald Physics EP 100.2SE power amplifier ($1995), outputting 125Wpc into 8 ohms; REL T7 powered subwoofer ($1000) biamped through Emerald Physics' DSP2.4; Peachtree Audio Nova preamplifier/DAC ($999 in black, $1099 in rosewood or cherry); and Marantz CD-6004 used as a transport ($500). That amounts to $8000 if you buy retail. But if you buy the system Internet-direct from Underwood HiFi, dahlink, you fork over only $6500, assuming you already have all the cables you need.