Dick Olsher Dahlia speaker Martin Colloms tuning
Martin Colloms offered a different tuning of the Dahlia in August 1987 (Vol.10 No.6):
In Vol.9 No.1, Dick Olsher offered a neat two-way loudspeaker design which exploited the virtues of the Son Audax 8" bass/mid unit, a TPX-coned unit which I also favor. As Dick could not avail himself of measurement facilities to determine the flatness and balance, his crossover was more or less to "book." Having tried his network, I found the resultant sound rather forward and lightweight compared with neutral, commercial, BBC-balanced references, while the bass, in my opinion, was not fully integrated.
I have an alternative crossover (see fig.4) for those who may wish to try it with the same drivers. This results in a neutral tonal balance, corrects for some mild "sizzle" in the upper range of the tweeter—the tried-and-tested 1" soft-dome Audax HD12X9D25—and also provides more bass extension (achieved at the expense of overall sensitivity—90dB for Dick's version and 87dB for mine).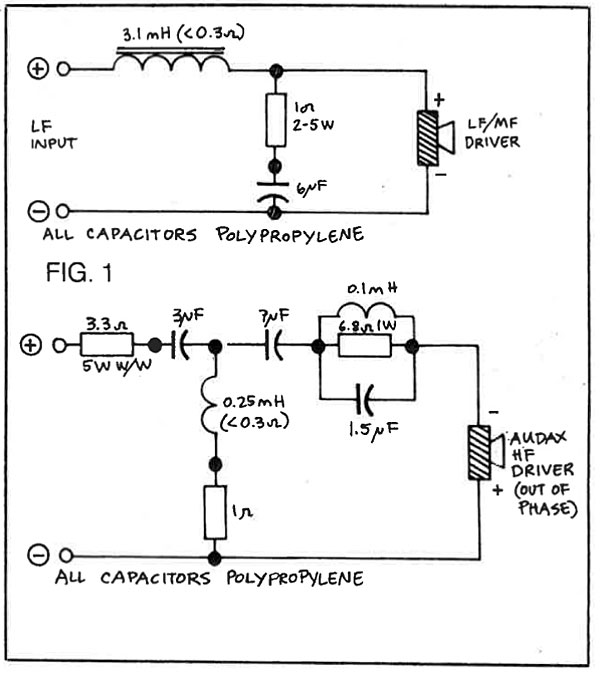 The new balance finds the original bass alignment underdamped, since it is maximally flat with a vent resonance close to 46Hz. Retuning to 35Hz extends the bass and maintains the correct dryness—a good feature of the original. The new port, estimated at 2" diameter by 4.5" deep, can be closely approximated to advantage: using the original, install a full-length port liner of soft polyurethane foam to reduce the internal bore to approximately 2.3". A 1"-deep plug of open-cell polyester foam (like Declon foam grille material) may be used in the port, if a still-drier bass is required in some room arrangements.
While trying out the alternative version, keep the bass and treble crossovers separated, and use four rear terminals to biwire the speaker back to the power amplifier terminals.
The corrected tonal balance will allow for an axial listening position with some benefits in stereo focus. In this alternative version, the felt or foam absorption should be removed from around the tweeter.
In Vol.10 No.4, Dick updated the Dahlia to the Dahlia Debra. I concur with his suggestion of using the larger-magnet TSN bass-unit, which will improve the sensitivity and avoid the need for the open-cell plug in the port. Furthermore, the MB Electronics titanium-dome tweeter is a fine upgrade for which I can suggest a further improvement: With a strong blade, carefully pry off the front grille/protective plate. This improves the 15–20kHz range considerably.
My alternative HF filter works fine with the deletion of the final three-element network and the damping resistor, which are unnecessary with the Ti dome (fig.5). (Do not press on the dome—it will crease or dimple.)—Martin Colloms